2020 Digger, when you leave Mountain bikers to design a drop bar bike.
Wednesday, December 11th, 2019
"Adventure vessel of 2020"
What started during a very intoxicated conversation some years ago in Italy, has ended up as a cult product in the Nukeproof range.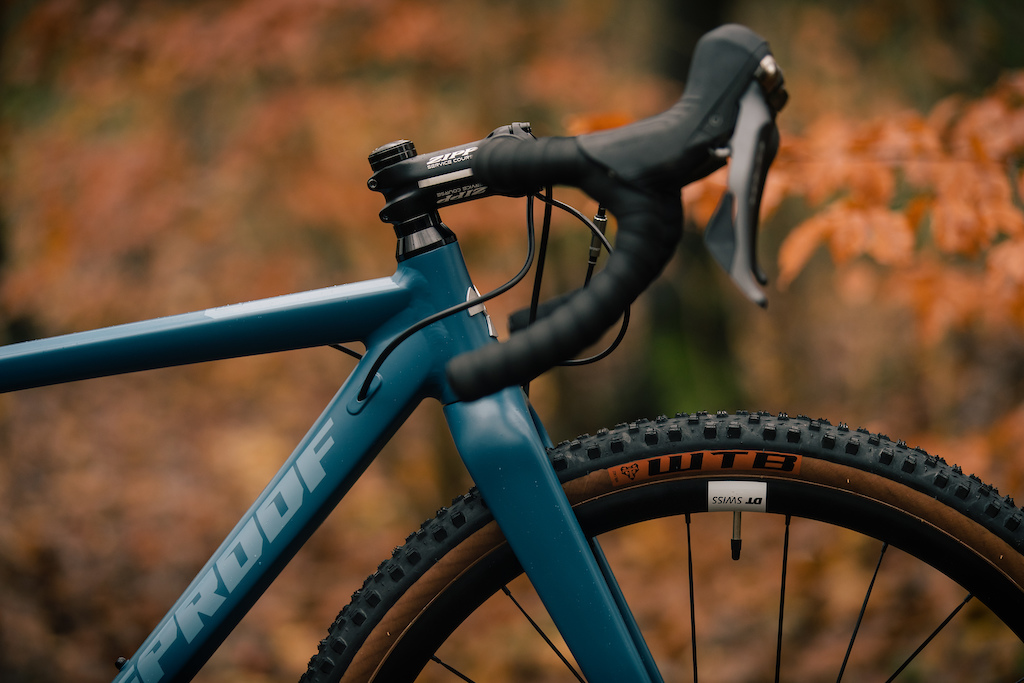 Inspired by Nukeproof athletes and their desire for a do-it-all training bike with something a little extra. It's a versatile vessel, blending "gravel bike" performance with the soul of a mountain bike. With the capacity to add panniers, bike packs and mud guards; the Digger frame is suited for everything from big adventures in the wilderness to a bike that simply makes the usual mundane commute to work more interesting.
New for 2020 is the addition of the latest gravel dedicated Shimano GRX 1x group set. Spec'd for simplicity and off-road performance with Shimano's clutch derailleur 1x 11 speed set up (11-42t) drivetrain. The Factory Digger integrates its 120mm dropper post actuation in the Shimano brake lever to offer ultimate confidence when it gets technical on the trails. In true Mountain biker spec Nukeproof equipped the Digger with a "wider than average" drop handle bar for that off road stance.
New Shimano dedicated Gravel set up
Both 2020 Digger Comp and Factory models will come with tan wall nobbly WTB Sendero's 650b Road Plus tyres to give decent off road performance.
Compatible with any "None Boost" wheel sets you may have, however it can take a road 700c wheel if your looking for a dedicated road warrior. The Factory Digger will also gets the new DT Swiss G1800 Gravel wheels as standard to combine rolling efficiency with strength to perform off road. Both ends of the digger are bolt through axles with a carbon tapered fork and cork-gel bar tape for compliance and improved feel on the trails/ gravel/ paths/ road.
The Nukeproof Digger real does yearn to divert you off the main path/ road or trail and create an adventure of any ride.
Spec includes:
• Full Carbon Fork
• Internal cable routing for dropper seat posts
• Custom Triple butted Hydro formed Tube Set
• Threaded Bottom Bracket
• 12x142mm Rear axle spacing and 15x100mm Fork Spacing
• 700c or 27.5" 'Road Plus' compatible
• Rack Mounts
• Removable SS bridge for proper full mudguards
On Sale now in all Nukeproof retailers December 2019.
Nukeproof Digger Comp: £1499.99
Spec:
• Frame: Nukeproof Digger 27.5" Road Plus or 700C compatible, custom triple butted hydro-formed Alloy, internal cable routing for dropper seat posts, threaded bottom bracket, 142mm x 12mm rear axle spacing
• Fork: Nukeproof Digger carbon, 27.5" Road Plus or 700C compatible, Tapered Steerer, Rack Mounts, 15x100mm axle spacing
• Front Wheel: WTB Serra 27.5″, 15x100mm
• Rear Wheel: WTB Serra 27.5″, Shimano freehub, 142x12mm
• Tyres: WTB Sendero 650x47C Road Plus, TCS, Light Fast Rolling, Tan wall, Dual DNA Compound
• Crankset: Shimano RX-600, GRX, 1x 11 Speed, 170mm, 40T
• Brakes/Shifter: Shimano GRX, RX-600 Levers with RX-400 Flatmount Callipers
• Rear Deraileur: Shimano GRX, RD-RX812, 11 Speed, Shadow Plus
• Chain: KMC X11 11-Speed, Anti-rust with Quick Link
• Cassette: Shimano CS-M7000 SLX 11 Speed, 11-42T
• Front Rotor: Shimano RT66, 160mm
• Rear Rotor: Shimano RT66, 160mm
• Handlebars: Non Series AL-6061 480/500mm
• Stem: Non Series 6061, 7 Deg, 80-110mm
• Saddle: Nukeproof Neutron, Black
• Seatpost: Nukeproof Neutron Inline, Black, 31.6mm, 400mm
• Headset: Nukeproof Warhead Internal, IS42-28.6 – IS52.1/40
• Bar Tape: Black Cork Cushion Tape with Gel
Nukeproof Digger Factory: £1999.99
• Frame: Nukeproof Digger 27.5" Road Plus or 700C compatible, custom triple butted hydro-formed Alloy, internal cable routing for dropper seat posts, threaded bottom bracket, 142mm x 12mm rear axle spacing
• Fork: Nukeproof Digger carbon, 27.5" Road Plus or 700C compatible, Tapered Steerer, Rack Mounts, 15x100mm axle spacing
• Front Wheel: DT Swiss G1800 SPLINE 25, 27.5″, 15x100mm
• Rear Wheel: DT Swiss G1800 SPLINE 25, 27.5″, Shimano freehub, 142x12mm
• Tyres: WTB Sendero 650x47C Road Plus, TCS, Light Fast Rolling, Tan wall, Dual DNA Compound
• Crankset: Shimano RX-810, GRX, 1x 11 Speed, 170mm, 40T
• Brakes/Shifter: Shimano GRX, RX-810 Levers with RX-810 Flatmount Callipers
• Rear Derailleur: Shimano GRX, RD-RX812, 11 Speed, Shadow Plus
• Chain: KMC X11 11-Speed, Anti-rust with Quick Link
• Cassette: Shimano CS-M8000 XT 11 Speed, 11-42T
• Front Rotor: Shimano RT800, 160mm
• Rear Rotor: Shimano RT800, 160mm
• Handlebars: Non Series AL-6061 480/500mm
• Stem: Sram Zipp SC, 6 deg, 80-110mm
• Saddle: Nukeproof Horizon SL, Black
• Seatpost: Brand X Ascend internal, 125mm drop, 31.6mm, Dropper lever integrated into GRX RX-810 Brake Lever
• Headset: Nukeproof Warhead Internal, IS42-28.6 – IS52.1/40
• Bar Tape: Black Cork Cushion Tape with Gel
Follow us @nukeproofbikes for the latest goings on
Photo: Laurence Crossman- Emms