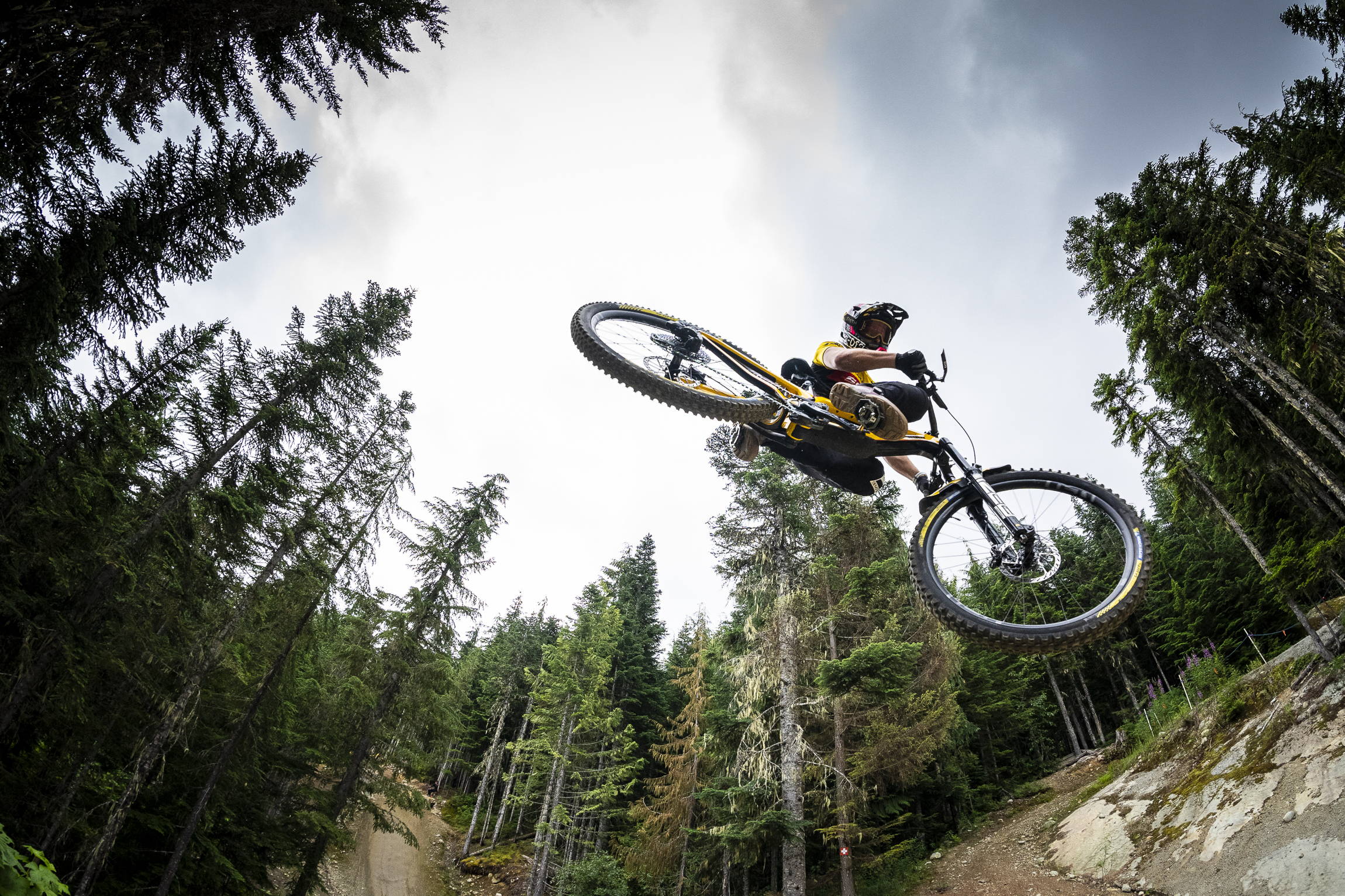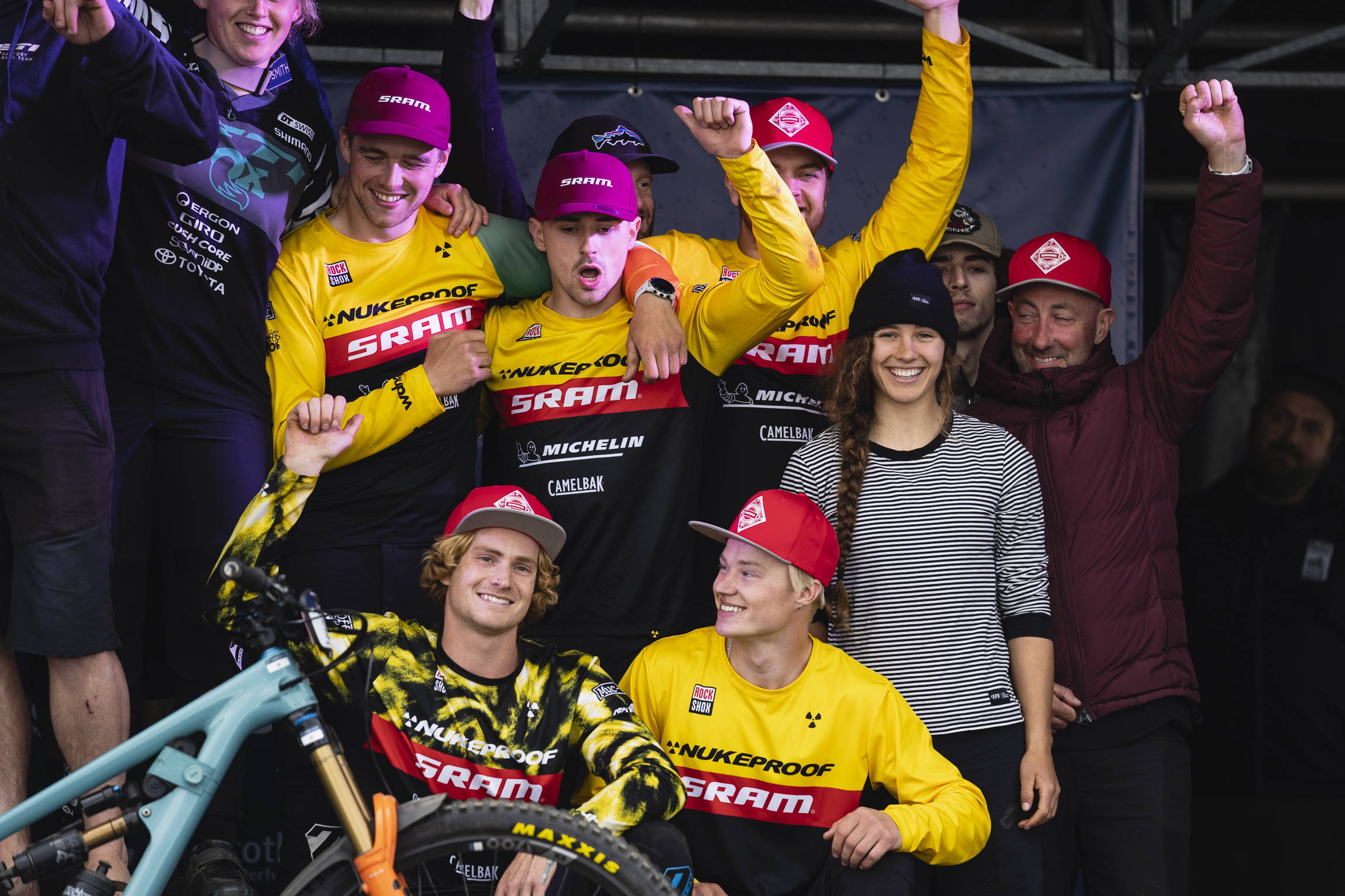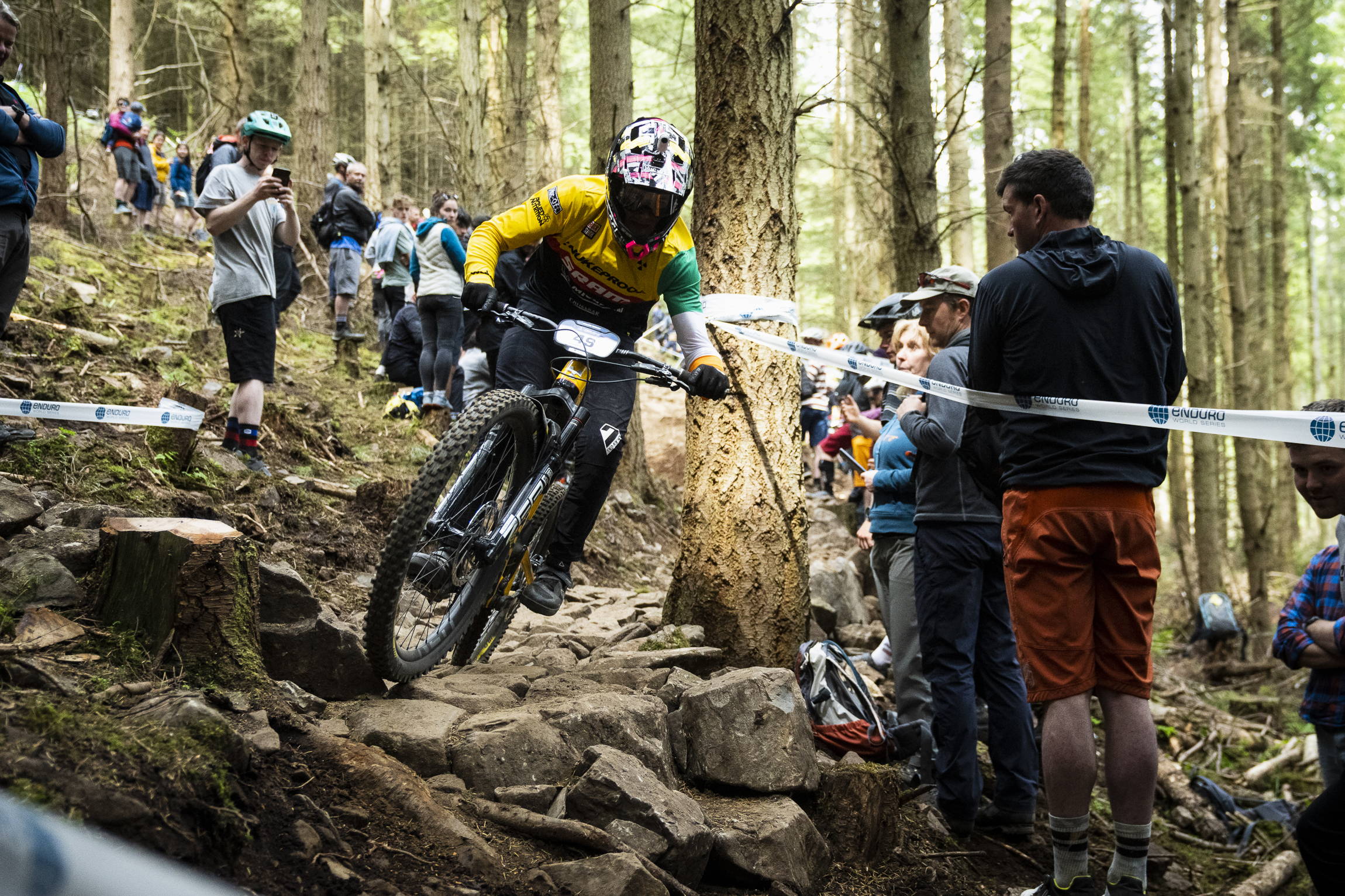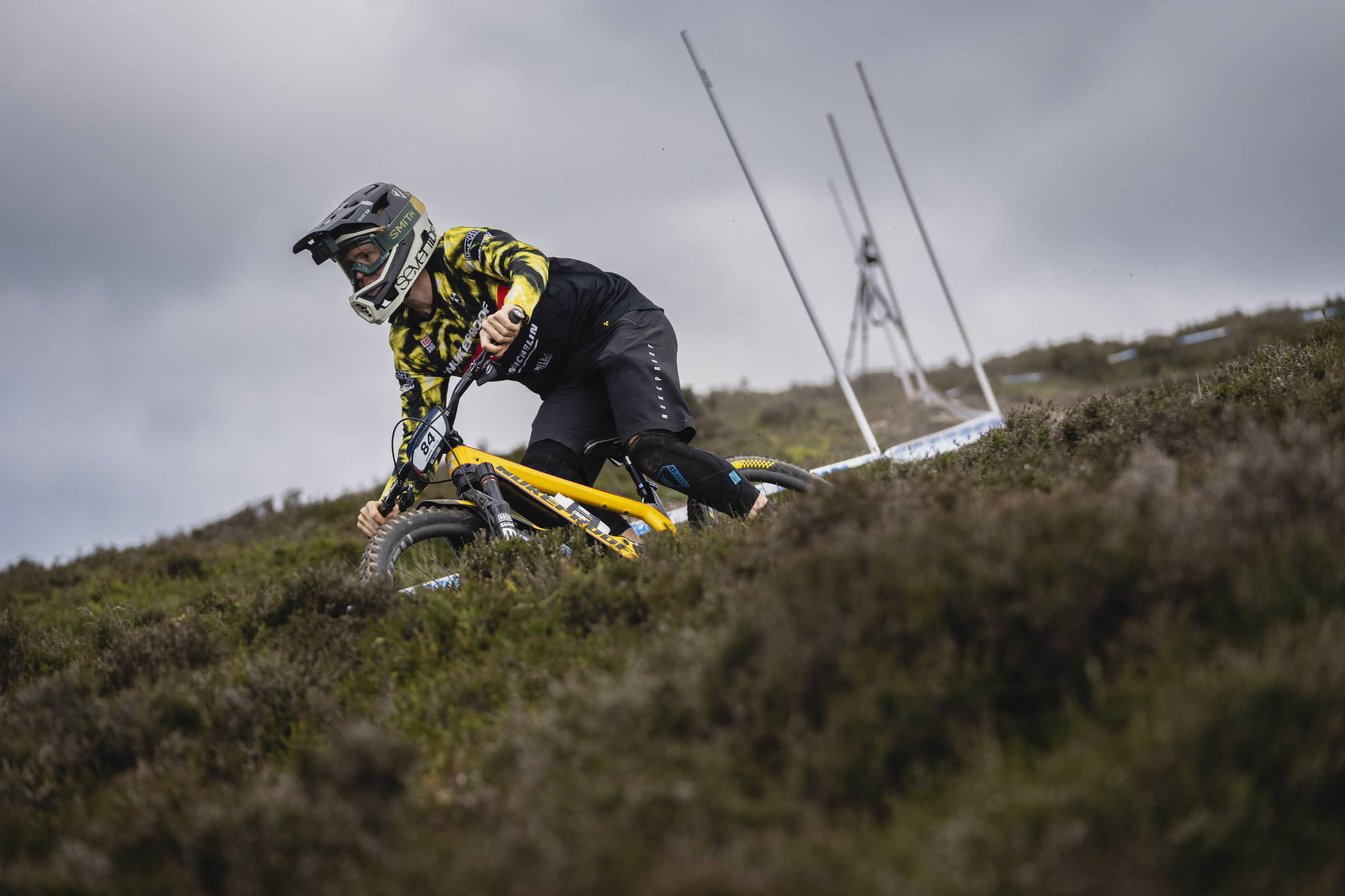 Round 1: Tweed Valley, Scotland
First round of the EWS season graced the dust (yep you read that right) of the Scottish Borders.
Fired up and ready were the new for 2022, Nukeproof Sram Factory Racing team of Kelan Grant, Elliott Heap, Corey Watson, Dan Booker and Louise Ferguson. Sam Hill was to miss out on this round, to a small bout of illness.
Kelan Grant kicked things off in the E-EWS, showing his winter of training has been paying off with 3 top 5 stage times. Unfortuanately a couple of small mechcanicals kept him out of the top 10 but finishing 12th was seriously impressive.
The main event started on Saturday with the Pro stage and the Nukeproof Sram team wasted no time setting down some incredible times. Overnight, all 4 Men were sitting within the top 20 with Louise suffering a small mechanical in the Pro Stage.
Sunday started dry and dustry with an early crash on stage 2 holding up the course which meant the top 10 Men couldn't race the second stage and thus all times for that stage were discounted. Three hard fought stages later and the team landed an overal 3rd. Individually, Dan Booker showed he's more than a Tassie Trail builder and took an incredible 5th overall with Elliott Heap chasing him down in 6th. Kelan Grant suffered again a small mechanical and Corey Watson taking a top 40. Finally, Louise Ferguson fresh from Red Bull Formations landed an awesome top 20.
A great start to the season for the Nukeproof Sram Factory Racing team, here's to a great season.
---
Follow the Nukeproof Sram Factory Racing team action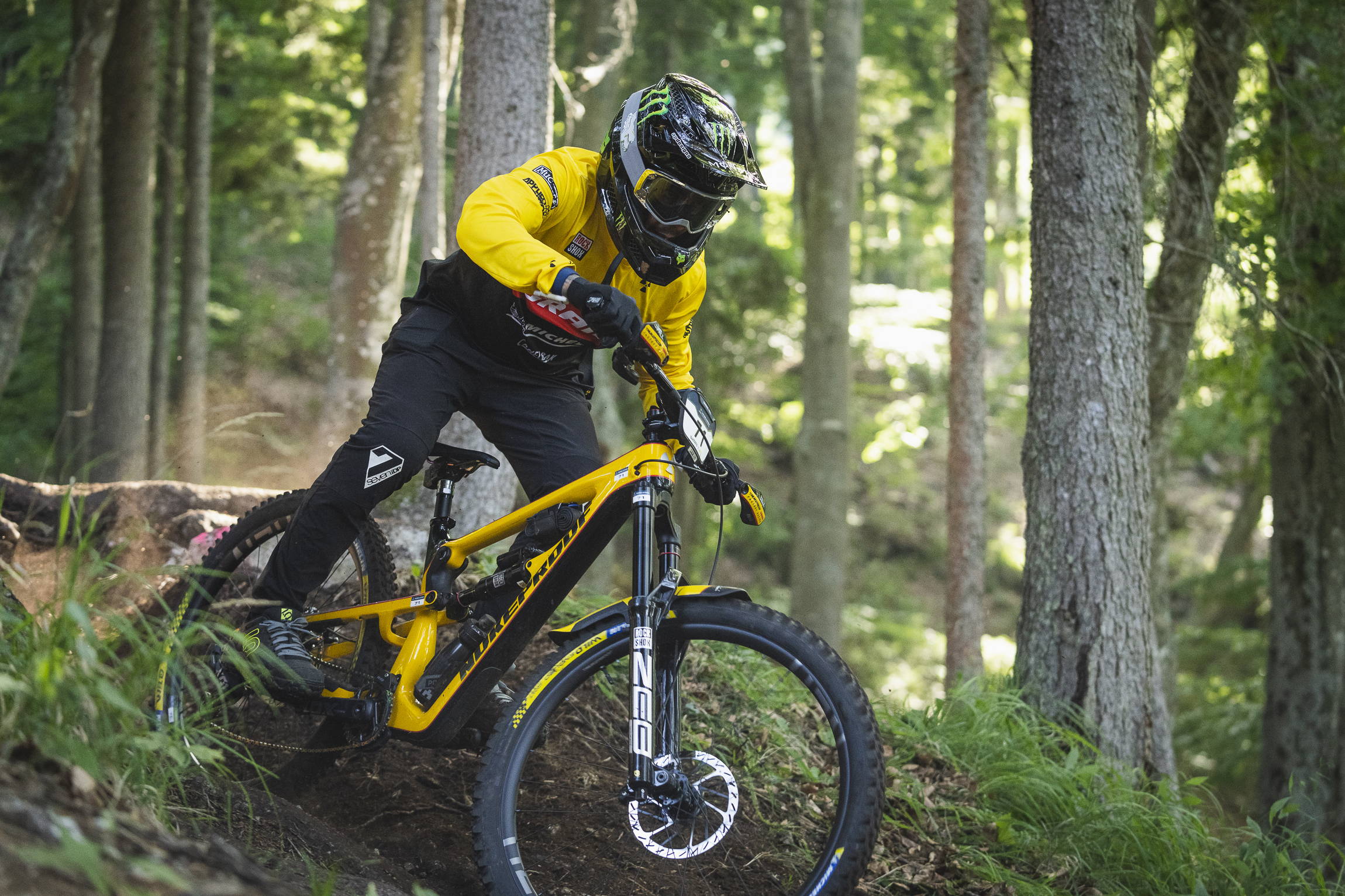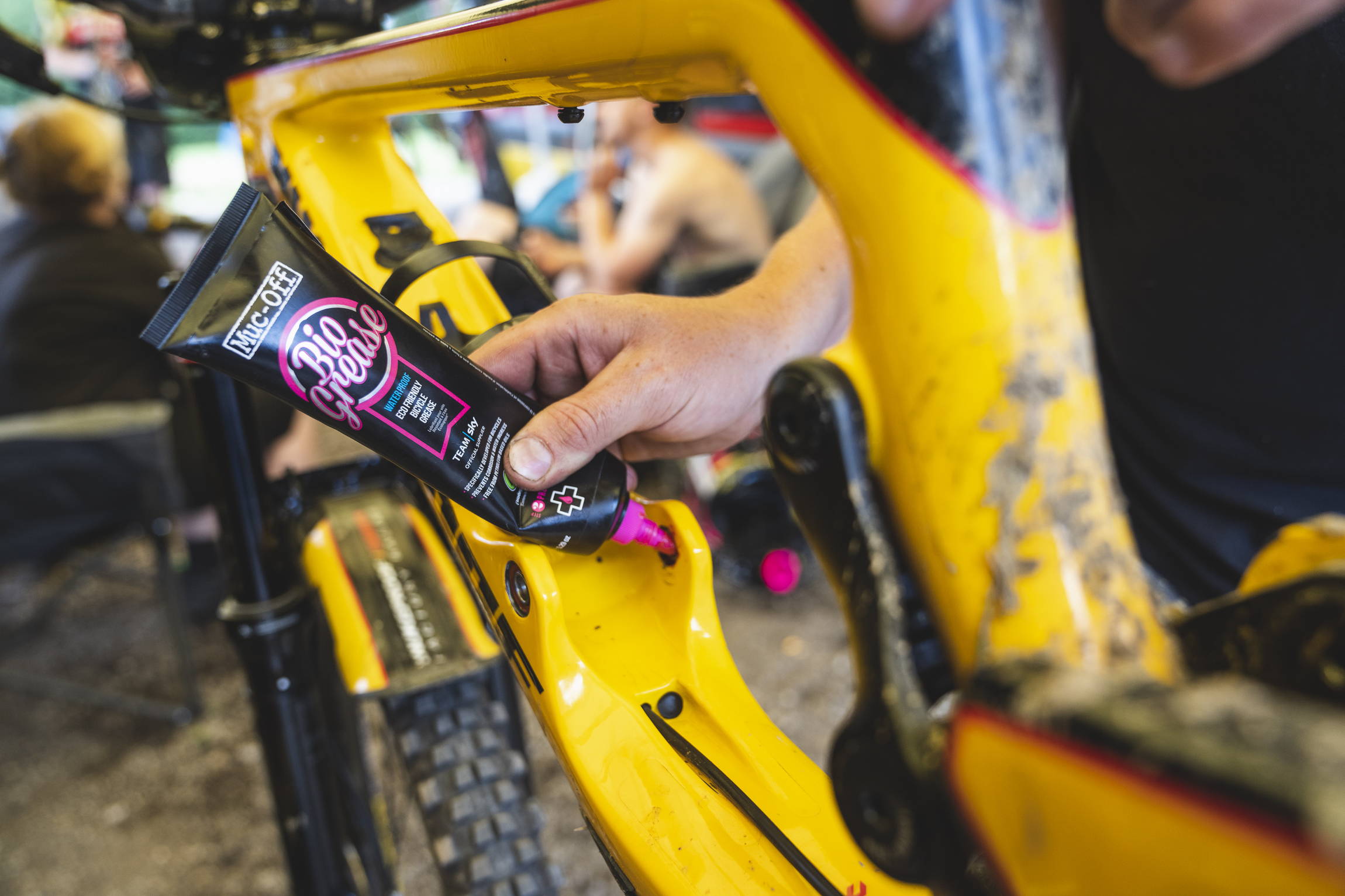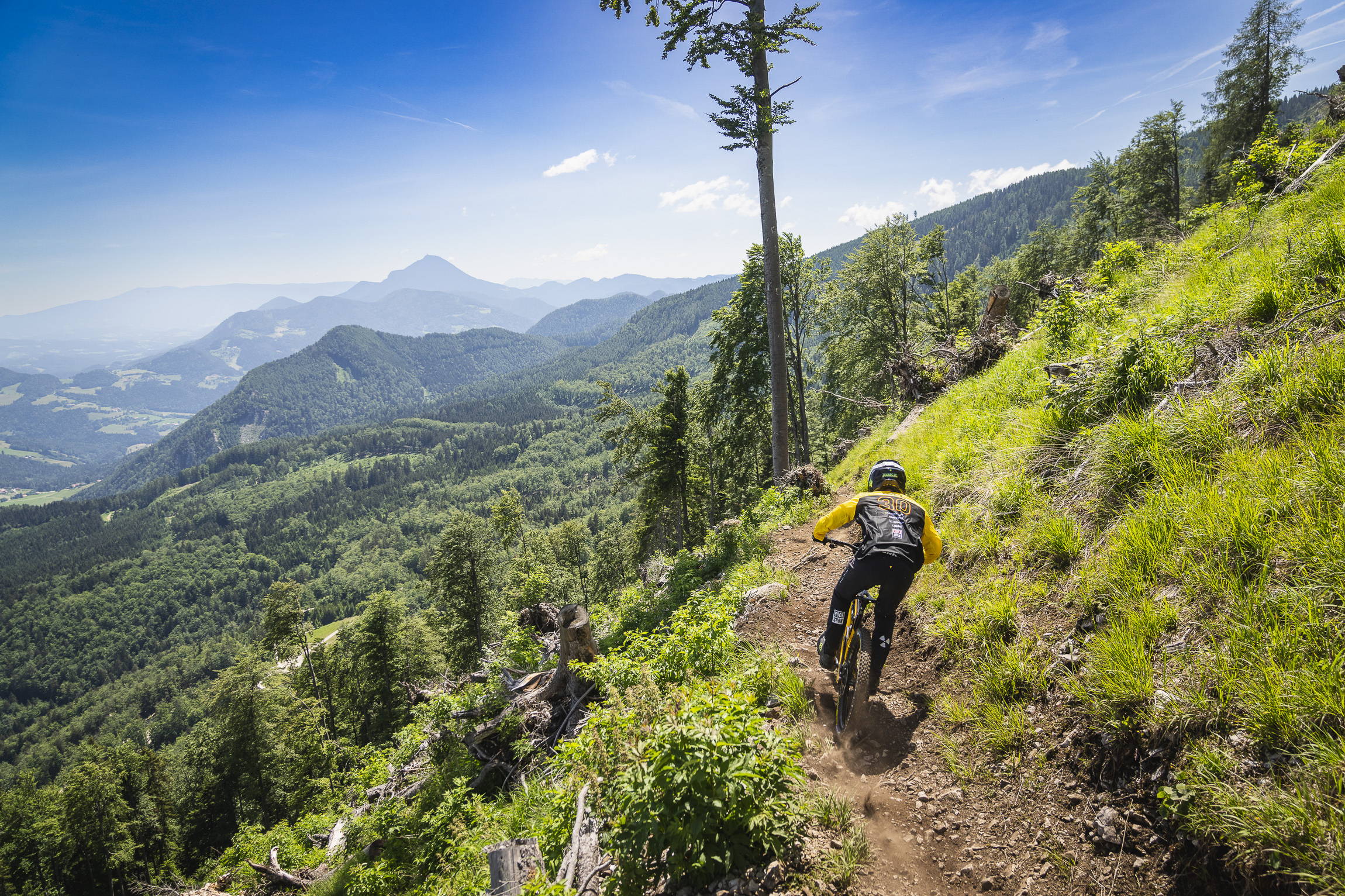 Round 2: Petzen Jamnica, Slovenia
Don't be deceived by the incredible scenery of Petzen Jamnica on the Slovenian/Austrian border. The home of the second round of the EWS produced arguably the most brutal, physical enduro stages of the season with stages up to 15 minutes long and 1100m of descending… in 35 degree heat.
E-EWS kicked off the week, with Kelan Grant back for redemption after a few small setbacks from round 1 and Corey Watson making his E-EWS debut.
Scorching temperatures, mild heatstroke and a mechanical for Kelan marred the day but Corey produced an18th and Kelan came out hungry for more showing his speed with some impressive splits.
Sam Hill made the return to the team in time for the main EWS race joining regulars Elliott Heap, Kelan Grant and new additions, Corey Watson and Dan Booker. Tough transition times, some mild sickness in the team and yet again scorching heat gave the lads plenty to contend with following an intense Pro stage the previous day.
Dan Booker posted a consistent day with an incredible 26th overall, with Sam Hill hot on his heels in 29th  with a 13th on the gruelling stage 5. Elliott posted a top 40 time after struggling with the heat and Corey a top 50.
"Good effort from the whole team and great to have the full team back together including Jacy and Matt who kept all the bikes running sweet all weekend. Big thanks to all the sponsors for making racing possible"
---
Follow the Nukeproof Sram Factory Racing team Action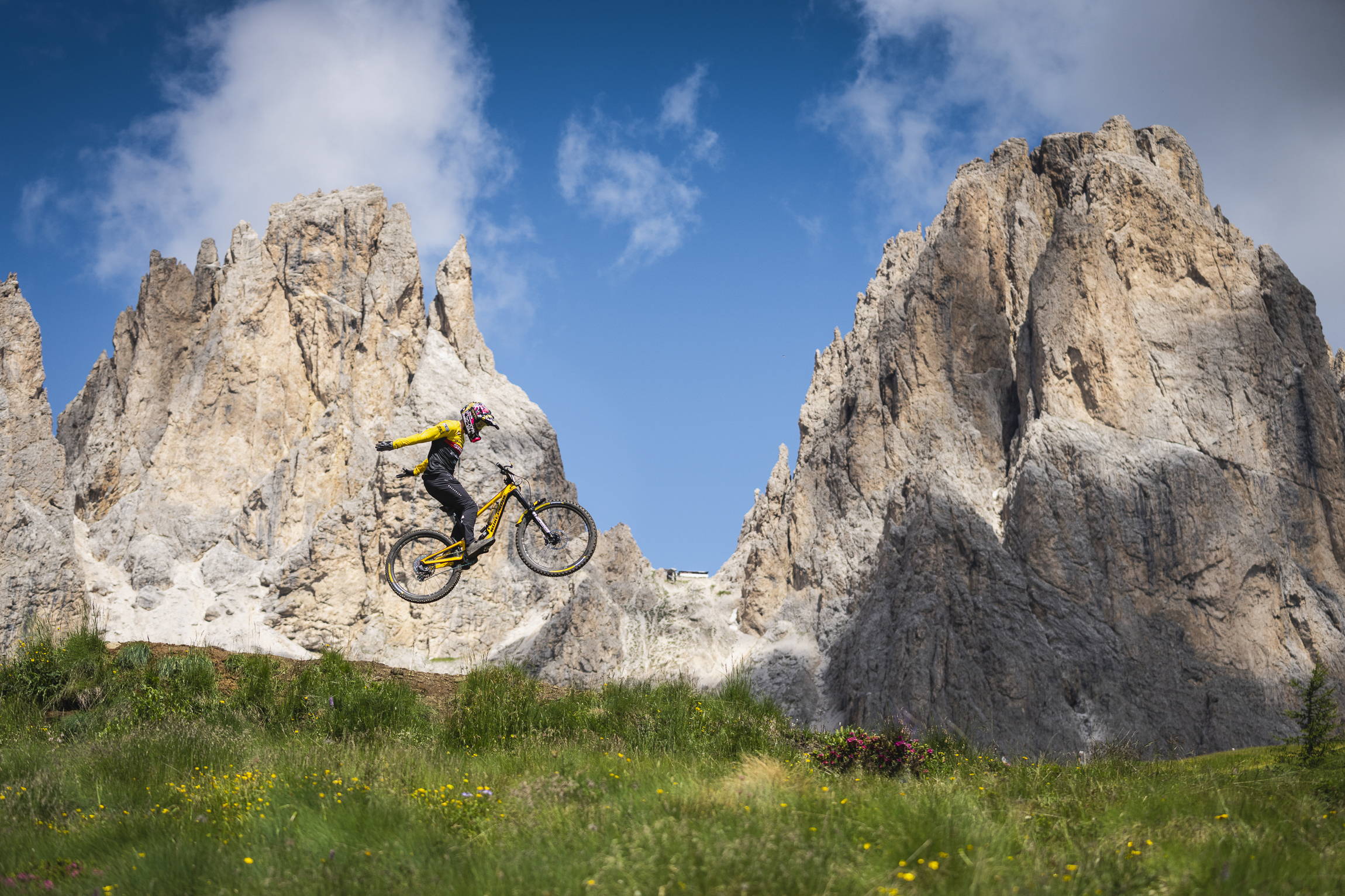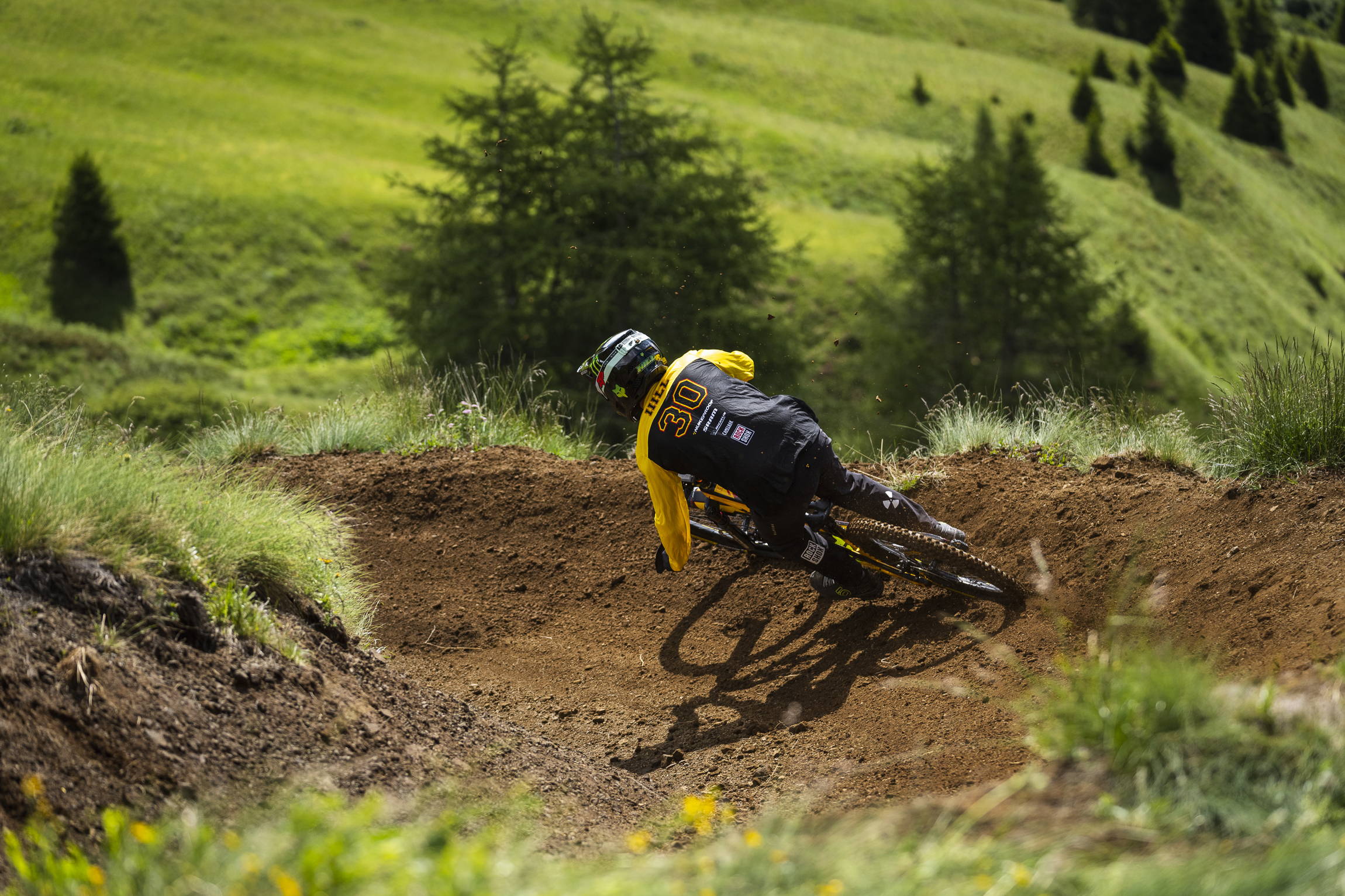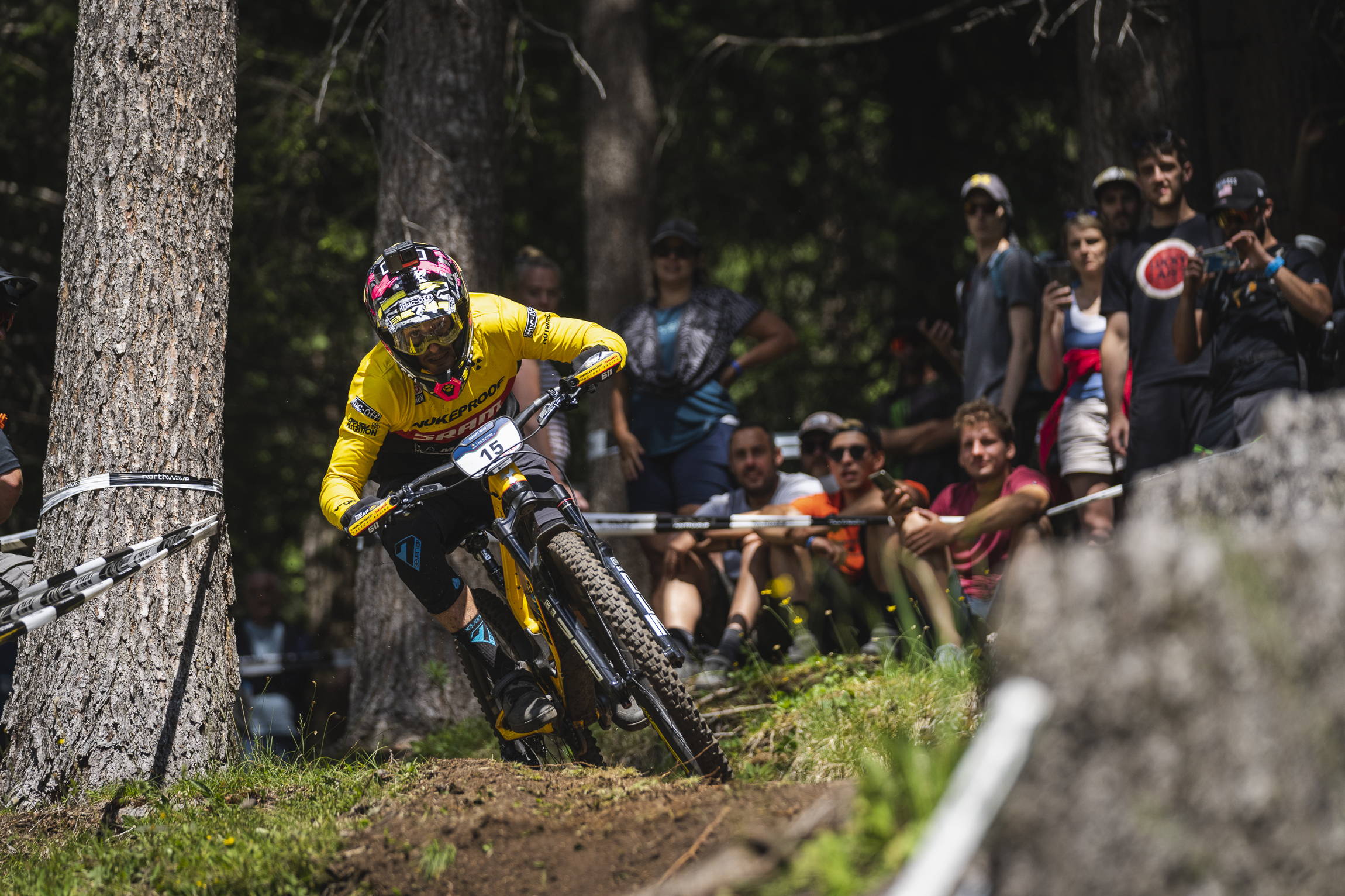 Round 3: Val Di Fassa
The Dolomites were the next stop on the EWS calander, more specifically the beautiful Val Di Fassa. With its stunning, screen-saver worthy backdrop and steller trails to match, its certainly a highlight on the EWS calander.
Pro stage on Saturday kicked things off in usual gnarly fashion for the 2022 season, the unrelenting Ciastas track featured physical uphill sprints, insane tech and a nice 200m grassy sprint to finish, just to keep the riders humble.
Sunday rolled around, dry and warm making for some insnaely fast racing. The team were all in a good position following the Pro Stage. Dan Booker tweaked his shoulder in practise so after a quick visit to the physio (thanks Canyon team!) and some ice and he was back giving it his best shot.
Despite the long testing tracks, times were ridiculously tight between the top 15 throughout the day giving the riders no let up throughout the 35 minutes of racing and extensive transitions between. The final assault was Tuti Fruiti, a massive 6.2km track with 960m of descending.
Elliott Heap continued to impress with an awesome 13th place moving him up to 10th overall in the series,
Dan Booker and Sam Hill battled for two top 40 finishes, Dan gritting his teeth through some intense shoulder pain and Sam continuing to make progress on his fitness. The crowd went wild for Sam as usual and his riding is looking like the 3 times EWS world champion he is.
Kelan Grant had his first race weekend of the season without a mechanical and continues to build on this progress. Corey Watson kept it rubber side up to get a top 50 spot in first first full EWS season.
"Some fantastic results at a venue renowned for its challenging tracks. We have a short break now in the EWS then its off to North America for the US and Canadian rounds before the final rounds back in Europe. Great work team, as always a big thanks to Matt and Jacy for keeping the bikes running smooth and fast and our amazing sponsors for the support"- Nigel Page, Team Manager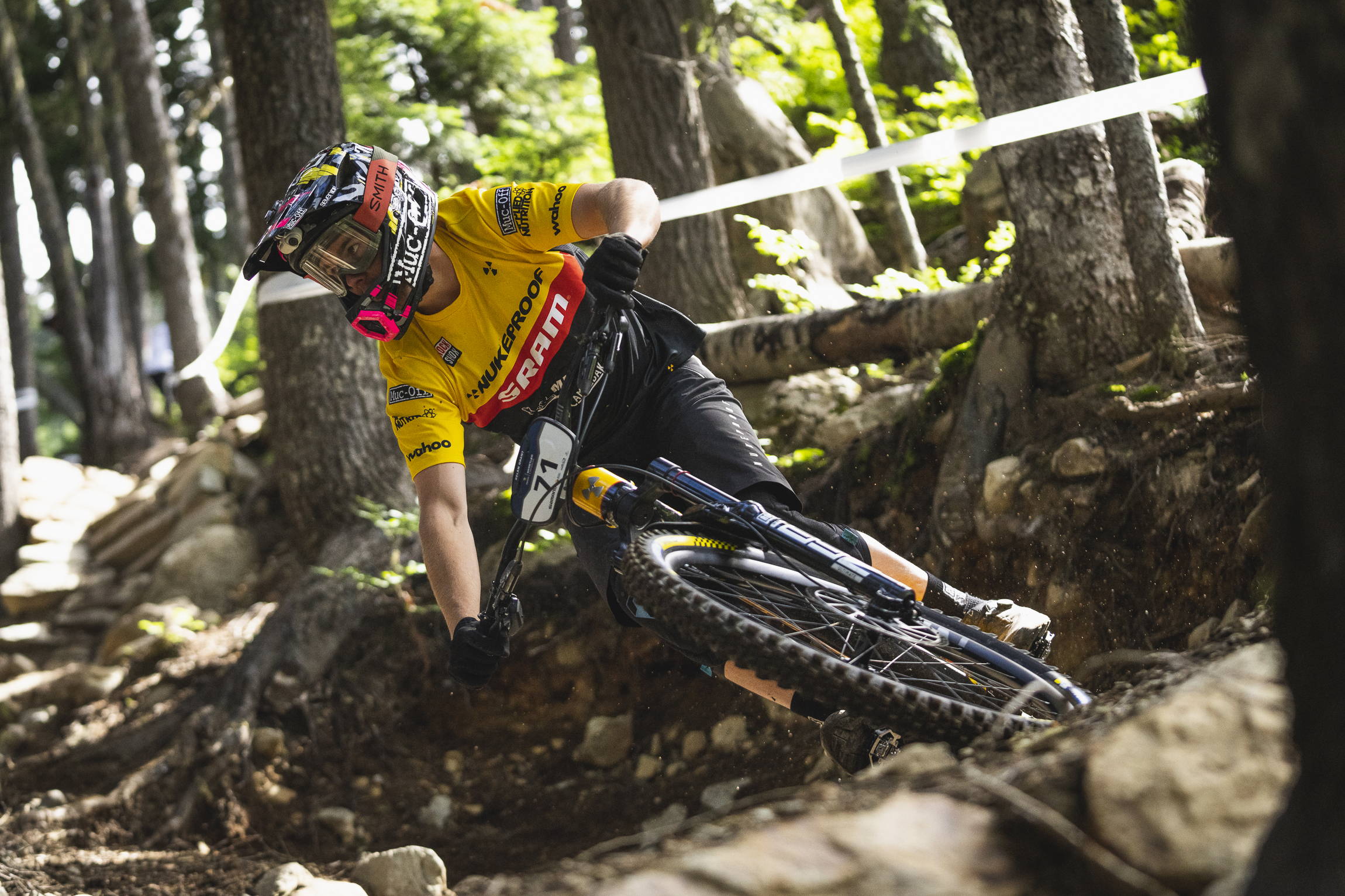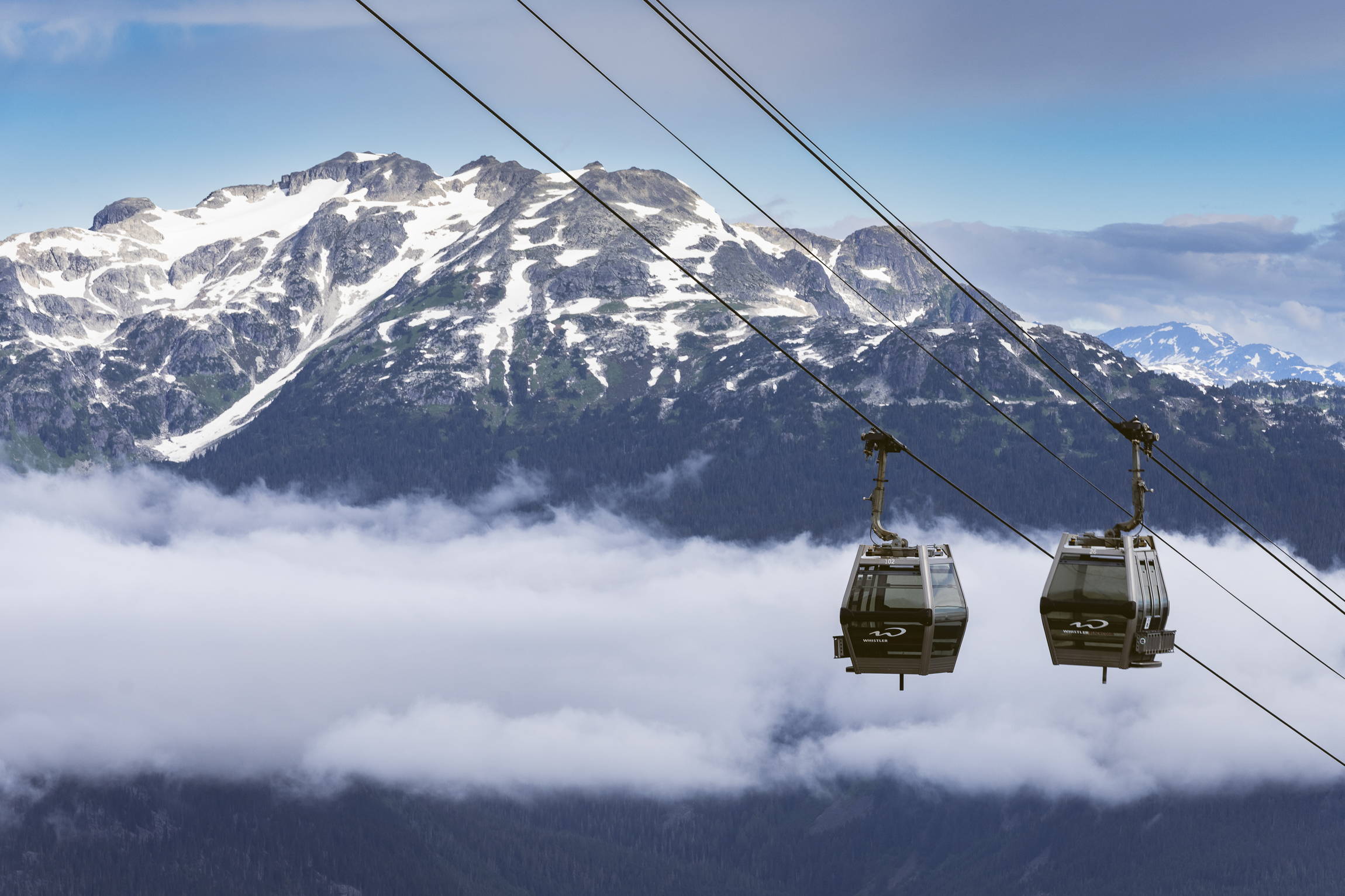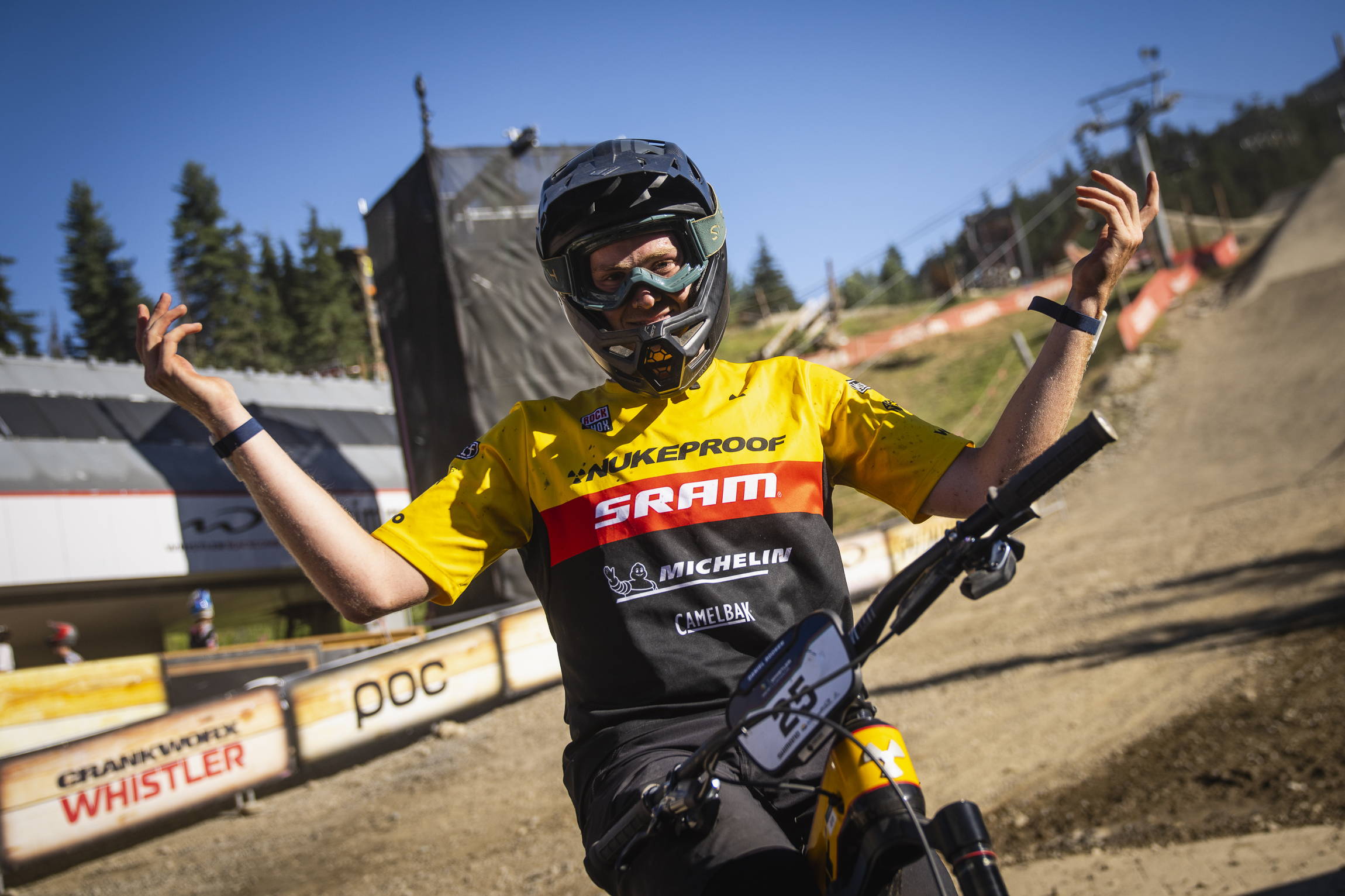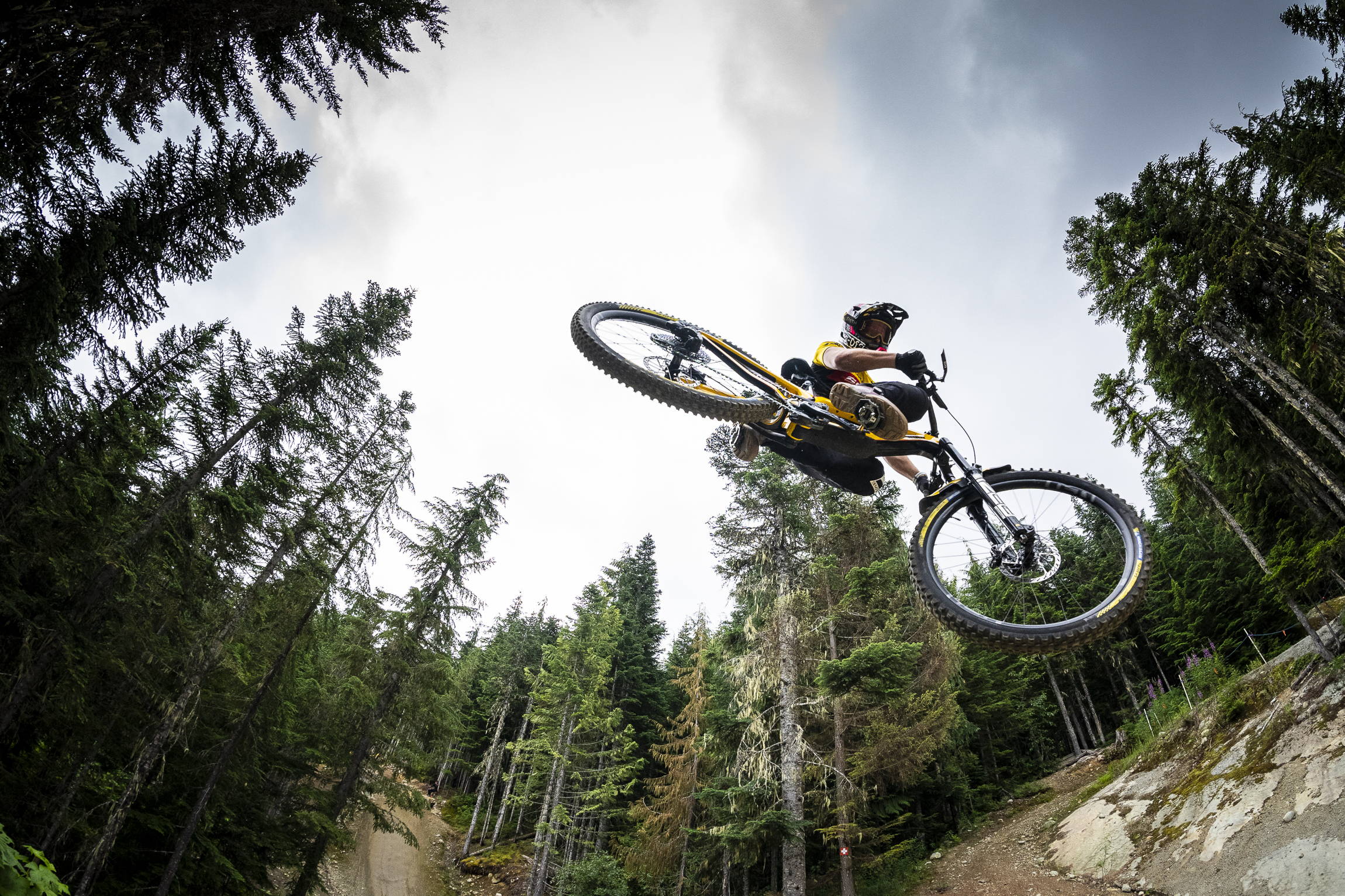 Round 4: Whistler
A hop over the Atlantic for the next 3 rounds of the EWS saw the team head to Whistler. The team spent a week getting acquainted with the tracks (or if you're Dan Booker, breaking the internet with some unbelievable skills on Dirt Merchant, see here). Six
long, physical and demanding tracks including Saturday's Pro stage made for some of the toughest EWS racing so far this season.
Despite not having the best Pro stage (44th with a crash), Sam Hill put a consistent race day together to put him 27th. Feeling closer to the sharp end of the results, Sam was happy with the result.
Elliott Heap was having a heater of a Pro stage until an unbelievably unfortunate crash which tore his mech clean off mid way through the stage. Digging deep on Sunday to claw back some time to take 55th and some all important overall series points.
Internet sensation Dan Booker was back on the EWS stage following a few DH World Cup appearances in the break in racing. Dan was having an incredible race sitting in the top 20 before the final stage where a rear flat put a halt to proceedings. His earlier impressive stage times meant he still came out with a top 50 result.
We're gutted to report, Kelan Grant's luck didn't change for the Whistler round, flats, mechanicals and a crash on the final stage saw Kelan back in the results and taking some time out for the next two rounds to rest a shoulder injury.
"A huge thank you to Simon and Jack who mechanic'ed all weekend in Whistler, you guys did an awesome job. It was a brutally hard week of racing but great to be back racing in North America. As always, a big thank you to all our sponsors for supporting the team." Nigel Page, Team Manager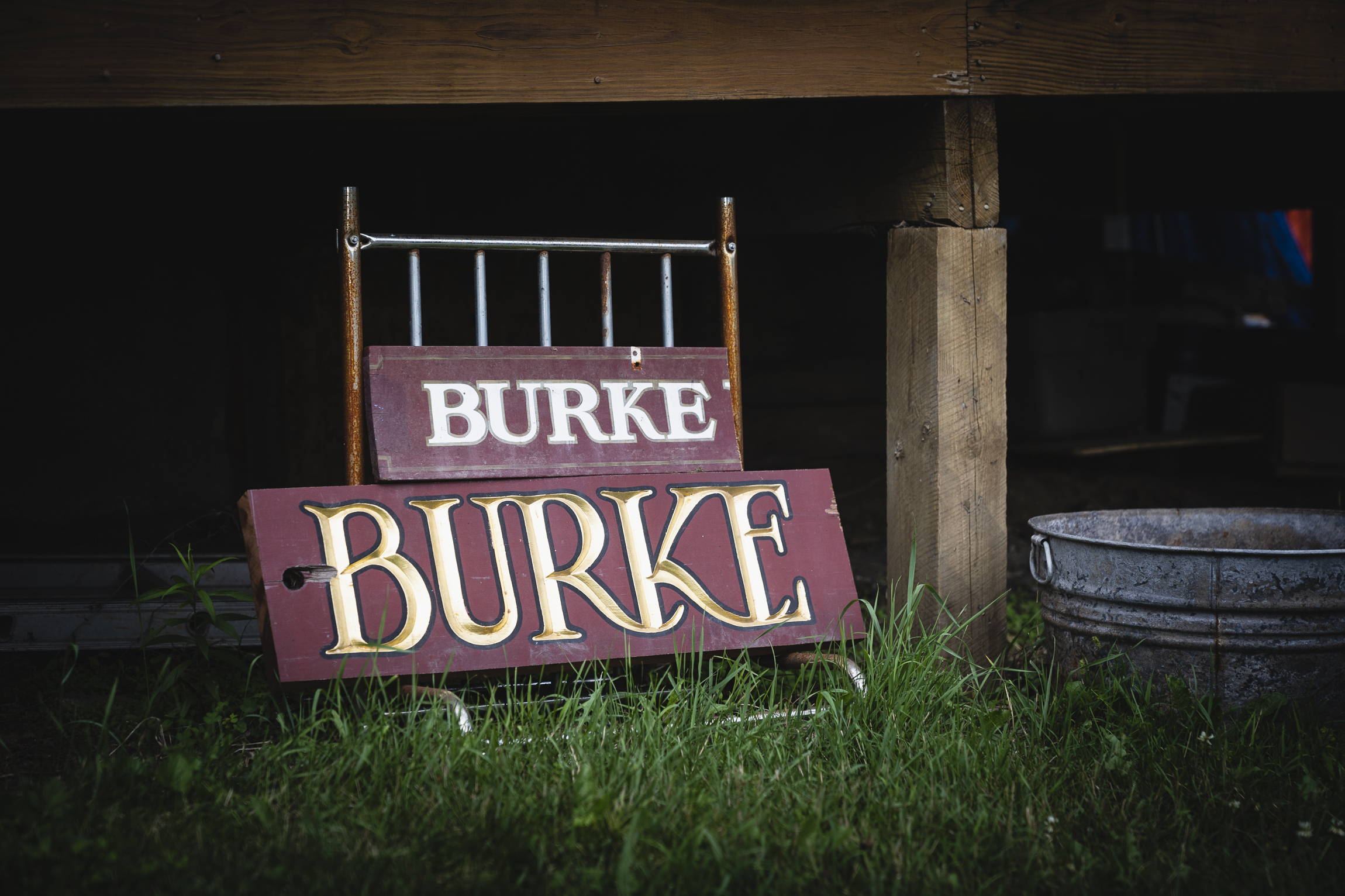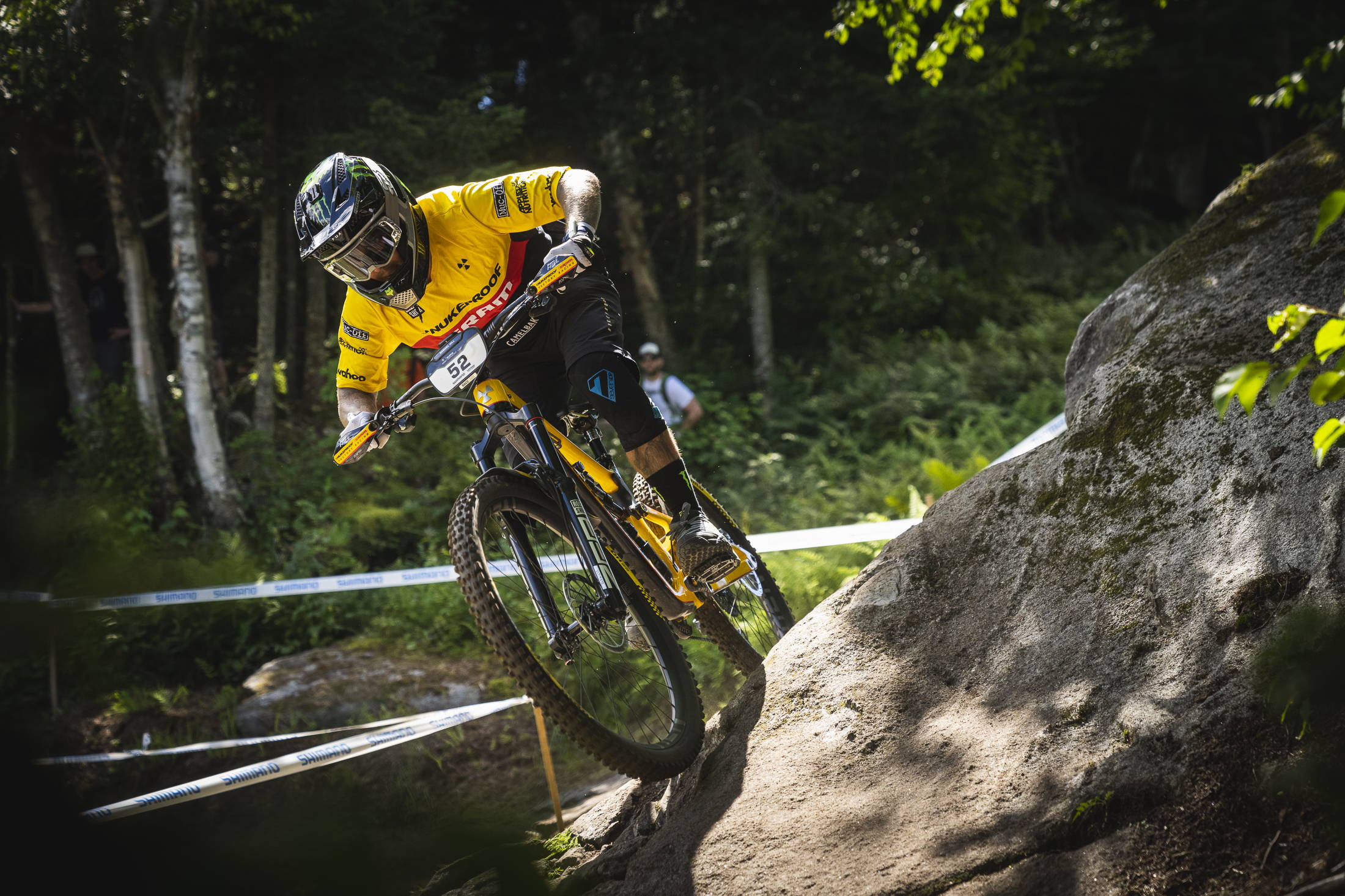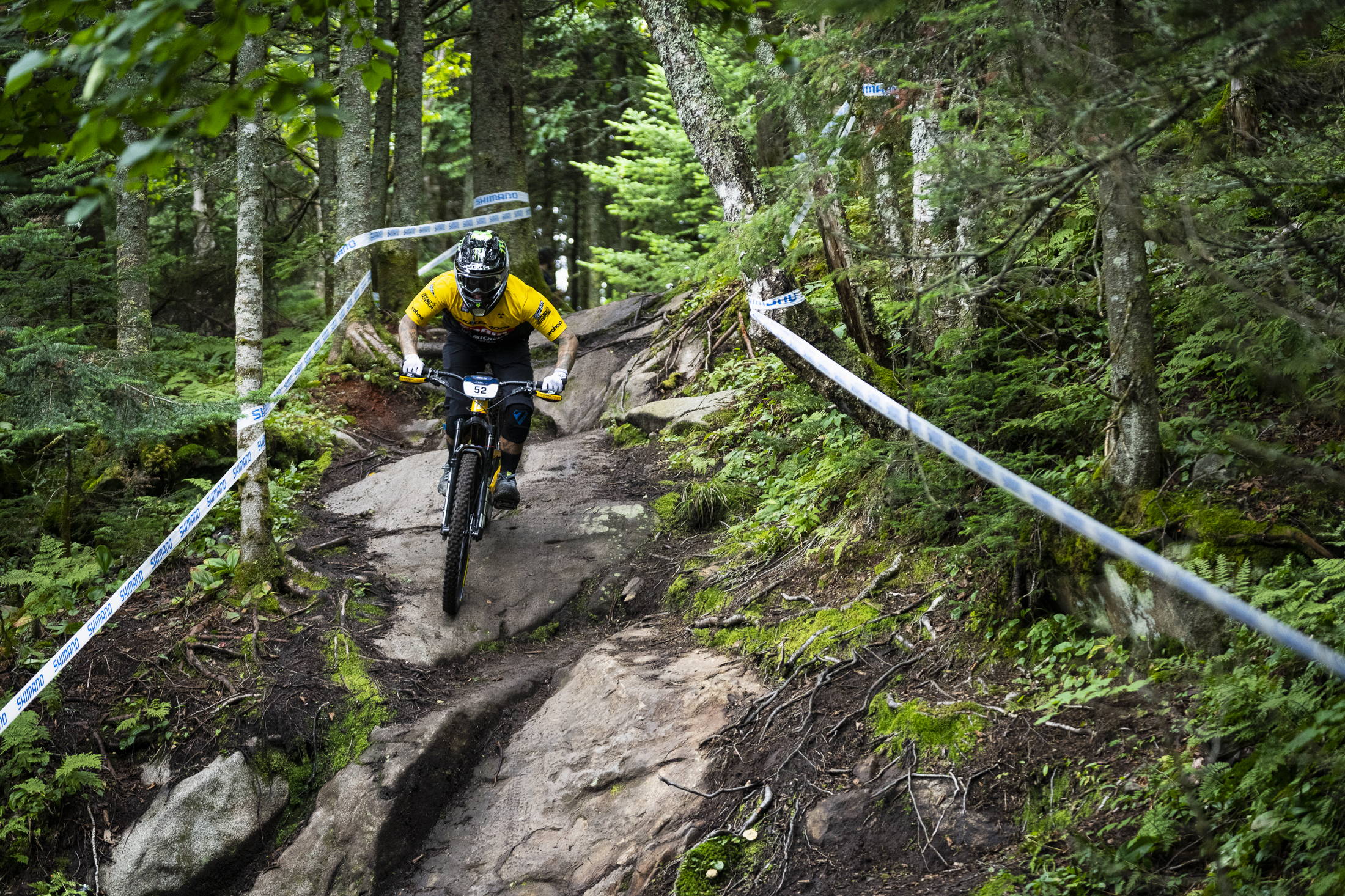 Round 5: Burke, USA
A new venue for the EWS series this year, Burke, Vermont displayed some classic Enduro tracks. With Kelan Grant having to bypass both USA rounds due to injury, it was Elliott Heap and Sam Hill joined by Sam's mechanic Jacy Schumilak making the trip to Burke.
The week on paper wasn't the most successful of the season being marred by illness for Elliott earlier in the week leaving him with little power or energy for race day. Mechanicals and frustrating crashes were more frequent than the team would have liked.
A top 50 for Elliott and a top 60 for Sam despite a number of challenges meant the guys still picked up some valuable points for the overall.
"Not where we know the lads want to be but looking ahead to Sugar Loaf and some more gravity fed DH style tracks where the guys should feel more at home. As always, a huge thank you to the sponsors who make this all possible" Nigel Page, Team Manager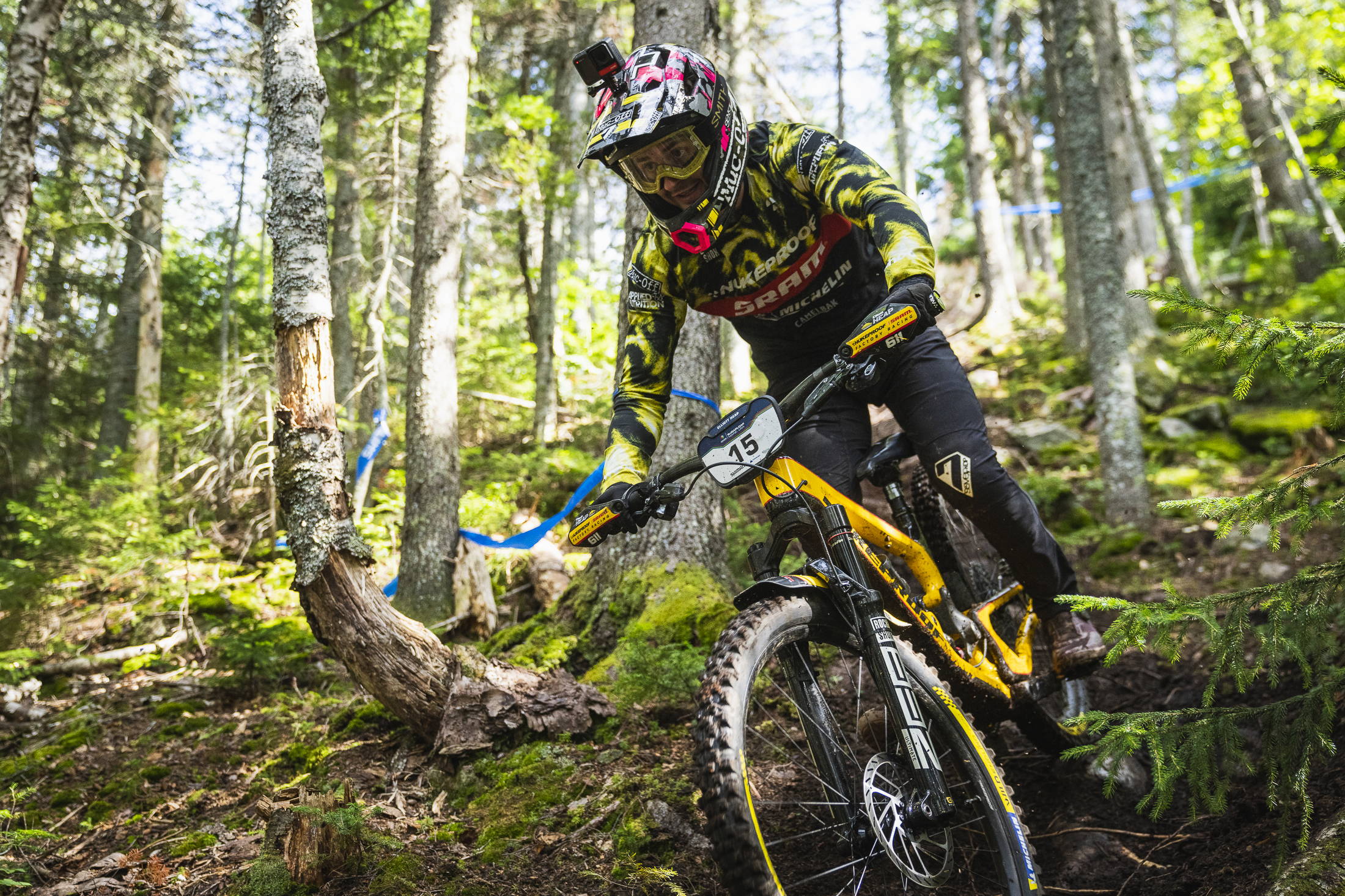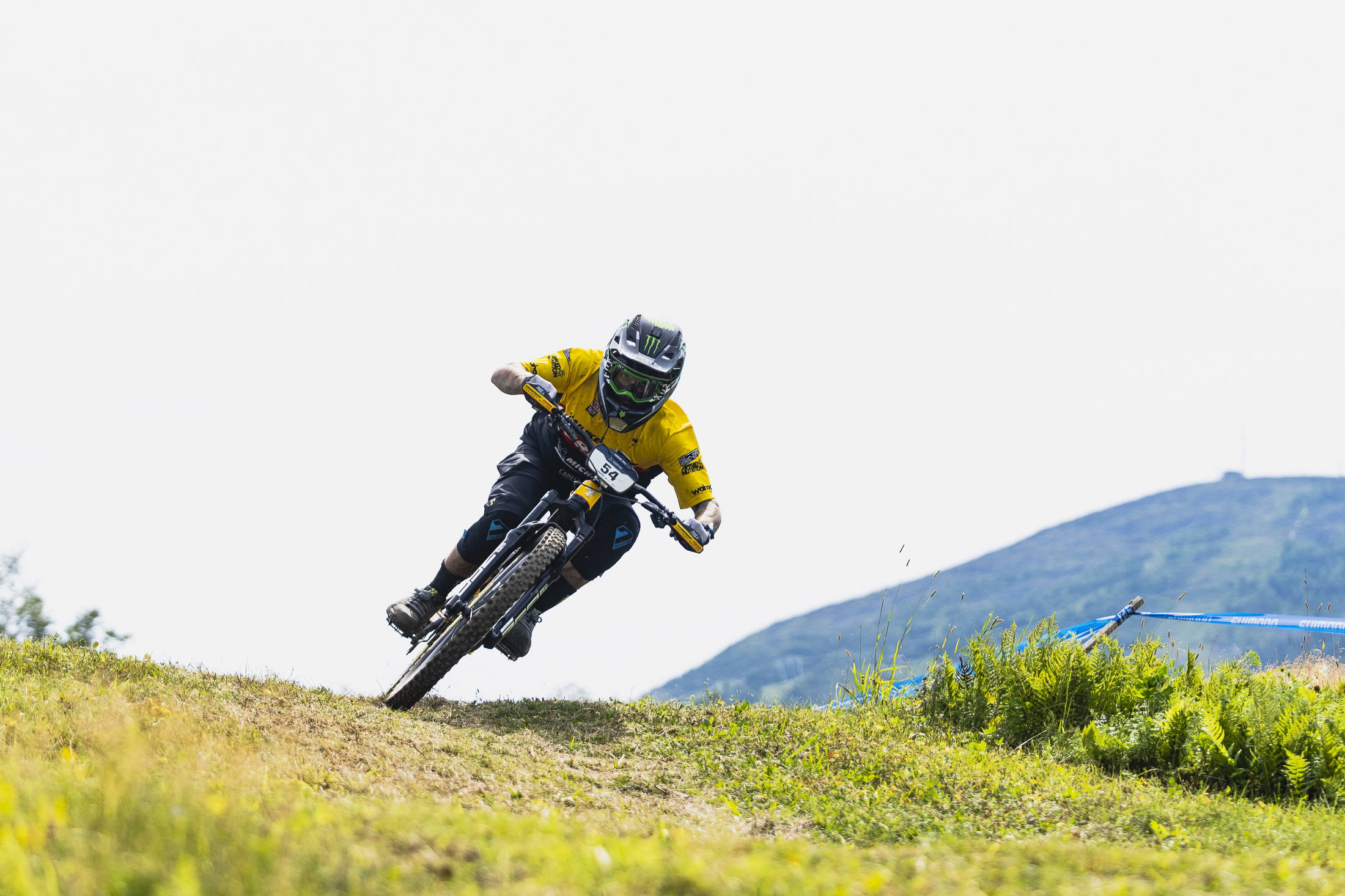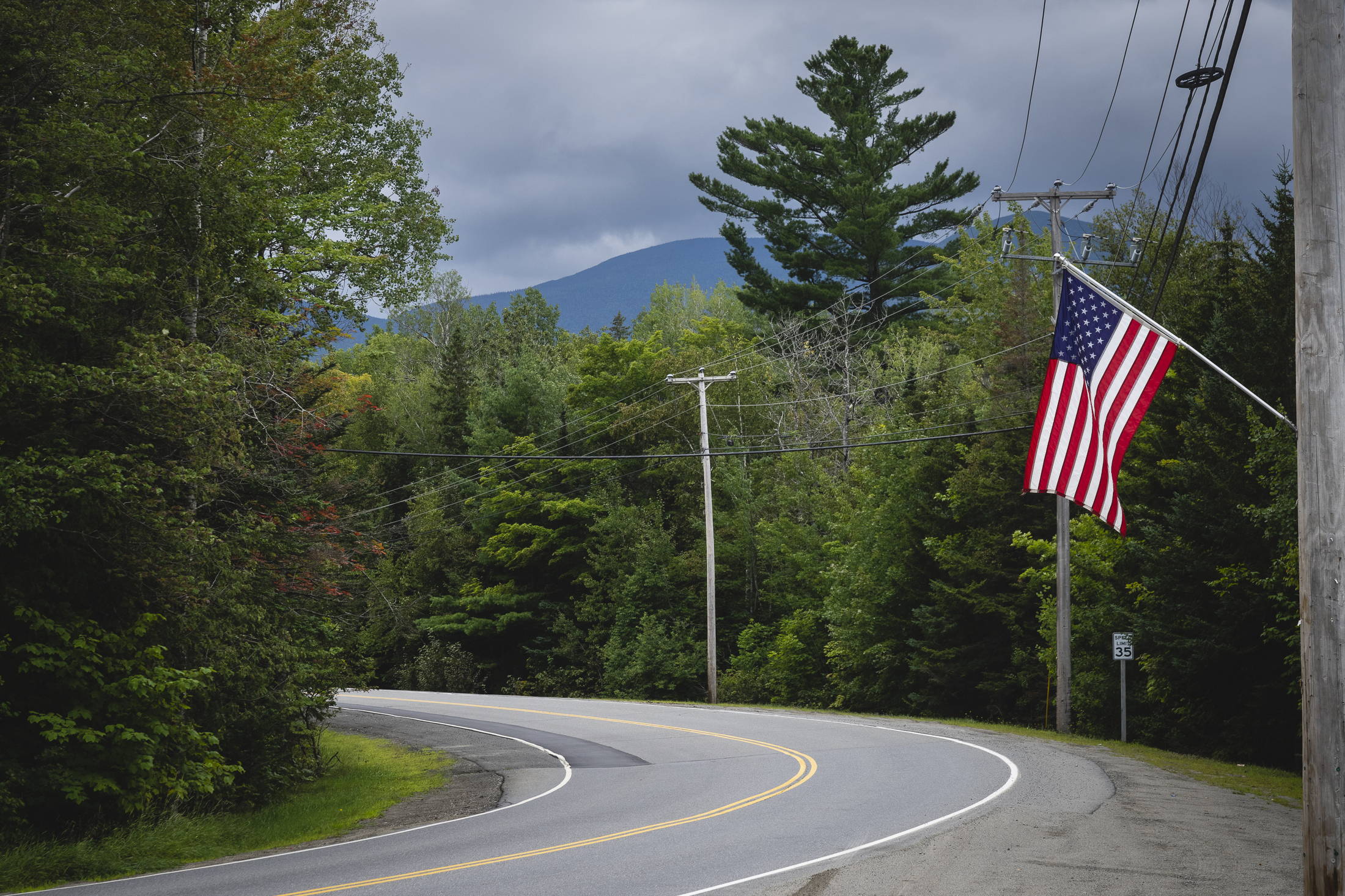 A short hop east to Maine for Elliott, Sam and Jacy took them to Sugarloaf, another new venue for the 2022 EWS.
Technical, DH style tracks were order of the day and the guys couldn't have been more stoked. The Pro stage saw Elliott take an awesome 21st with Sam having a frustrating crash on the pro stage leaving him back in 50th.
Sunday's Race day provided some slick and unbelievably technical tracks suiting Elliott and Sam and making for some interesting racing. Elliott's quick thinking saw him retrieve his broken shifter on Stage 1 so he could continue racing, unfortunately meaning he lost some valuable time. In true Elliott fashion, he pushed on to take 2 top 30 stages, a top 20 and an incredible 8th on the final stage. This put Elliott 40th overall with a great recovery ride.
Sam instantly felt comfortable on the tracks and was happy to put the Pro stage to bed from the previous day. The pace was instantly there with Sam putting down two 11th stages, a 12th, 13th and an awesome 2nd on stage 2. This put Sam in 10th overall only 20 seconds off the podium after 27 minutes of racing, a great result knowing he's back at the sharp end of the results.
"A short break in racing now for the EWS team before we head back to Europe for the final rounds in Crans-Montana followed by the finals at Loudienvielle. Delighted to have picked up some strong results in the USA and we look forward to the final two rounds. The amazing sponsors, team support and mechanics make this all possible, so a huge thank you to them" Nigel Page, Team Manager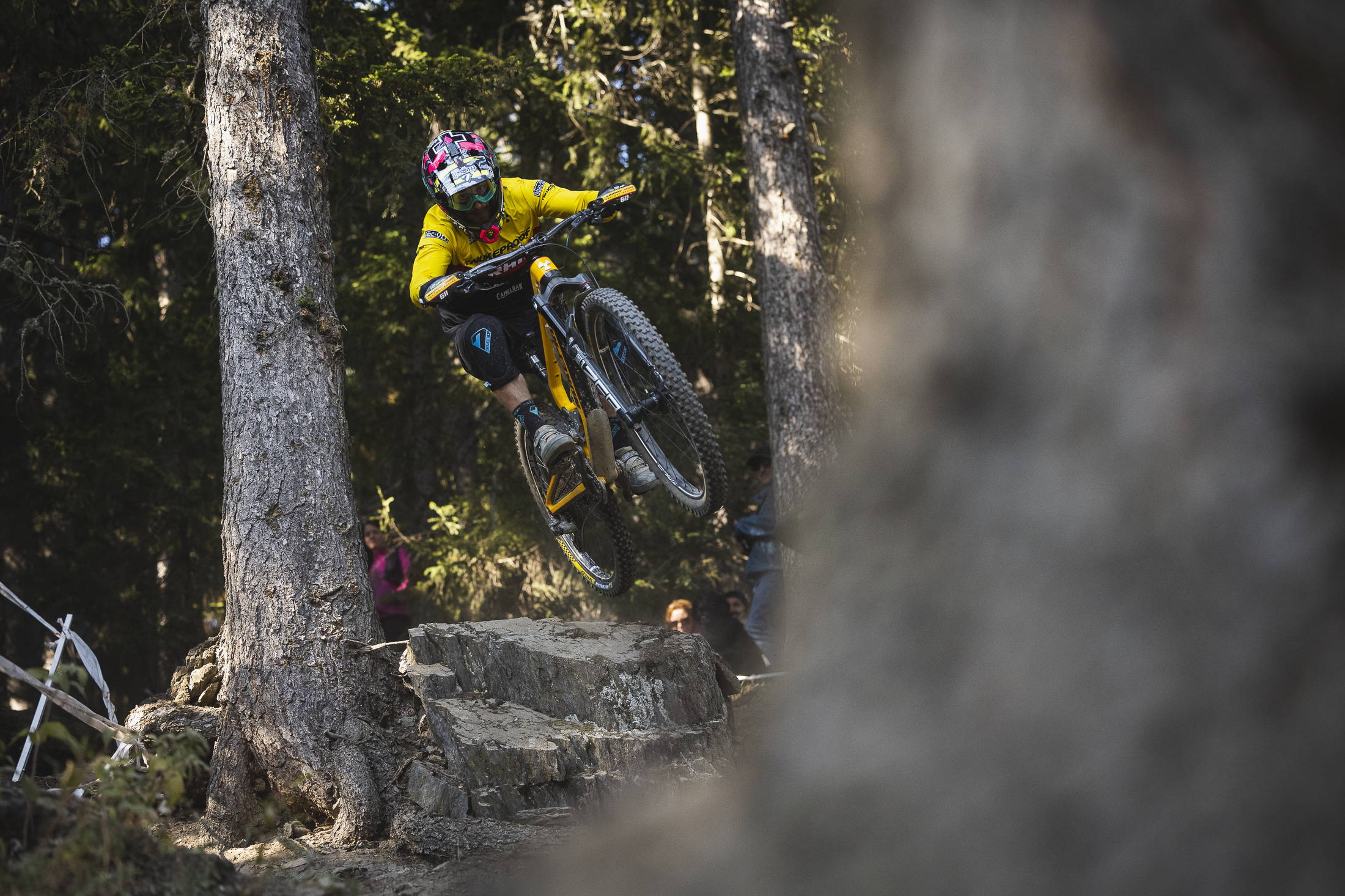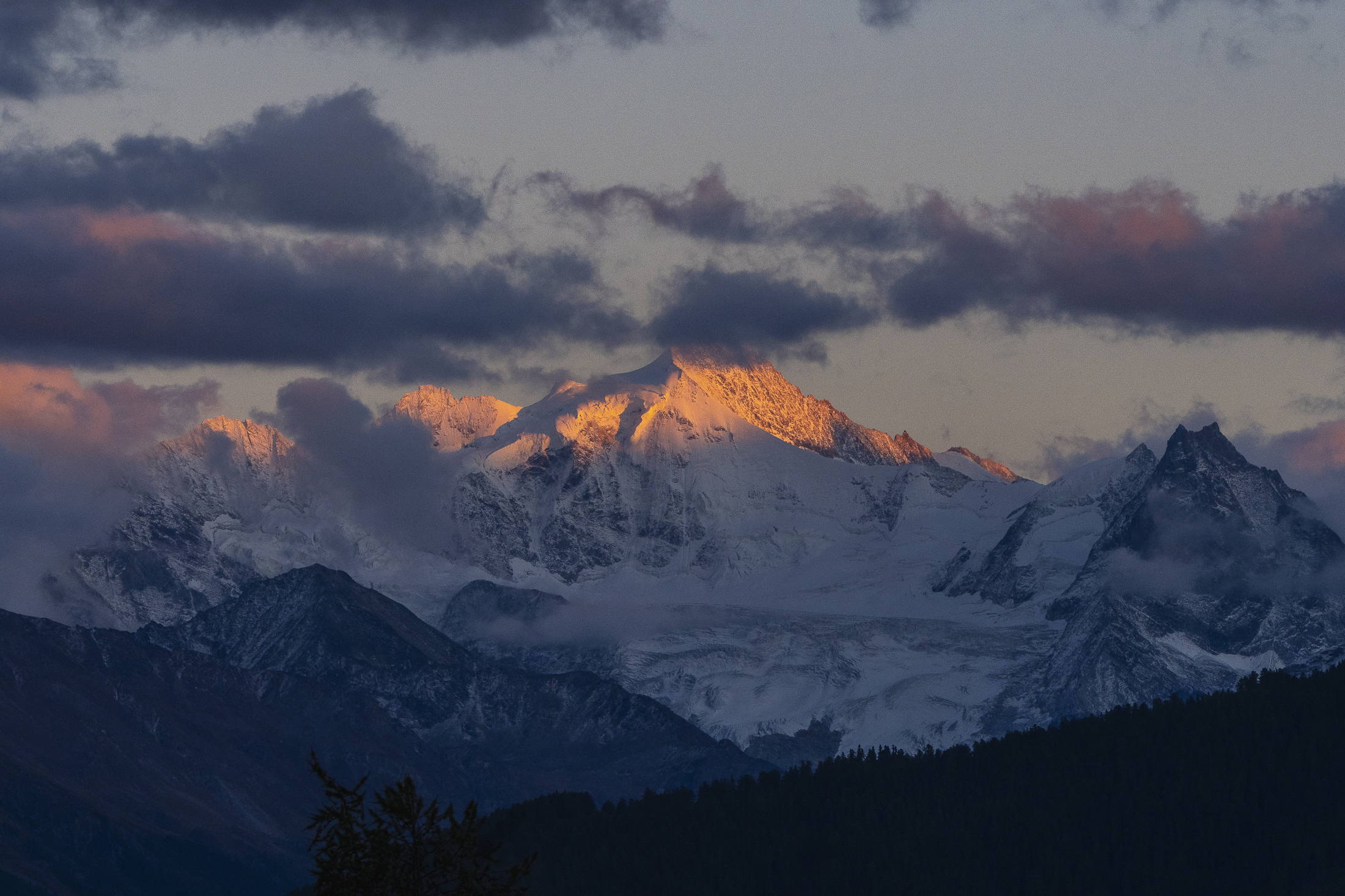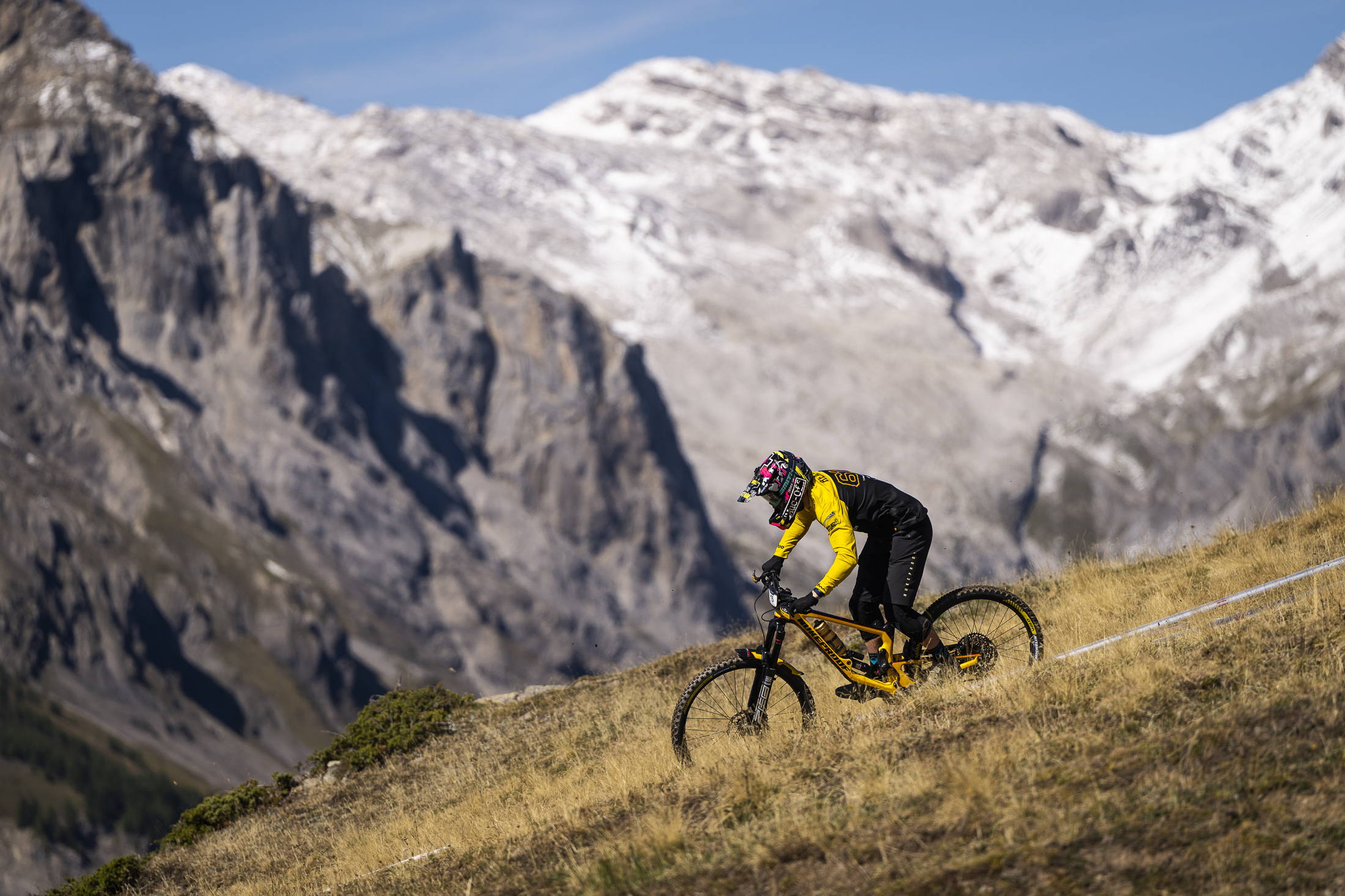 Round 6: Crans Montana
Back on European turf and with the full team back together, the Nukeproof Sram Factory racing team of Sam Hill, Elliott Heap, Corey Watson Kelan Grant and Dan Booker under the watchful eye of manager Nigel Page headed to the mountains of Crans Montana, Switzerland.
A favourite on the EWS calendar for its techy chutes, incredible views and of course raclette cheese.
Elliott Heap went for the double this weekend racing both the EWS-E and the main EWS event. Elliott's debut into Ebike racing was impressive, 3 top 3 stage finishes and a 9th overall. An incredible achievement, congratulations Elliott.
Only 48 hours later and the team were dropping into the Pro stage for the main EWS race. The mountains served a myriad of conditions as the riders headed down the track, with snow at the top, greasy turns out in the alpine to dusty sections in the forest.
The team all clocked clean runs in the top 50 with Elliott posting an awesome top 10.
More huge alpine descents followed for the 4 Sunday stages with a finish on the Pro Stage from Saturday. All 4 Nukeproof Sram Factory Racing athletes finished in the top 40 despite some close calls (check out Kelan Grant's near miss here) with Elliott showing his stamina with a 13th overall.
"This is a huge effort from all the team riders, team manager, mechanics, sponsors and everyone behind the scenes. Congraulations fellas on giving it your all" - Nigel Page, Team Manager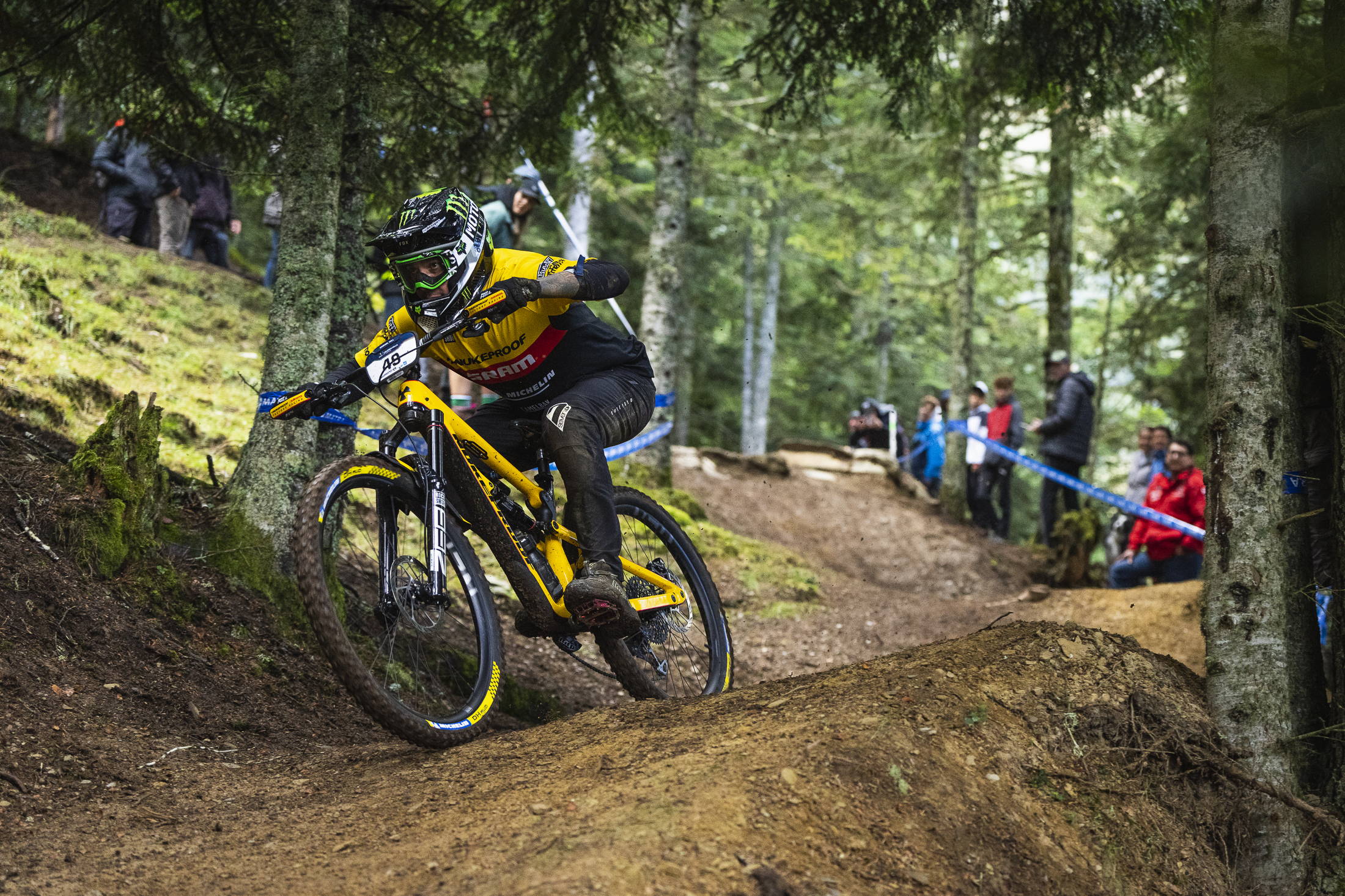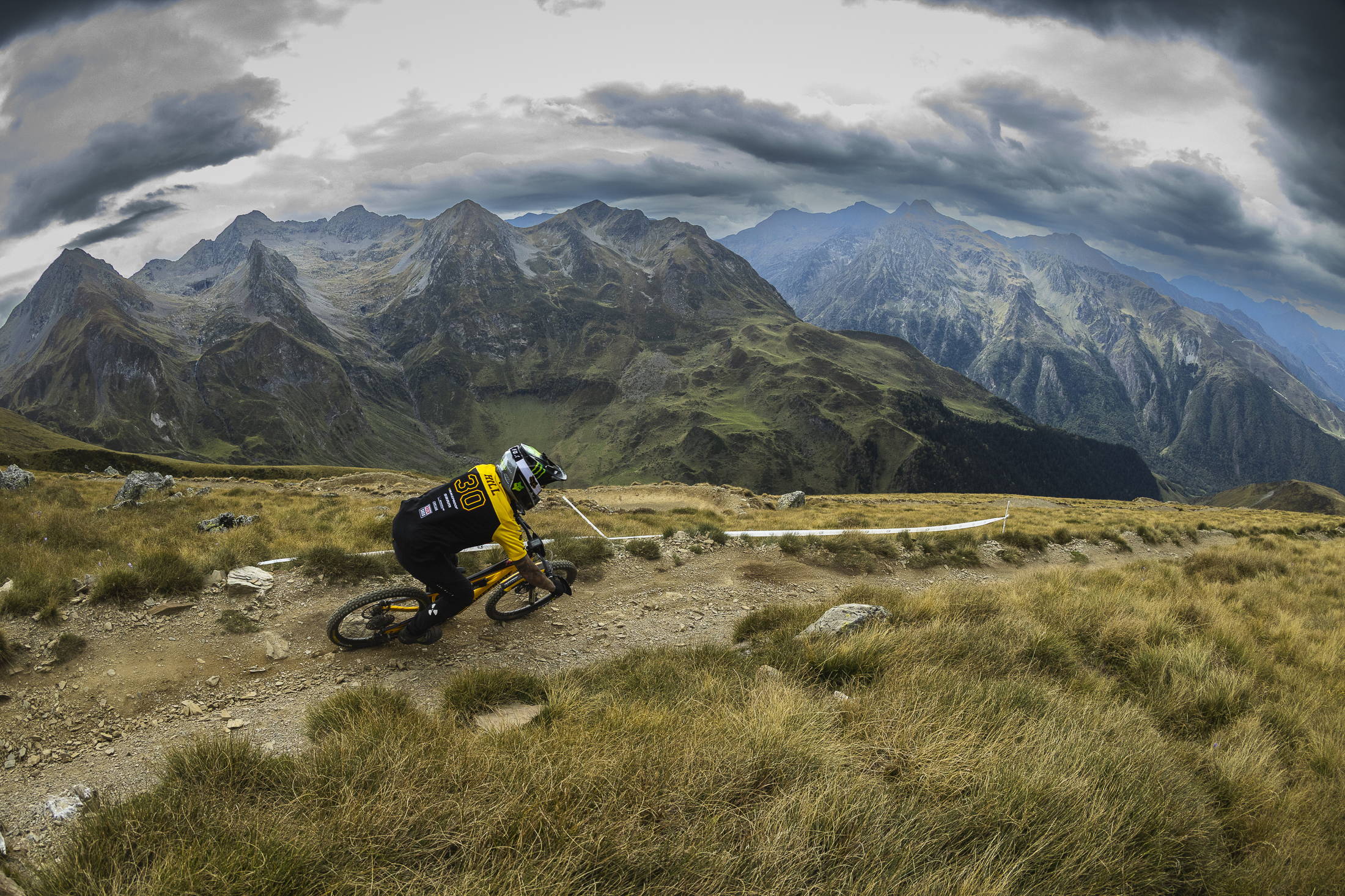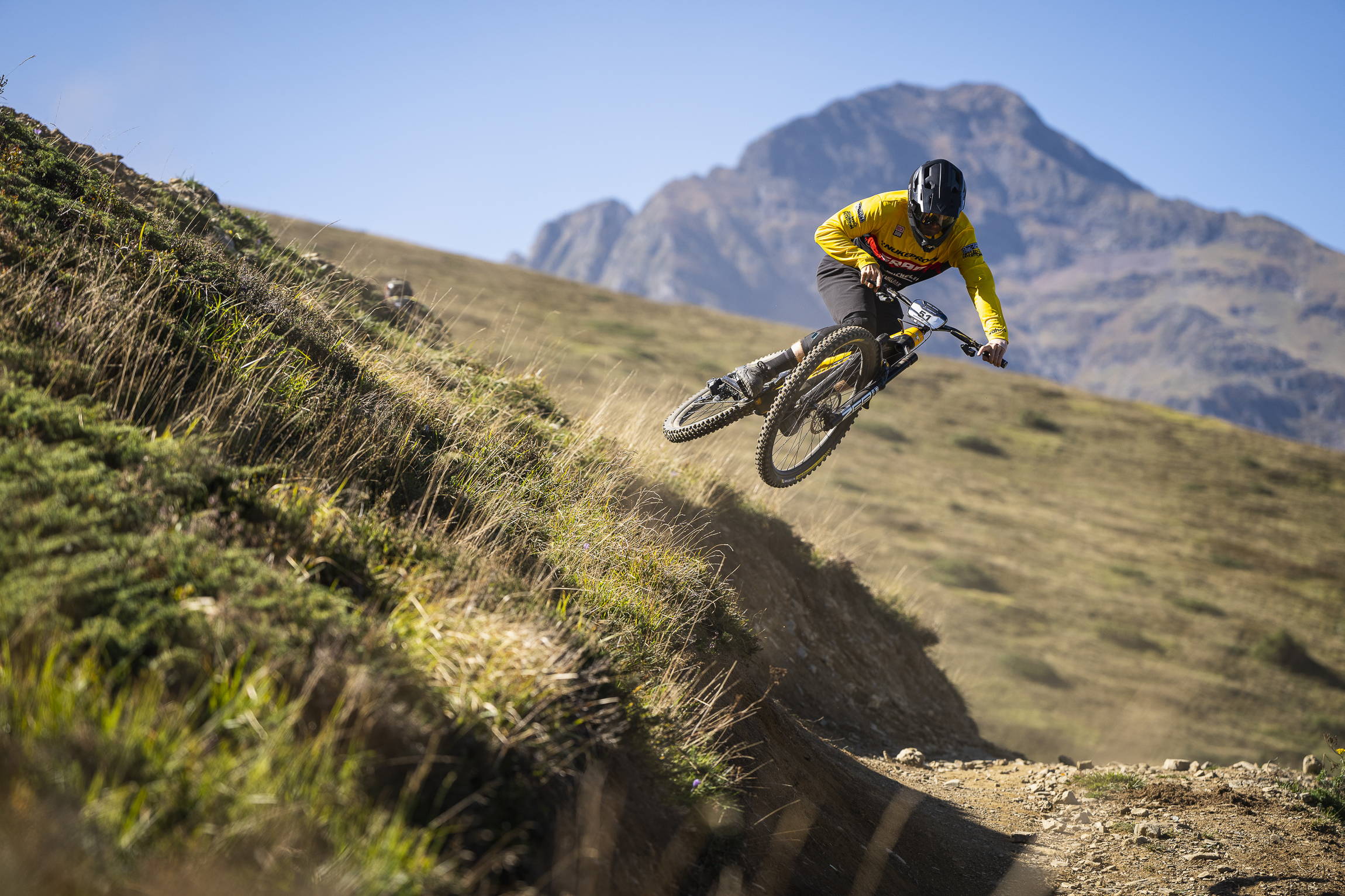 Round 8: Loudenvielle
Loudenvielle, nestled in the French Pyranees was the final round of the EWS Season.
The full Nukeproof Sram Factory Racing team of Sam Hill, Elliott Heap, Dan Booker, Kelan Grant and Corey Watson headed up by team manager Nigel Page, arrived ready to give their all on six challenging and demanding tracks.
As per 2022 EWS tradition, practise was dusty and fast and the guys got stuck in to the awesome tracks, then naturally the rain came overnight just to spice things up.
Some incredible Pro stage times from the man himself Sam Hill sitting in 12th overnight as well as top 30's for Corey Watson and Elliott Heap and a couple of unfortunate crashes for Kelan Grant and Dan Booker, who was battling with a previously injured wrist.
It was all to play for overnight and with the tracks having had enough rain to make them greasy but not quite mud, tyre changes were in order. As always, the team had plenty of options with the Michelin offerings. Sam went for cut mud tyres with Elliott opting for a cut mud on the rear and the remainder of the team on Wild Enduros on the front and DH22's on the rear.
Sunday's stages bought pedally sections up top into sweeping corners into steep tech, Sam was flying with a 2nd and 12th on stage 2 and 3 before suffering an unbelievably unfornate flat on Stage 4, absolutely gutting as he was well on the way to a top 10 finish.
Elliott yet again showed his speed and consistency with 3 top 20 stage finishes leaving him in 21st overall meaning he claimed the 21st spot in the overall EWS series.
New to the team Corey Watson posted some incredible times over the weekend slotting into 24th for the weekend. Kelan Grant was chasing him down in an impressive 27th after a tricky season of bad luck.
Dan Booker managed to push on to the main race day and clawed back up to 38th overall for the weekend with a damaged wrist.
"Great work team, its been a blast this year and you've all showed some great riding and results. A huge thank you to Jacy and Matt for keeping the bikes running sweet all season. Our brilliant sponsors for keeping the guys on fresh tyres, components, nutrition and wearable tech. Onto the final race of the season for Elliott, Corey, Dan and Kelan in Finale whilst Sam heads to the final two Crankworx DH events in the Southern Hemisphere"
Nigel Page, Team Manager
---
Check out the Nukeproof team in action
Watch the highlights from each round here
With big thanks to all the sponsors for the 2022 season

---