"It is only by riding a bicyle that you learn the contours of a country best, since you have to sweat up them"- Ernest Hemingway
Shivering, every item of clothing soaking wet, sitting in silence and comforted only by the doughy goodness of a well-known German supermarket's bakery delights. It was at this point we realised that bikepacking is quite gnarly.
Most good ideas start on a bike ride and this was no different. Rewind a year previous to the Nukeproof 'Ladies that Uplift' event in the Forest of Dean. Nukeproof athlete and all-round adventure badass Meg Whyte hailing from the Lake District, Speech and language therapist and better half of Nukeproof athlete Kelan Grant, Fay O'Connor based in Northern Ireland, and myself, Katie from the Nukeproof marketing team from Devon, decided we'd enter the ballot for the Komoot Women's rally in Slovenia in 2023 and try our hand at bikepacking (spoiler alert, none of us got in).
After a few messages back and forth the 'Slovenia 👀' WhatsApp group was created, and the hair-brained idea of riding the route ourselves was born. Three girls, zero bikepacking experience between them and a whole lot of stoke.
A story of Slovenia's West Loop, The Nukeproof Way.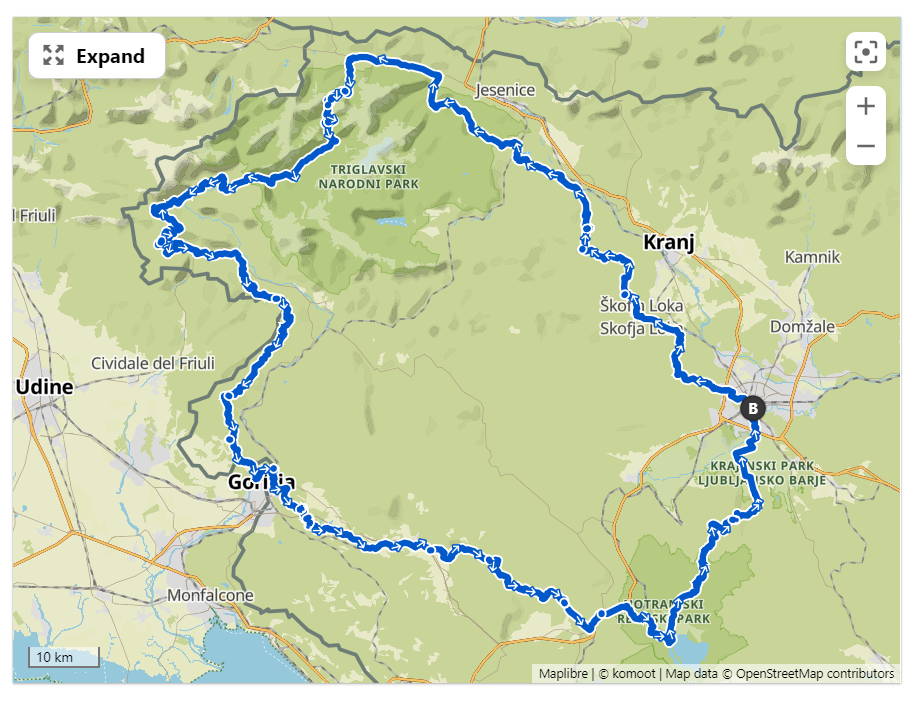 At this point, it's important to note that this trip would not have happened without Meg's meticulous route planning squeezed in between epic lakes MTB rides, DH races, gravel adventures and her full-time job as Crankbrothers/Fizik Brand specialist.
Getting to the start point took some nifty logistics too. We flew from London Gatwick with Easyjet meaning bike bags weren't extortionate and there were plenty of flight options. Followed then by a transfer from Ljubliana airport to an old friend's farm near Lake Bled, who kindly offered to house our bike bags whilst we were on our trip - important to find as you can get charged full whack for 'storage' at airports.
Our route would take in just under 500km and 10,000m of climbing which we'd divided into 8 days starting in the spectacular Lake Bled.
Lesson 1: Everyone has their roles in a bikepacking trip, Meg thankfully happened to take on quite a few, more on that later.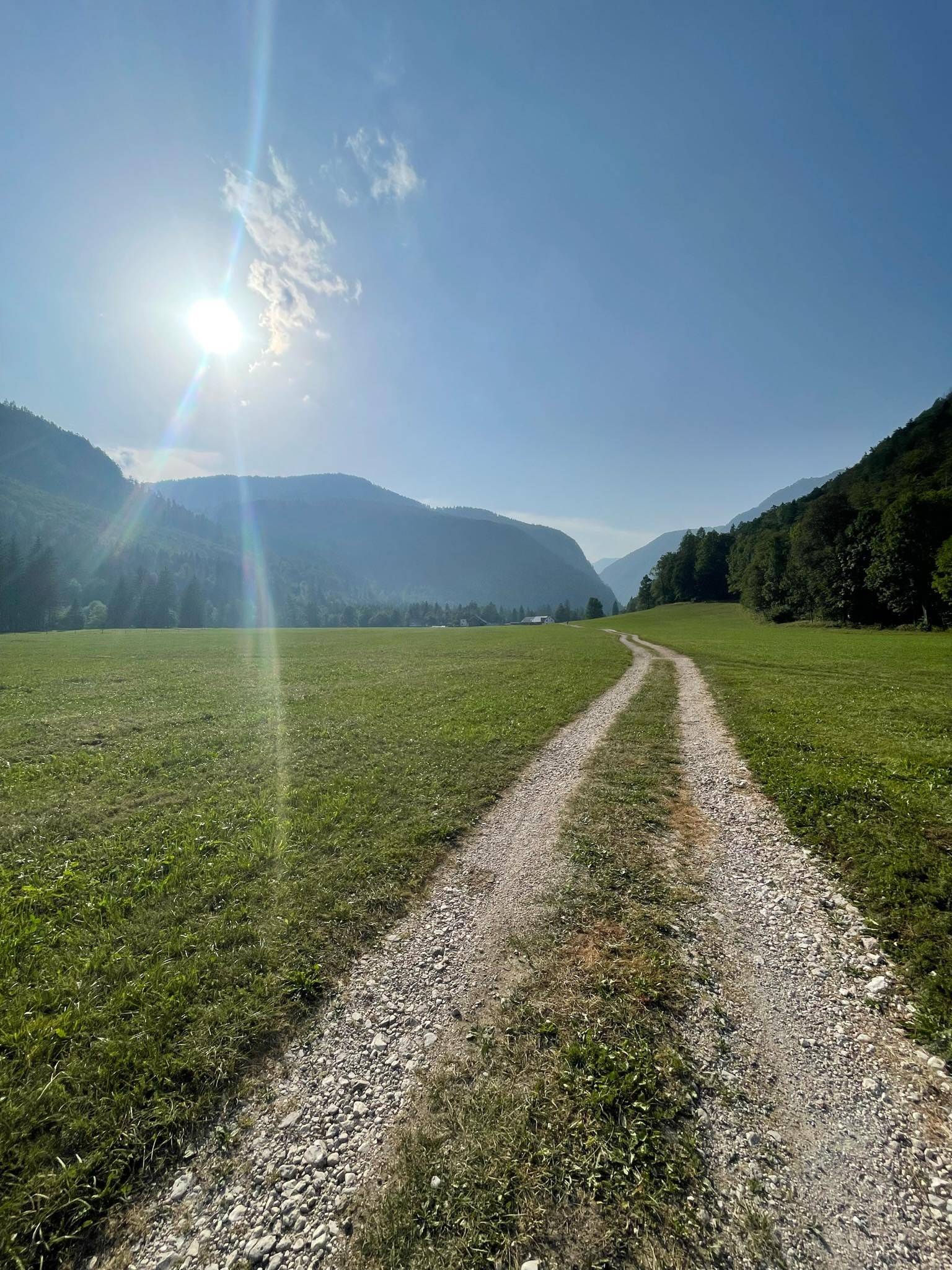 The rumours were true, Slovenia was a gravel heaven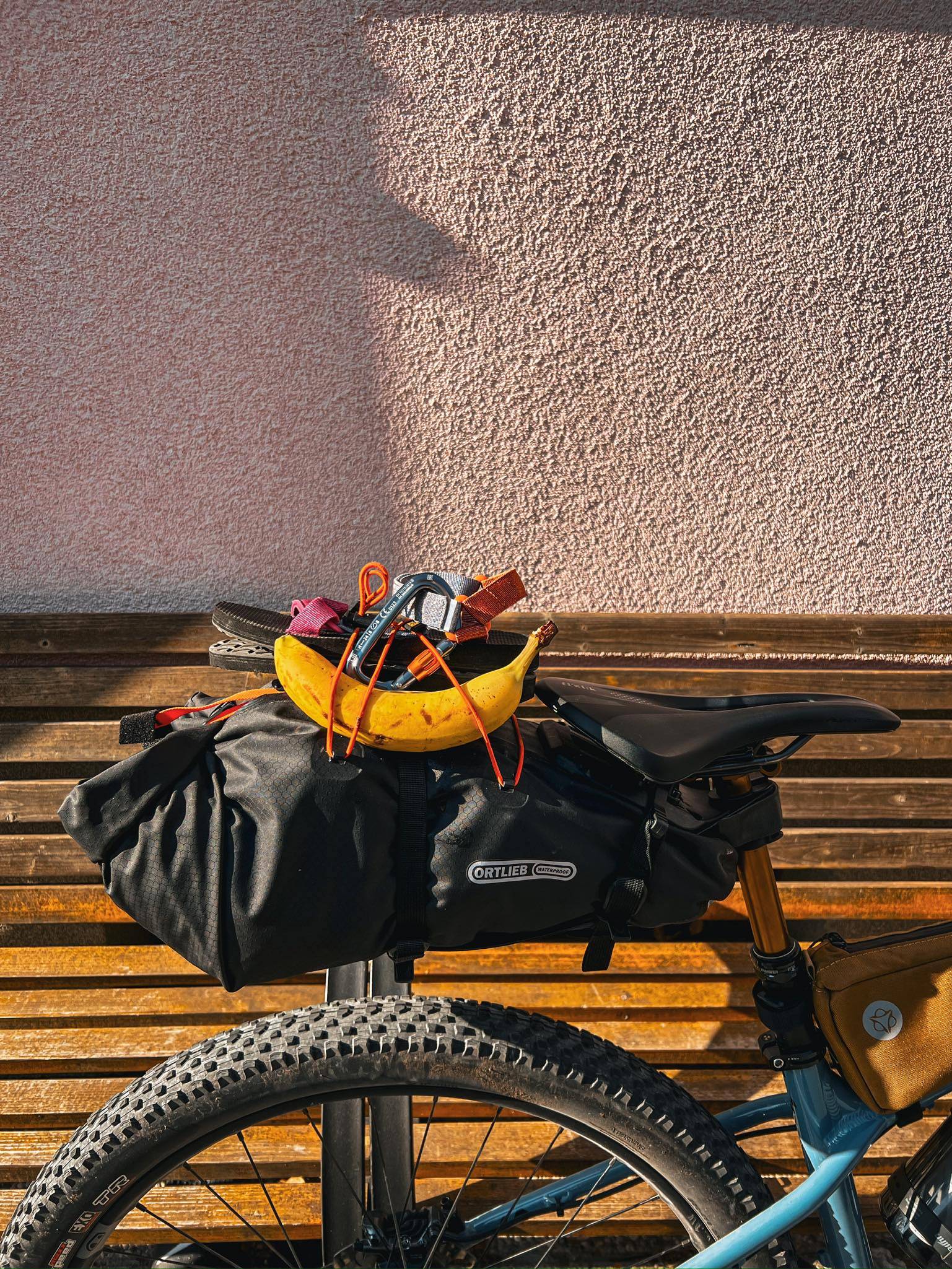 Meg Whyte's Scout was equipped with an Ortlieb saddle pack keeping the essentials in place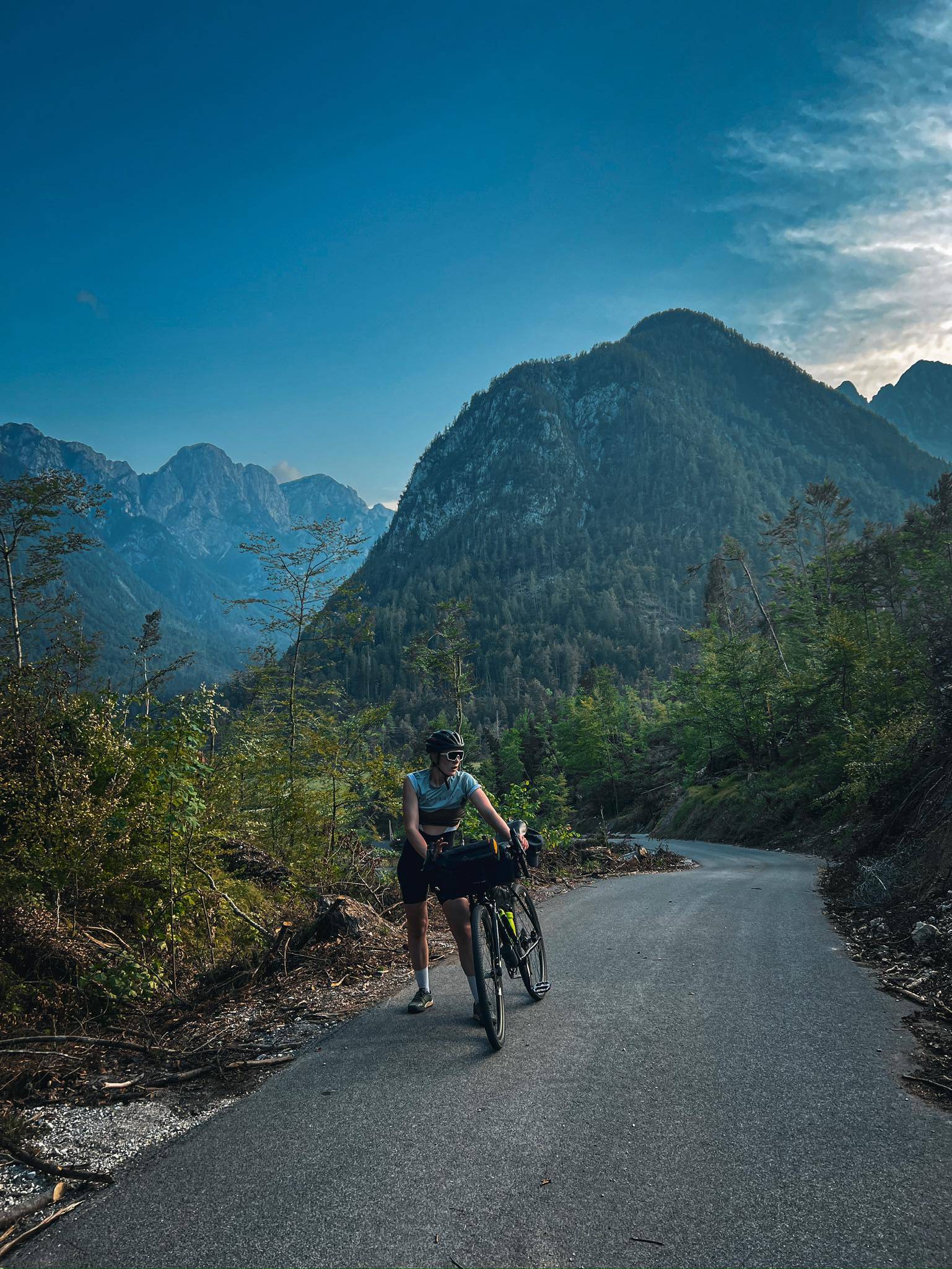 Day 1's hills were humbling enough but the views were worth it
As we discovered in the lead-up, a significant amount of prep goes into a bikepacking trip; countless kit lists and back-and-forth on setups are required. As we rolled out of a friend's house in Lake Bled, however, the anticipation (and fear) was tangible. As was the sweat, heatwaves were sweeping the country settling on a balmy 38 degrees during the day.
Slovenia sits just north of Croatia in Central Europe. A country small in size (smaller than Wales geographically) but big on culture and history. Former Yugoslavia, Slovenia was a key territory in WW2 and gained independence as a nation in just 1991. The West of the country naturally, has a significant Italian influence, abundant in Italian design, culture and cuisine.
Attempting Day 1 on 2 hours sleep, a pret sandwich and some trusty Haribo's wasn't the smartest idea but arriving into the spectacular mountain town of Kranjska Gora on the evening of Day 1, one day ahead of schedule was a great feeling. The main question? Where's the pizza at?
Lesson 2: Haribo is an instant game changer. Every trip needs a Fay to bring the Craic (Said craic only available when not hangry)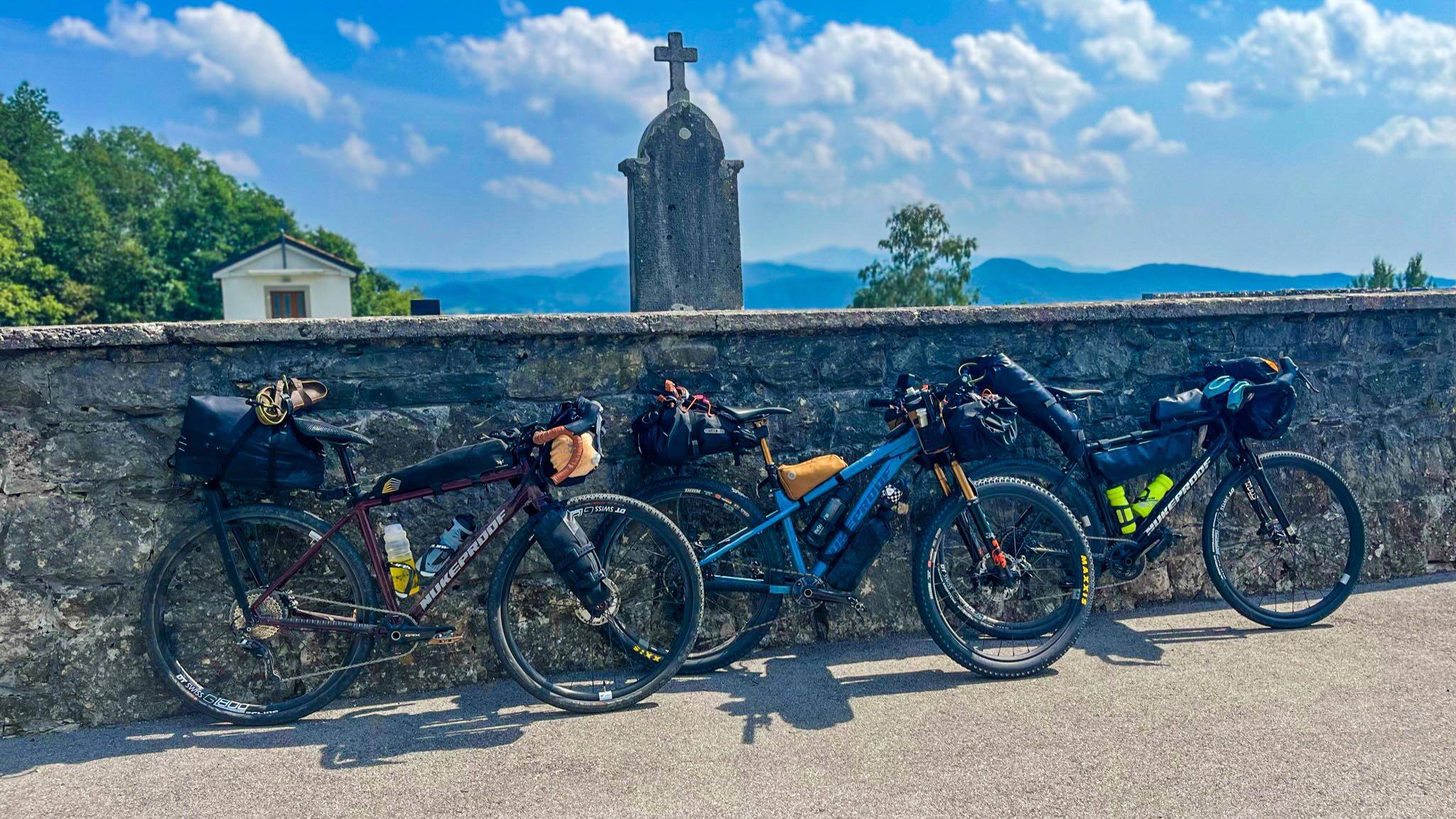 We all opted for a slightly different set up, all having their own benefits along the route. Check out the bike checks at the bottom of the article.
A pitch up at what can only be described as a very 'granola' campsite and we were keen to make tracks early. Day 2 took us into the breathtakingly stunning Triglav National Park and into the Julian Alps. As was to become customary for each day, our day started with a stonker of a climb (10km and 700m of vert in one hit), 51km and 1400m of climbing both on and off-road. Peaks of the day included; a perfectly positioned alpine cafe at the summit of our ascent to enjoy our day-old pizzas and a well-earned beer, our first dip in the Soca River ("refreshing"), and a night in the adventure sports heaven of Bovec.
Day 3, weaved us up the spine of the Julian Alps through river crossings, meaty gravel tracks and mainly following the crystal blue waters of the Soca River, more blue skies and high 30s made us grateful for never being far from the water. Riding wise, brutal off-road climbs and 10km of fire road descents that had us both grimacing and giggling in equal measures describes the day, before rolling into the incredible Camp Lazer, Kobarid and we all concluded, we've got this bikepacking thing dialled...
Settling into an incredible dinner at the Campsite restuaurant (10/10 recommend Camp Lazer) and our usual routine of a celebratory beer followed by checking our route for the following day resumed. Starting a day early had given us an extra day but, it had meant the forecasted storm rolling in was due to fall on our longest day of the trip. Que the realisation that we had 80km and 1700m tomorrow to make it to Gorizia, Italy with no food (European shops on a Sunday). A decision to crack on and give it our best shot was made, aided by four more beers.
Lesson 3: Decisions are made easier when the beer flows.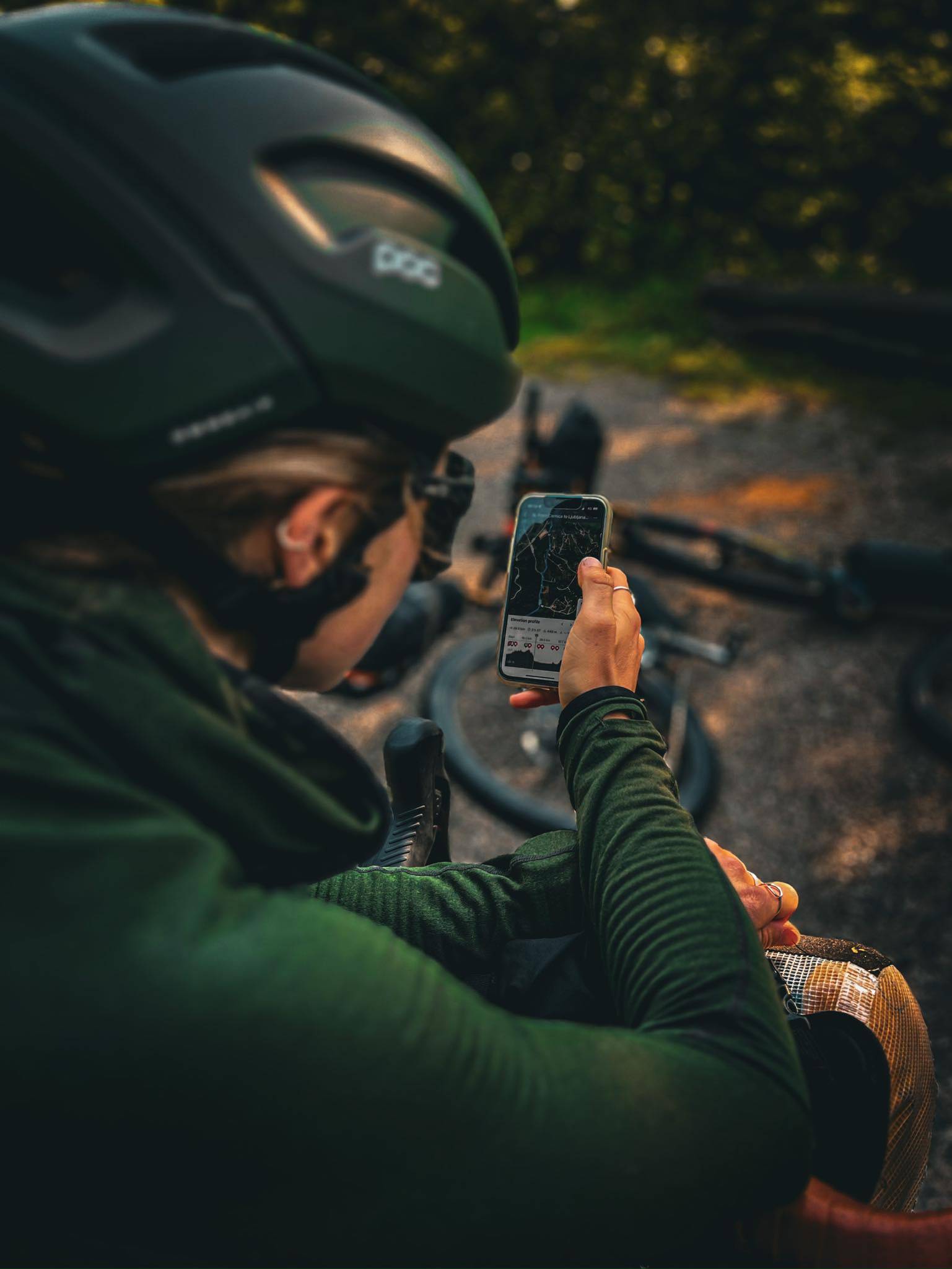 Komoot was a fantastic tool to route plan along the way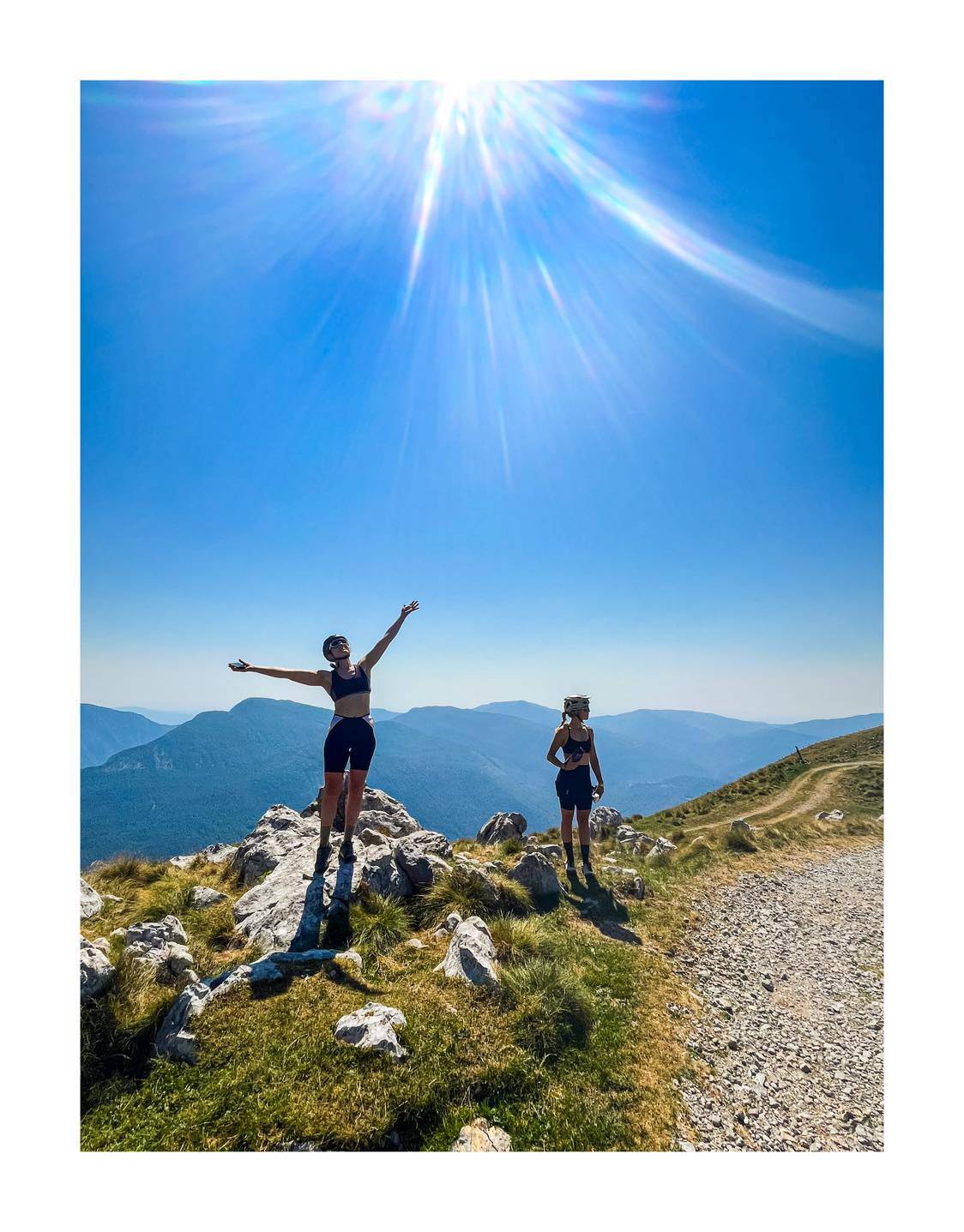 Day 2's offroad climb made the views at the top very sweet indeed
Its easy to forget when slogging up hills to look up and see where you are
The relief as we rolled into the Italian city of Gorizia was palpable. Three mountain passes, route alterations to navigate storm damage, two countries, incredible descents, service station stashes, a gatecrashed 70th birthday in a hillside cafe and one over the bars and we'd done it- made it to Italy. We celebrated in a suitably Italian way, with Sushi.
Day 4 was, on paper our easiest day, just a mere 38km separated us from the Vipava wine region, a comfy night in a real bed and a well-earned rest day. As we sat outside Aldi shivering in biblical rain that wasn't forecasted to stop, we went through every perceivable option that could get us there. After two failed bus ride attempts and in a state of delirium we decided to push on. On to the dual carriageway we went, soaked to the bone, and deafened by the sound of arctics whizzing by, there was a collective whoop when we peeled off onto gravel. Only to realise the 'small ford' described in the Komoot route was a raging river. As we crossed three boggy fields, dragging our bikes through hedges we saw a road and the end was nigh. Wine had never been more anticipated in any of our lives.
A relaxed day followed at the Winery, along with a realisation that we hadn't seen civilised people for a few days. As we hung our socks off our handlebars and walked around in our 'good clothes' (also doubled up as layers and pyjamas) we attracted some strange looks. Zorz Winery is one of the oldest wineries in the region, home to its namesake family since 1696, the vineyards stretch across the valley taking advantage of the fertile land and 'warm weather'. After an evening of wine tasting and gorging on a complimentary cheese board, we were revved up for the next leg.
Day 6, more rain. Morale was dipping as we battled through another 50km into Cerknika, where my inner diva came out and demanded we didn't wild camp and get an apartment instead. Utilising the washing machine (check out the Vlog for more on that), the oven (to dry shoes, naturally) and charge all our electrics.
Lesson 4: Don't plug a wet Wahoo in and leave it overnight. We left Fay to explain that one to Kelan when she was home
Lesson 4.1: Always, always bring a waterproof, the weather knows best.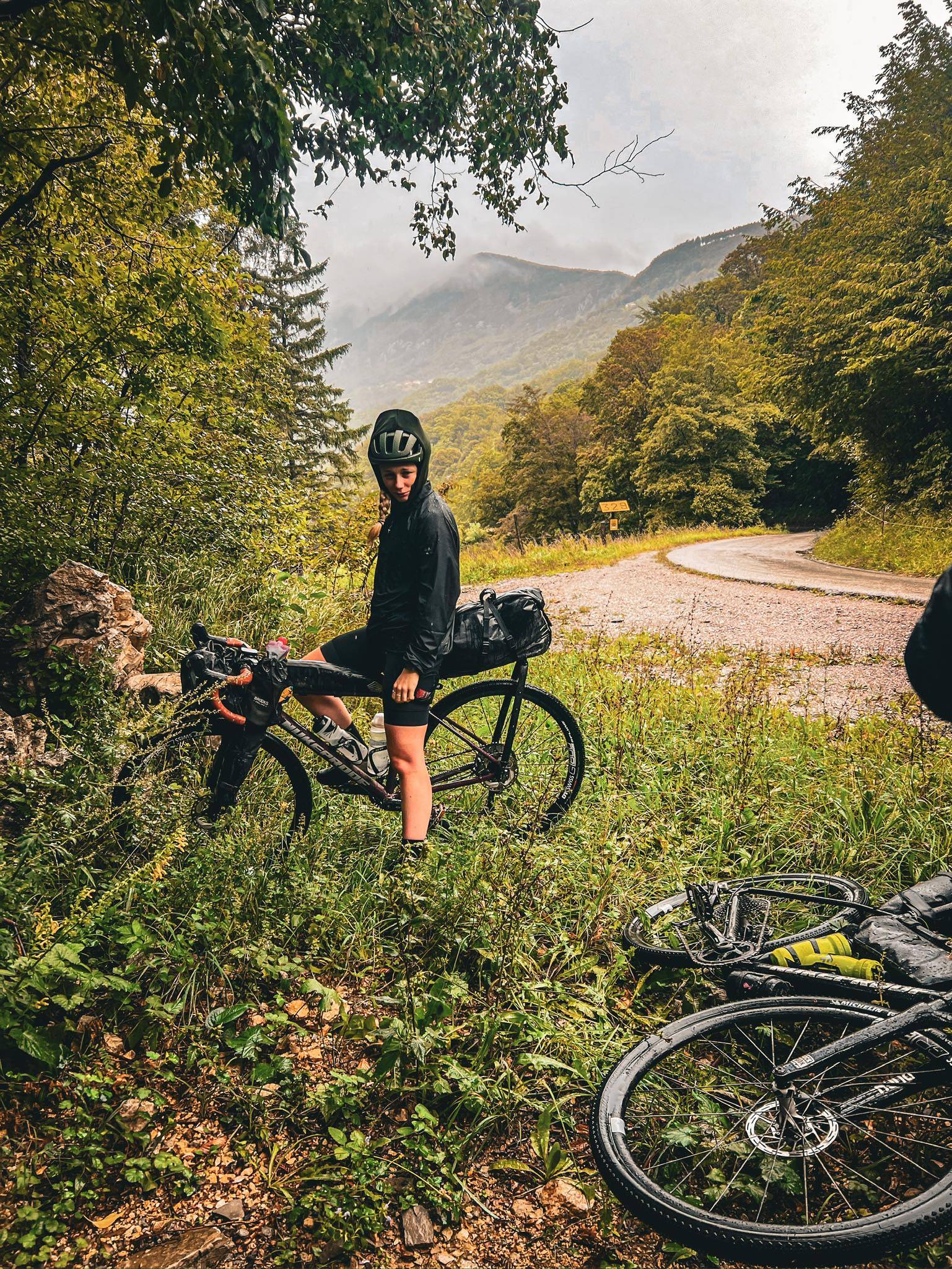 Rain is a test of a humans resolution in every sense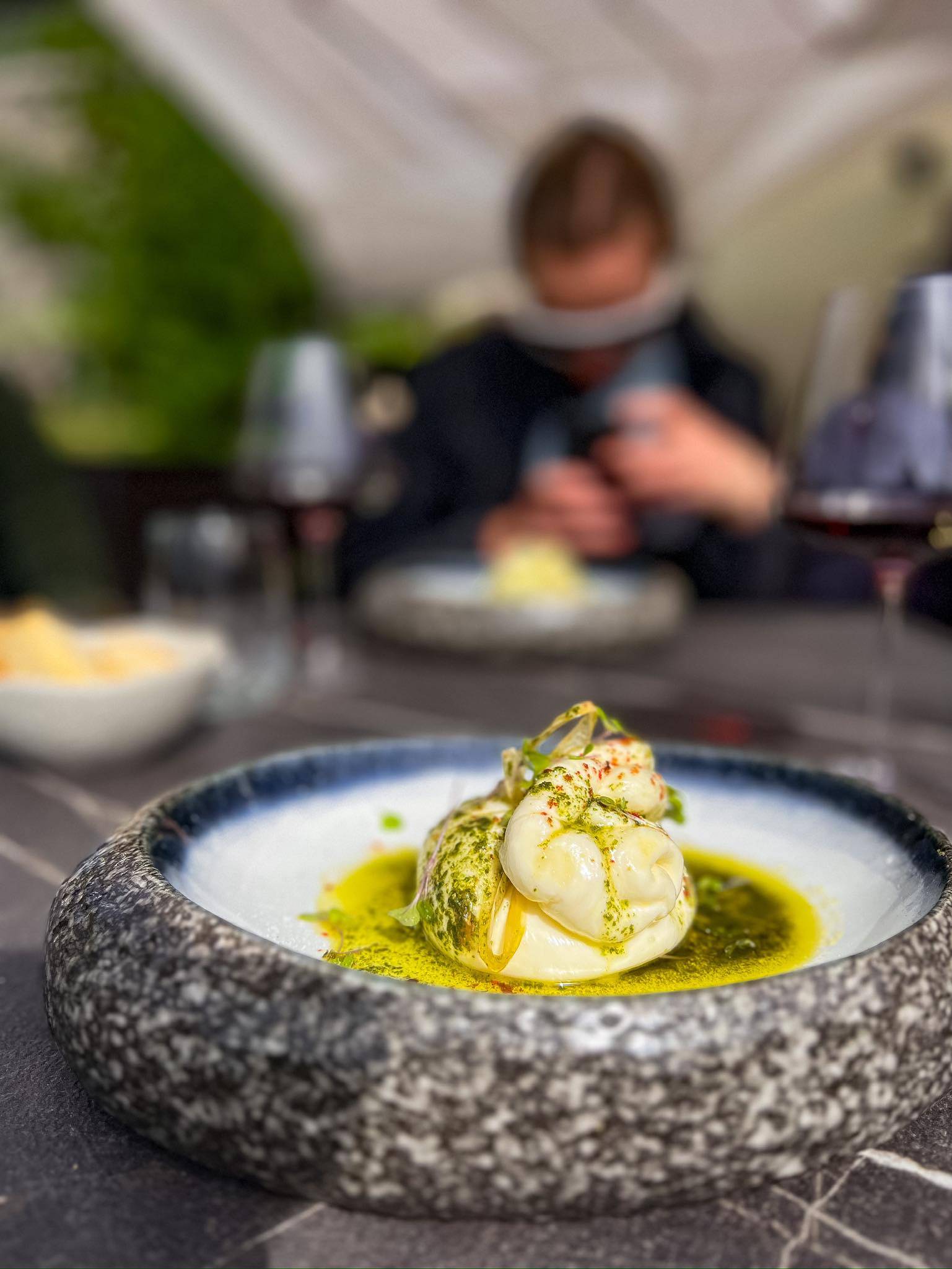 We may or may not have been asked to sit outside at this fancy joint.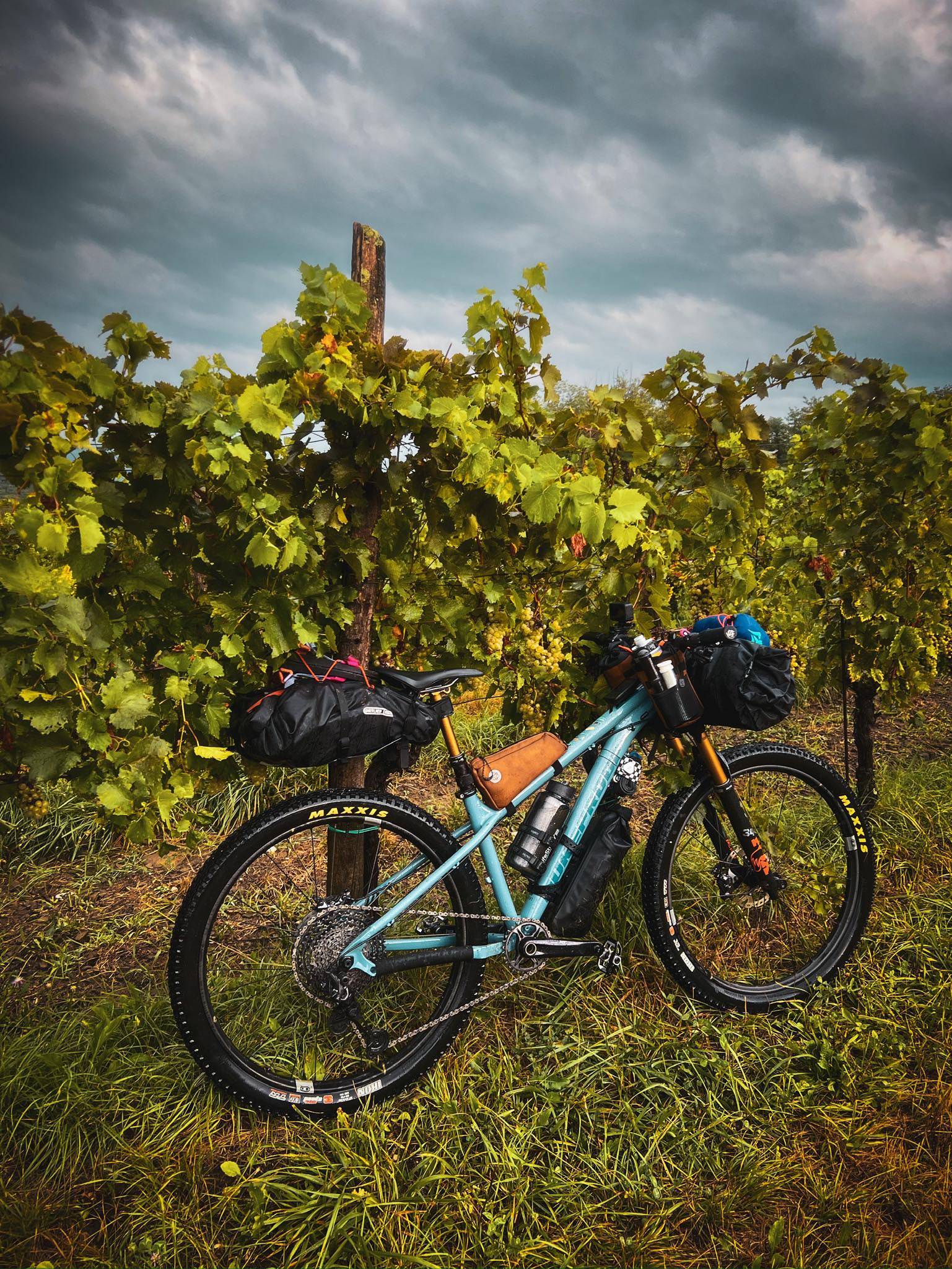 Meg's Scout 275 enjoying vineyard rest
Suddenly in the blink of an eye, we had two days to go on our mammoth trip and inaugural bikepacking trip. Serendipitously, the sunshine came to greet us as we rode out of Cerknika and headed for the Capital city of Ljubliana and onto Skofja Loka.
Renewed vigour was discovered as we boosted up the 1000m climb that the morning had in store for us, with our snack game dialled (fuelled by Mercator) and the sun on our faces, the km's zoomed past and we started to feel a tad reflective that our journey was almost over.
Circling back into the Julian Alps the terrain became more technical, full-on mountain bike tracks and alpine descents and we were discovering how incredibly robust our bikes and kit setups were. A chance encounter with a mountain biker deep into the forests enlightened us on the MTB culture in Slovenia and the idea of a return trip with the big bikes was mooted.
The farmland that circles Ljubliana gave an understanding of why the cuisine in Slovenia is so rich and diverse, The perfect landscape, ideal temperatures and a focus on creating land for growing food make for a perfect culinary recipe. Zooming through crop fields, prime gravel tracks, and distinctly Slovenian churches distinguishable with their tall spires, we rolled into the cobbled streets of Ljubliana and the buzz of the city centre, the signs for Gelato called our names and we settled for cones as large as our faces. Content.
Lesson 5: Bikepacking is a humbling experience, the ups always outweigh the downs.
Ice creams as big as your face are mandatory
The gravel forest of Krajinski Park were sublime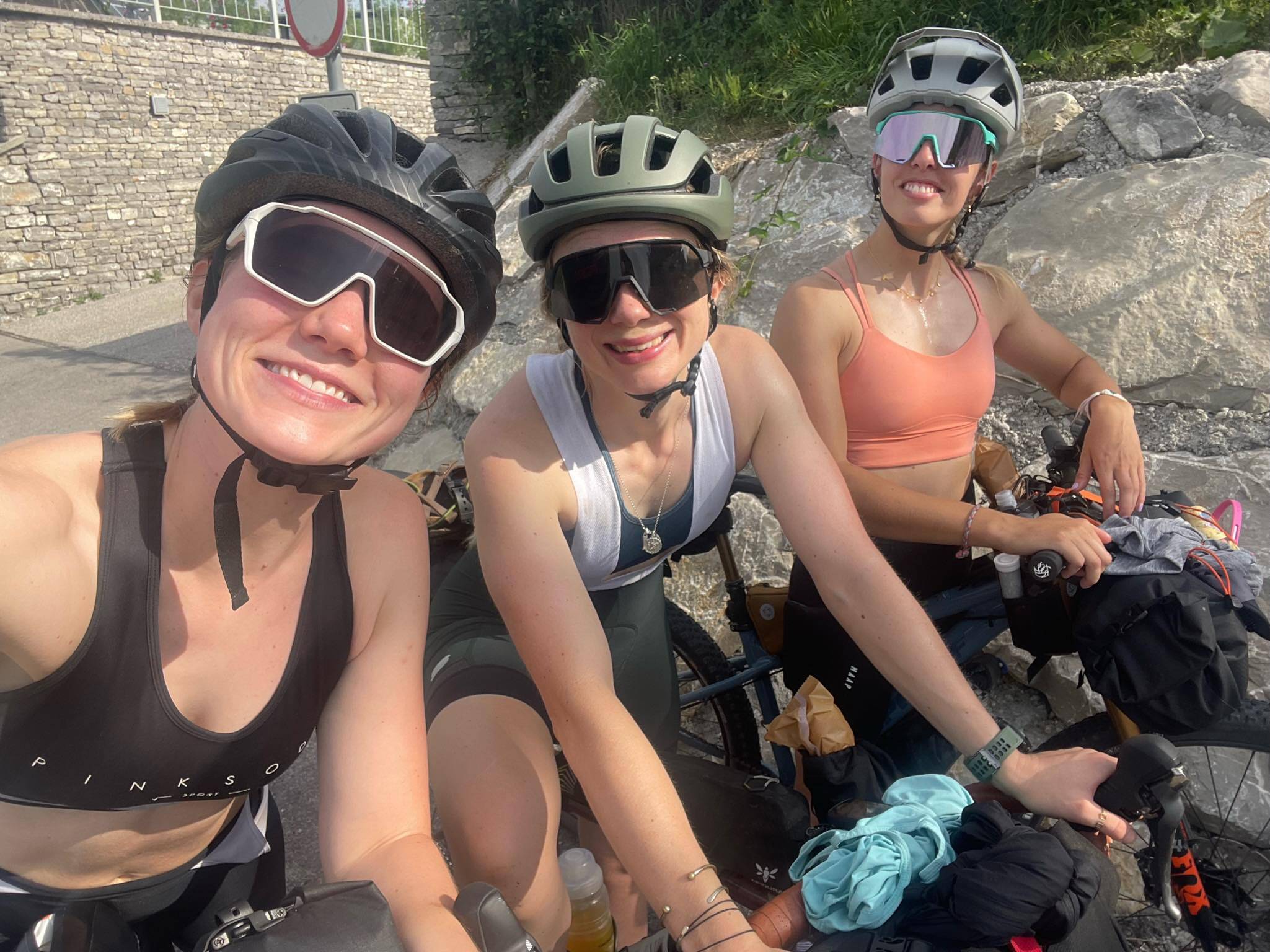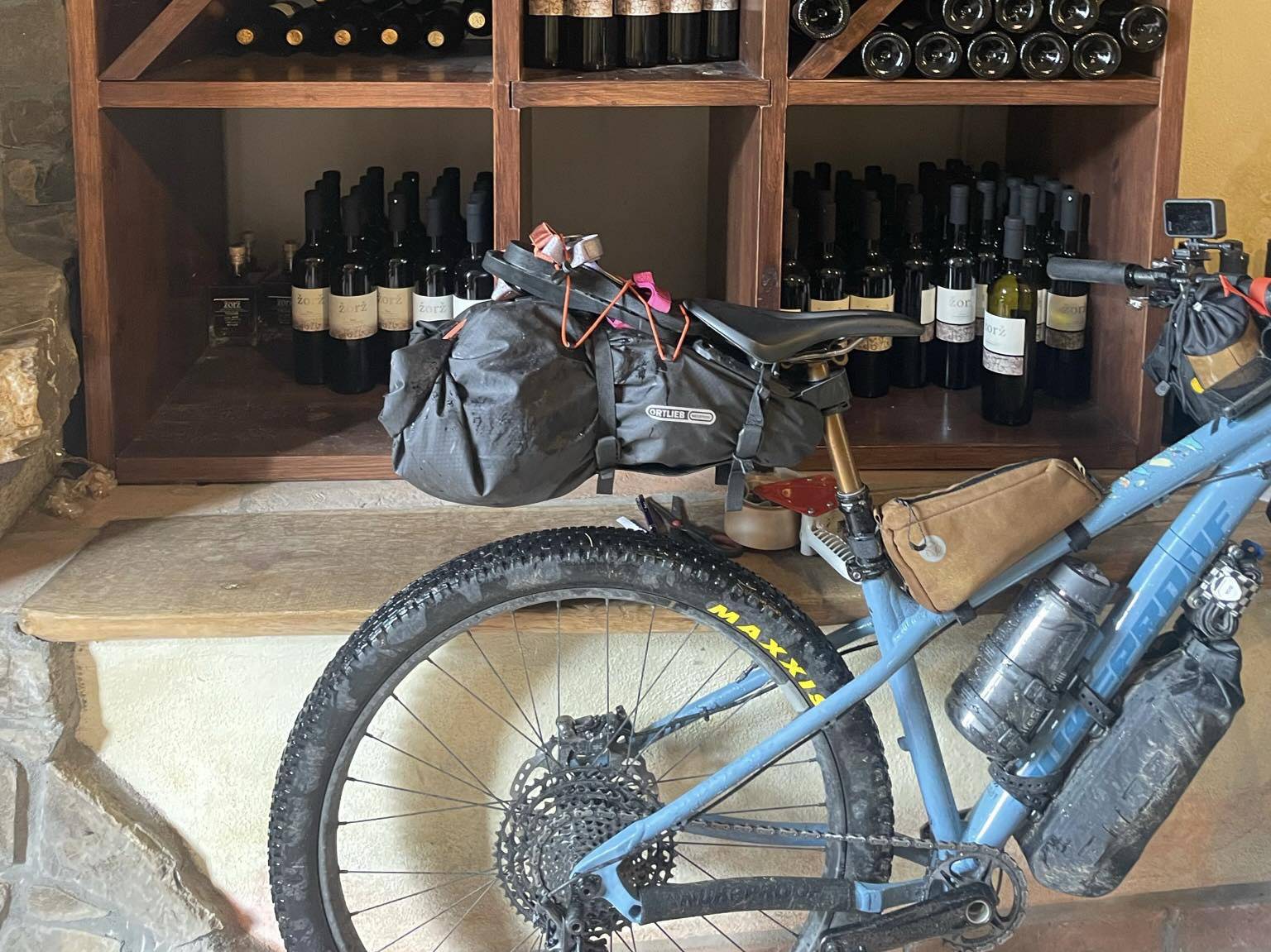 Waking up in the pretty mountainside town of Skofja Loka, the realisation that this would be our final leg of the journey was met with mixed feelings, elated at the thought of not having to pack all those unnecessary items that we'd dragged 450km around with us (mainly the stove we didn't use once). Mostly, however, a preemptive nostalgia that our simple existence was coming to an end.
Visions of a chilled final day cruising back to Lake Bled were quickly shattered as the off-road sections became steeper and more technical. Chains groaning after the neglectful amount of chain lube applied all trip, sandals hanging on for dear life as we navigated rocky chutes, climbs that progressively steepened throughout the day and a navigational rerouting until we saw the welcome Bled signs. Never has 10 km felt so long as the final stretch into Lake Bled.
Ensuring we passed our original start point, the hunt for the largest Beers and Bled cake took us to a lakeside spot where we finally stopped pedalling, grabbed our Garmins, huddled around and pressed stop on our final leg. We couldn't believe we had done it, 500km and elevation to match climbing Mt. Everest and we were back at our start point. Happier than ever and full of the most incredible memories. The beer never tasted sweeter and as we sat reflecting, the planning started for our next trip.
If you're considering a bikepacking trip, I urge you to just go and do it, regardless of experience, you'll never regret it. Just bring waterproofs, sandals, lots of Haribo and an open mind (and maybe leave the stove at home).
Lesson 6: Bikepacking is one of the best ways to explore a country
Lesson 7: Your crew is key, you need: A planner, A navigator, An entertainer, A motivator, A snack Queen/King, A decision maker and someone to always lighten the mood (Fay and Meg fitted the bill here perfectly)
Lesson 8: We had grand ideas of camping every night, in reality I'd recommend an airbnb any day of the week. It doesn't mean you aren't a bikepacking 'purist' its your trip after all.
Lesson 9: Never discount visiting a country before you've been there. Slovenia was an incredible place full of kind people, endless gravel, sensational scenery and bang on beer.
A sarnie made using your multitool tastes better at the top of the climb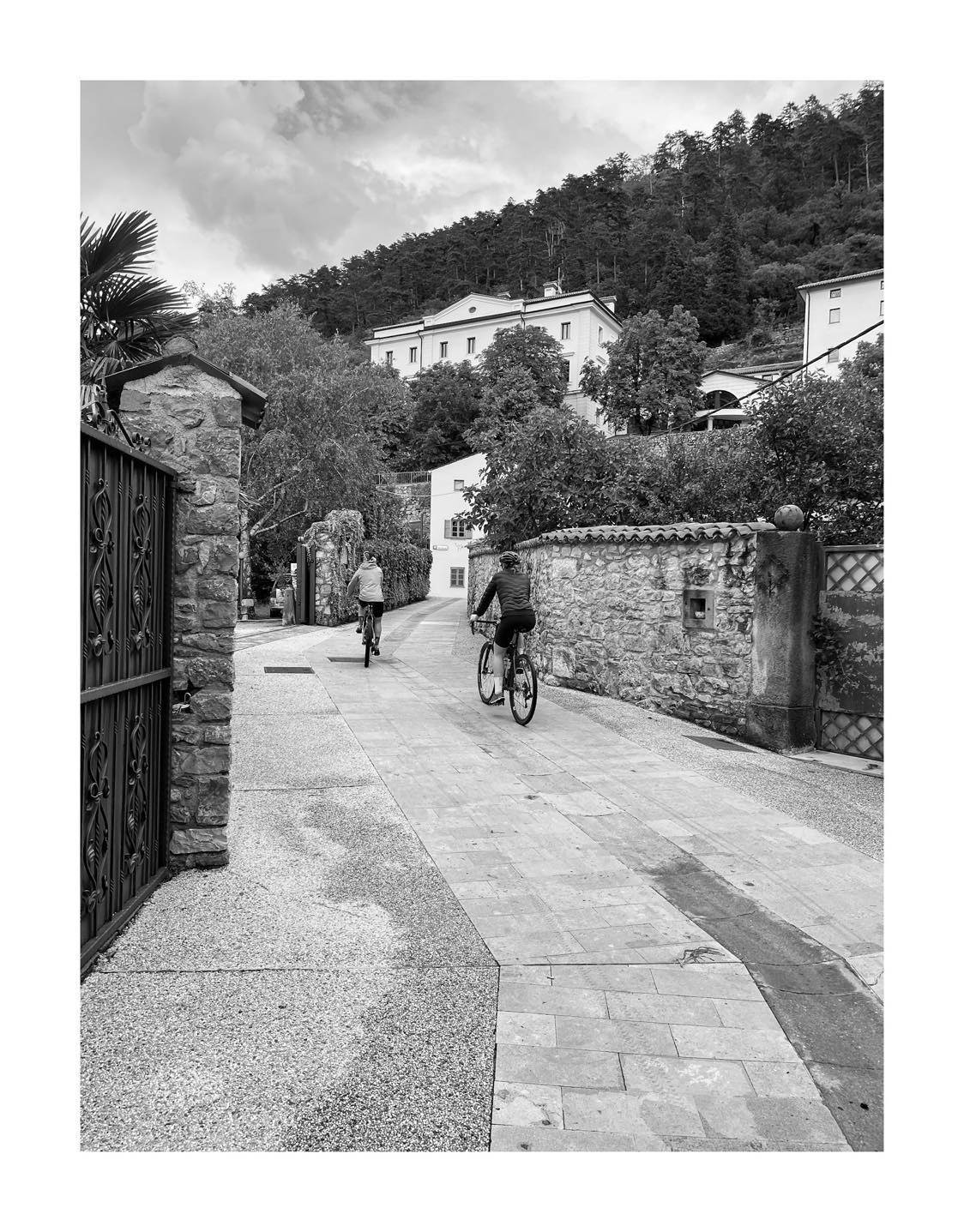 Unladden for a rest day treat winding the streets of Vipava
The crew you choose is the most important decision you'll make. We got lucky.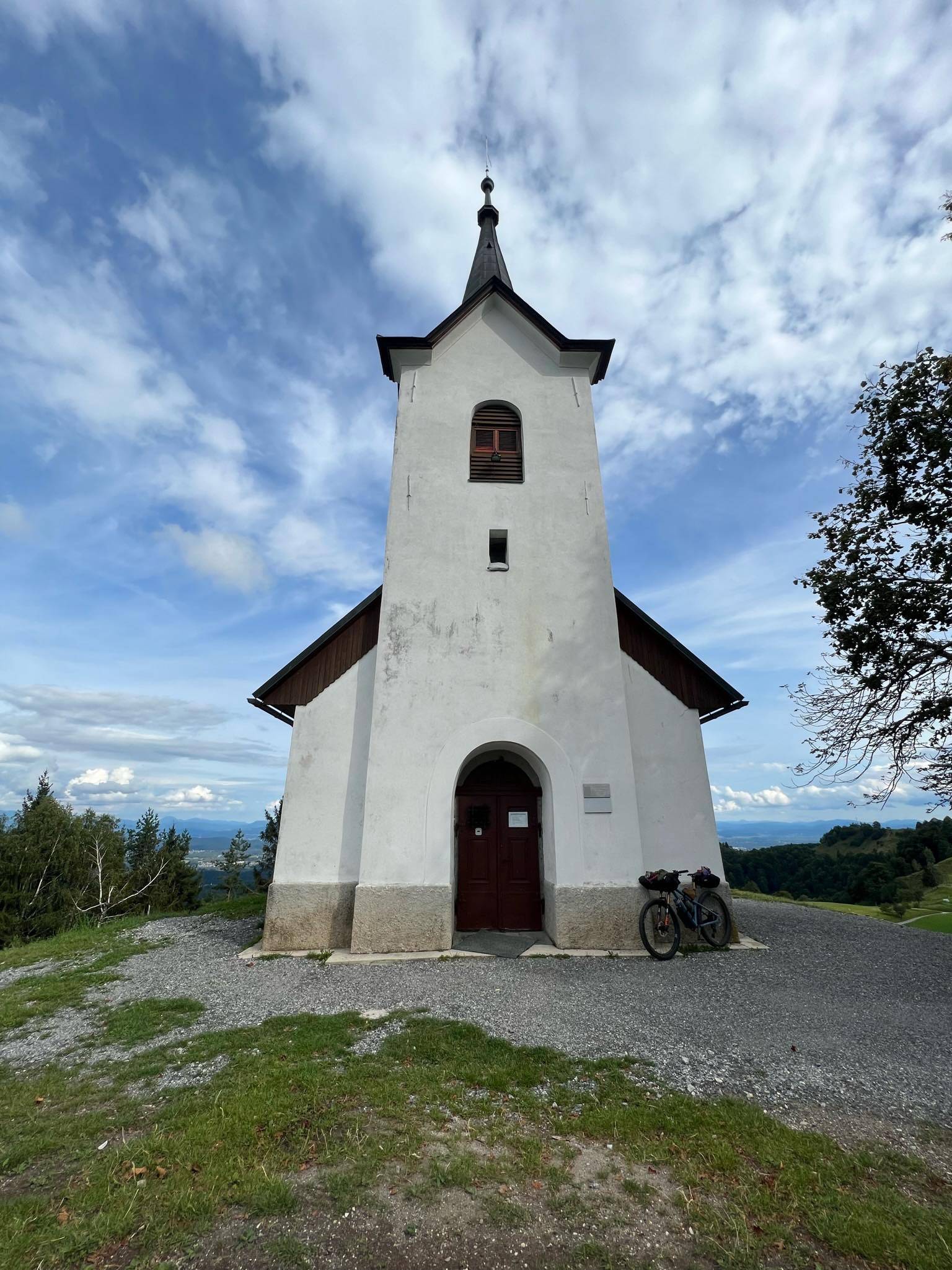 Slovenia's churches are iconic (and usually at the top of a big hill)
In the words of Fay 'Shape of this lads'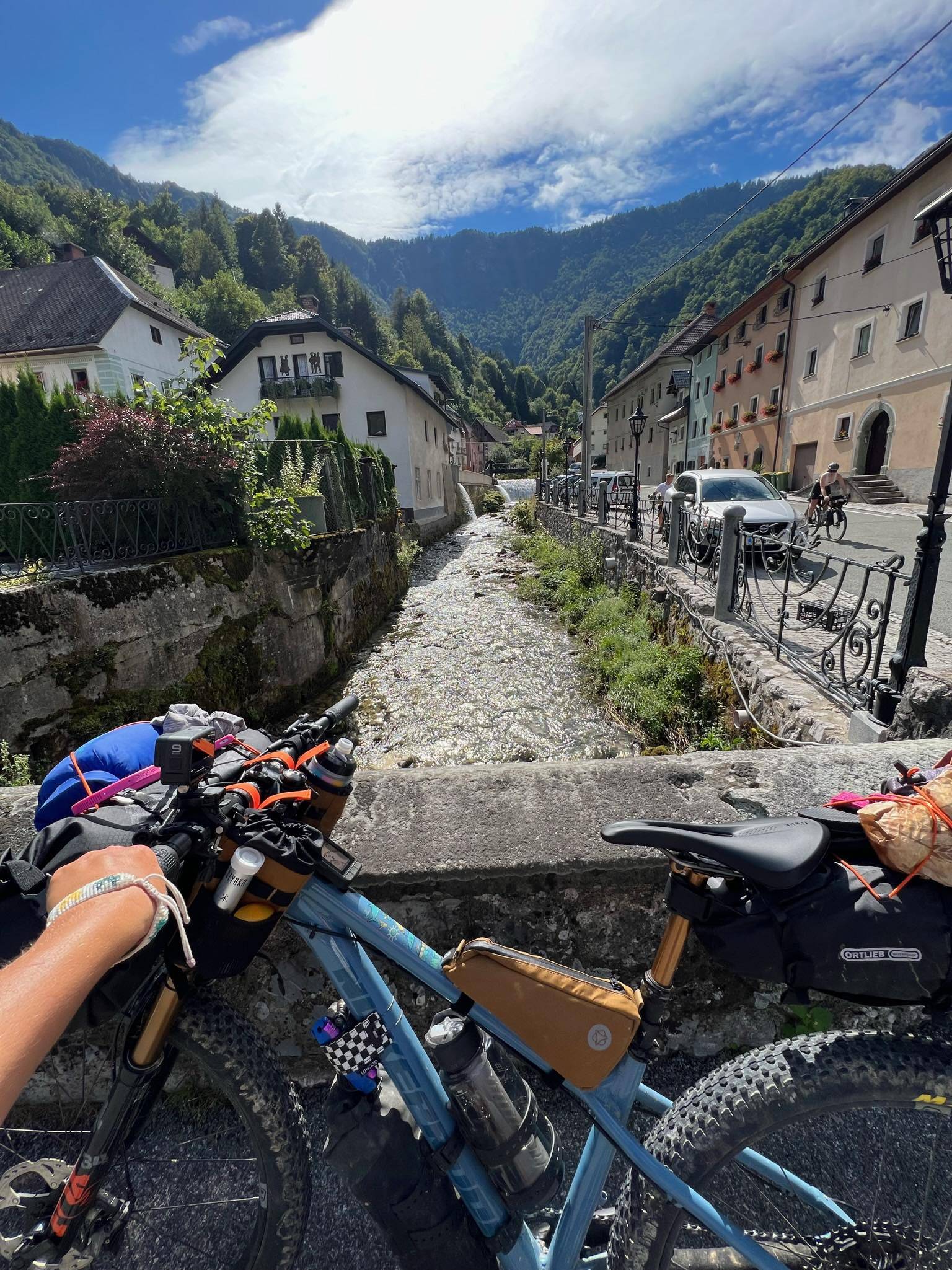 A picture perfect town following a perfect descent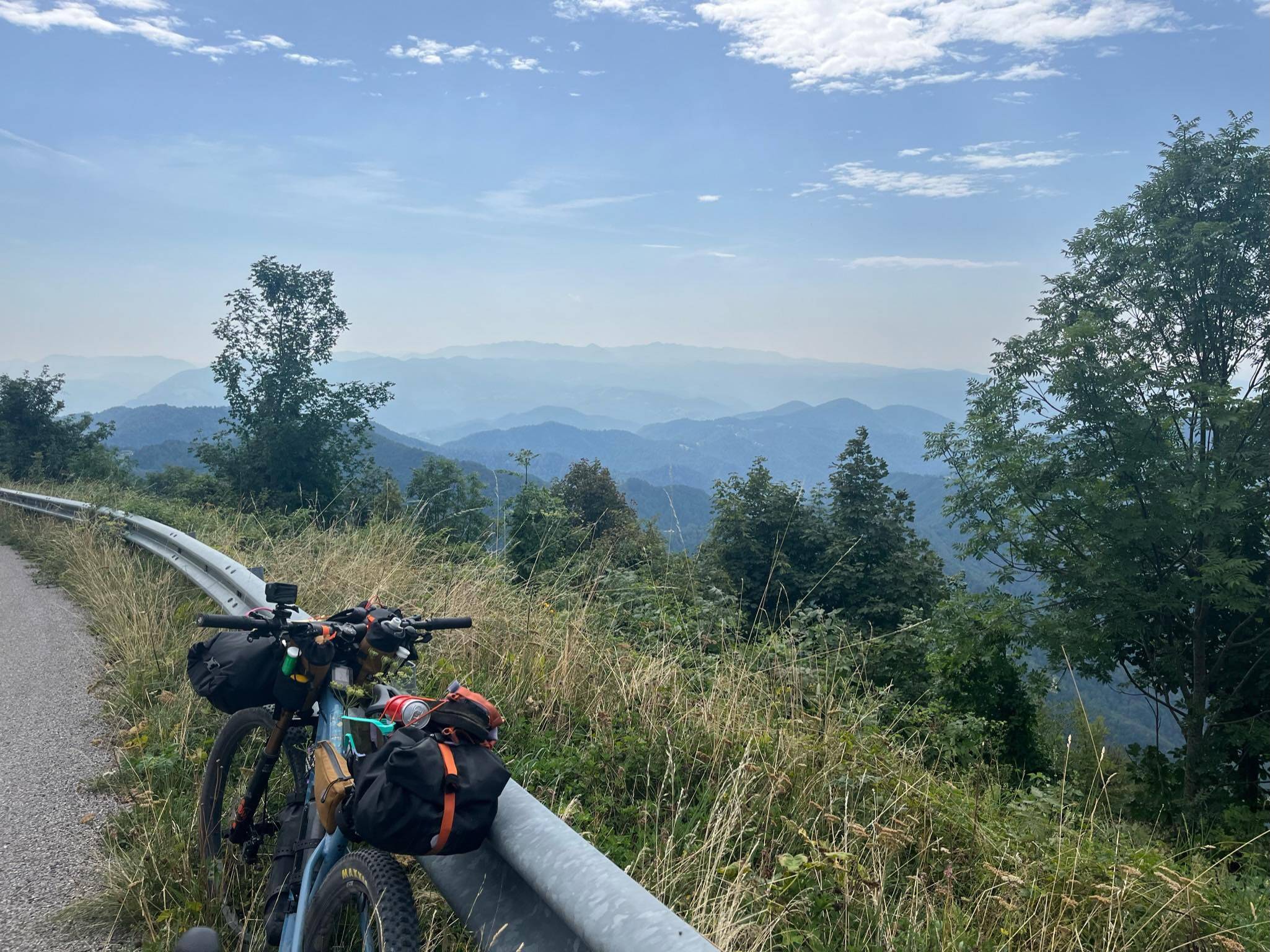 We found out the hard way with packing. Our bikes averaged 25kgs laden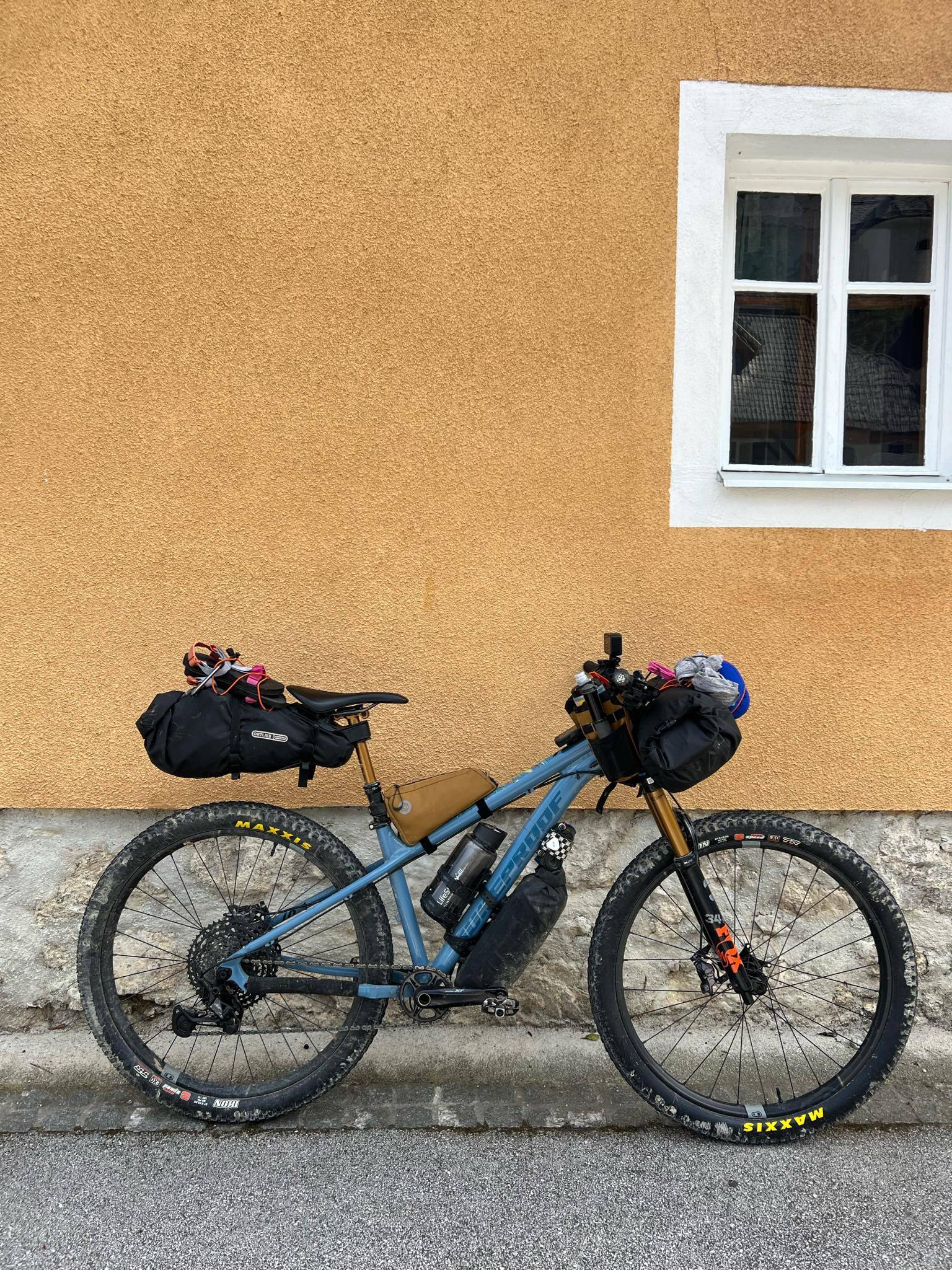 Maxxis Minion front and Ikon rear
Ortlieb bar bag
Tailfin and Brooks food pouches
Loved about your setup:
"XT 12spd for spinning up the big climbs and both the Ortlieb and tailfin bags"
Loathed about your setup
: "Carrying that F******* stove"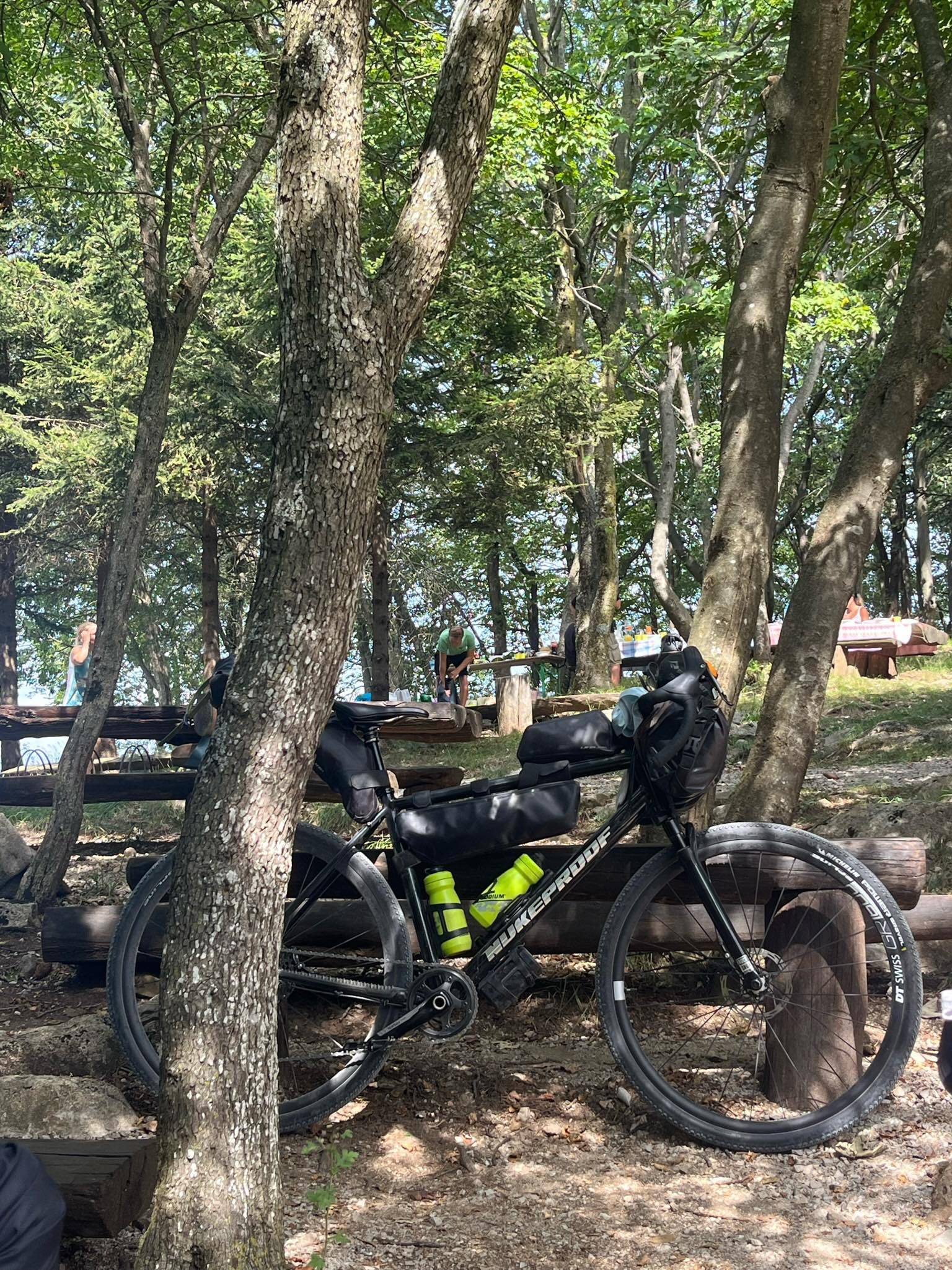 Rockshox Rudy Ultimate 30mm
Nukeproof gravel bars 460mm
DT Swiss GR 1600 spline 700c
Nukeproof Sam Hill Horizon Enduro pedals
Lifeline drybag in cradle
Loved about your setup: "The little fork was deadly on the techy descents"
Loathed about your setup: "A 40T chainring was a challenge. I'd go for a 36T next time"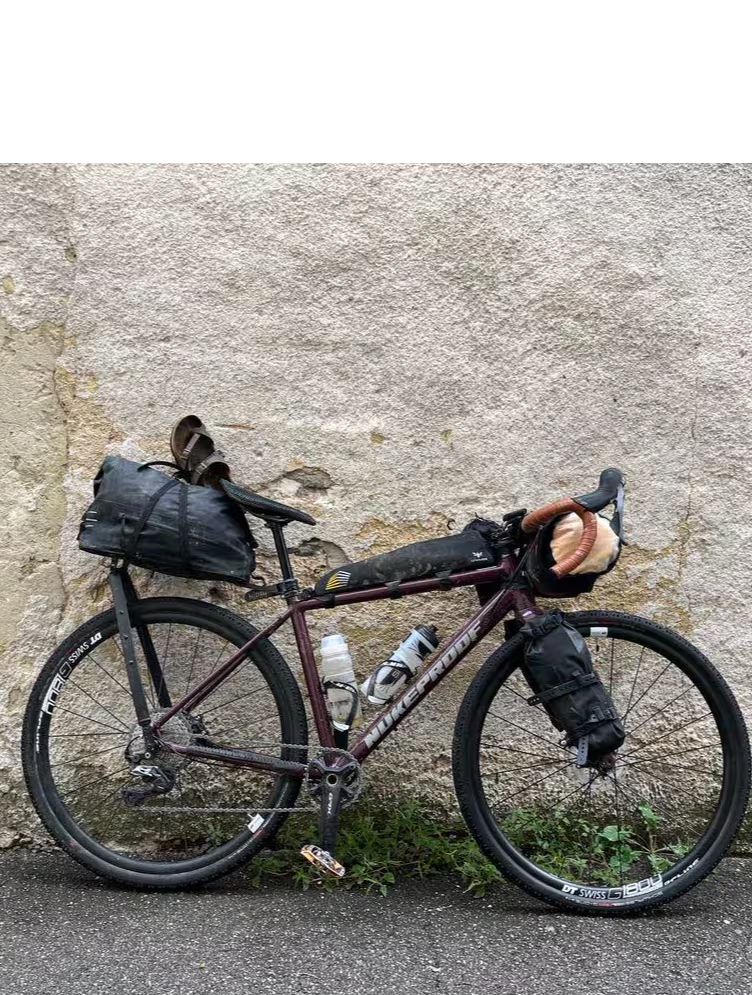 Shimano GRX with a 32T front chainring
DT Swiss GR 1600 spline 700c
Fizik Vento Argo (at a mad extreme angle!)
Generic drybag with Ortlieb cradle
Tailfin 5 and 10L cage bags with Brooks food pouch
25kgs
Loved about your setup: "The tailfin Aeropack was a gamechanger and the 32T chainring"
Loathed about your setup: "Handlebar bag that got in the way no matter where I put it"
Thanks to all the sponsors who helped with kit to get our rigs ready and thanks to Meg for being Chief photographer for the trip.
---