dj-brandt-and-brooke-trine-join-nukeproof-bikes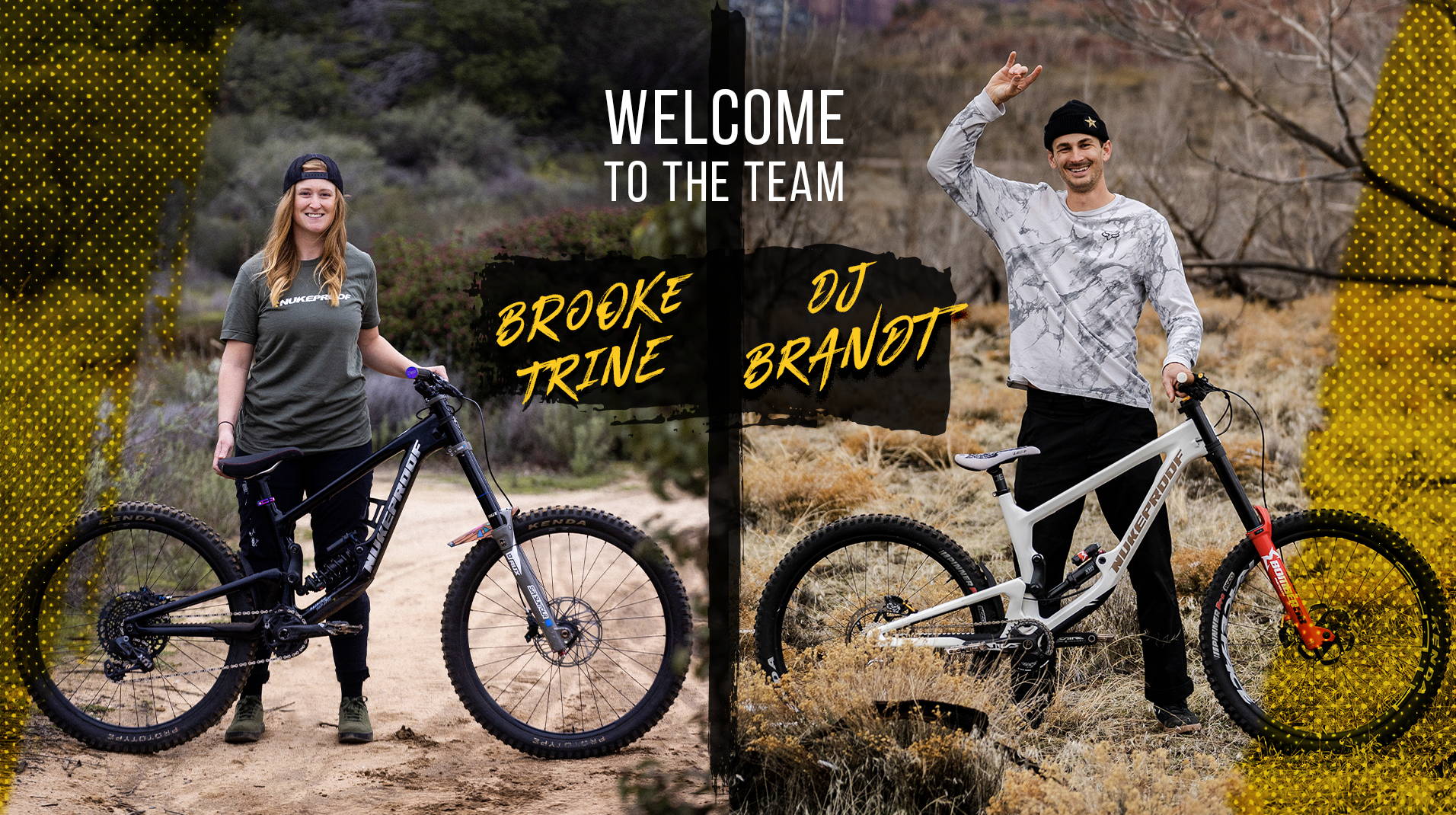 ---
We're stoked to announce the signing of freeriders Brooke Trine and DJ Brandt to Nukeproof.
Brooke and DJ are the first US-based athletes to join the roster since Nukeproof announced our expansion into the US market in fall 2022. From the flair in their individual riding styles to their drive to push the sport, DJ and Brooke embody the attitude that's made Nukeproof the brand it is today. We're thrilled to have them on the team.
"I feel honored to be a part of the initial team to launch Nukeproof in the US. I'm blown away by how great the bikes feel and am excited to show their capabilities in the freeride space," Brooke said. "The energy of the team is so refreshing, and I can't wait to see what we can accomplish together."
-BROOKE TRINE
---
In 2019, Brooke did what many of us wish we had the courage (and skill) to do — she quit her successful career in corporate America to chase the dream of professional mountain biking. And boy did she chase it.
Hailing from Ohio, with roots grounded in the dirt jumps of the famous Ray's Indoor Bike Park in Cleveland, Brooke is on the bleeding edge of the women's freeride movement. Starting with the inaugural women's Speed & Style event at Crankworx Whistler 2019, Brooke has had notable appearances at Freeride Fiesta, the Hangtime Jump Jam and several stops of the Women's Slopestyle Tour.
Now splitting her time between the freeride holy land of Virgin, Utah and Highland Bike Park in New Hampshire, Brooke is dedicated to progression — both in her own riding and in the women's freeride movement as a whole. She's a perfect fit for the Nukeproof squad.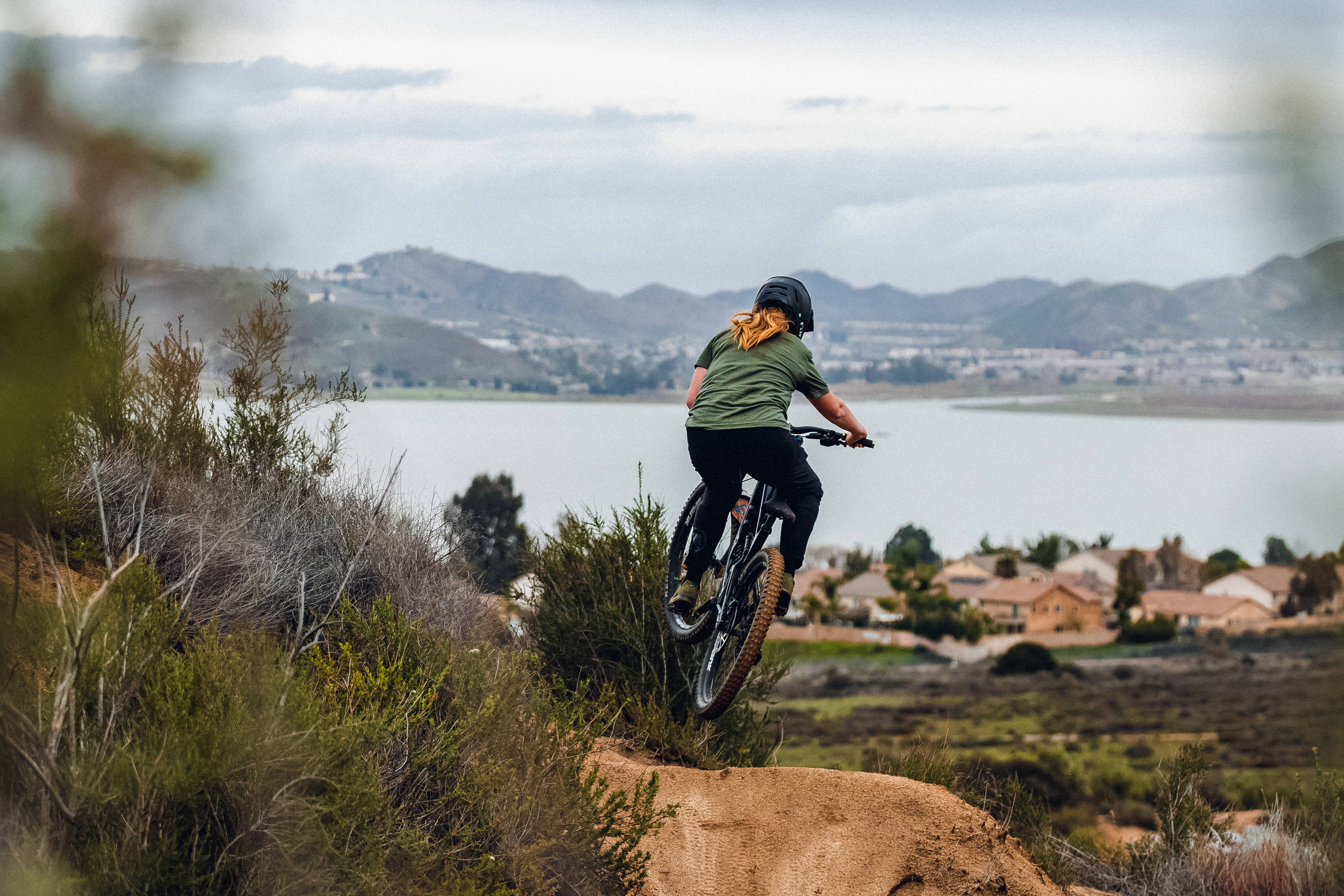 ---
"I am very excited and honored to have the opportunity to help launch Nukeproof in the US! I have been testing the bikes for a bit now and so far they feel amazing," said DJ Brandt "I have high hopes for the next couple of years working together and think we are going to do great things. Bring on the fun!"
- DJ BRANT
---
A three-time competitor in mountain biking's greatest show, Red Bull Rampage, DJ is one of the hottest talents in freeride.
Known for his unique style on the bike and laid-back personality, DJ built a name for himself competing in the sport's largest events and through his stellar content. From Colorado but now living in southern Utah (near Virgin, of course), DJ's roots in freeride are in skateparks and on the BMX bike — inspiration that's obvious in his techy riding on big desert lines. He's landed on the podium at Proving Grounds (and won the Best Style award), appeared in the 2021 X Games Real MTB video contest and has ridden in events such as Darkfest, Freeride Fiesta, Crankworx and more.
---
"We are extremely excited to be adding DJ and Brooke to the Nukeproof team. Both are amazing talents in freeride and just a joy to watch doing what they love most, having a blast on their bikes. It's an honor to be able to support both of them. On top of that, it's super exciting to be entering the freeride scene with Nukeproof here in the US. Super stoked for 2023 and beyond!"
- INGA KAUFMAN, Nukeproof USA Brand Manager
---
DJ and Brooke will be flying the Nukeproof flag for the first time at the upcoming Freeride Fiesta on Jan. 21 at La Soledad Bike Park in Guadalajara, Mexico. You can join them both when they takeover our Instagram airwaves next week, live and uncut from Freeride Fiesta, Mexico
Also on the schedule is the Cam Zink Invitational, Crankworx, and, of course, Red Bull Rampage and Red Bull Formation (pending invitations), among others.
---
WELCOME TO THE TEAM BROOKE AND DJ
#itsanattitude
---