THE NEW MEGA: RACE PROVEN
The Nukeproof Mega; 2017, 2018 (x2) & 2019 World Enduro Champion under the control of Sam Hill and Elliott Heap (u21 World Champion 2018), a top 10 at Downhill World Championships and a 4x Wold Championship Silver Medal make for an impressive C.V. These titles, along with a host of national titles, race wins, media awards and accolades make any changes to this design a difficult act to follow.
As a thoroughbred, the Nukeproof Mega has been subject to constant evolution as it is tweaked again and again in search for those marginal gains for ultimate performance. However, after several years of this process, the ultimate performance of the V3 Mega platform was starting to be reach it's limitations. In order to go to the next level and implement some new theory, a fresh start was needed, please welcome the all new Mk. 4 Nukeproof Mega.
Images below: Left: Carbon Mega Frame / Right: Alloy Mega Frame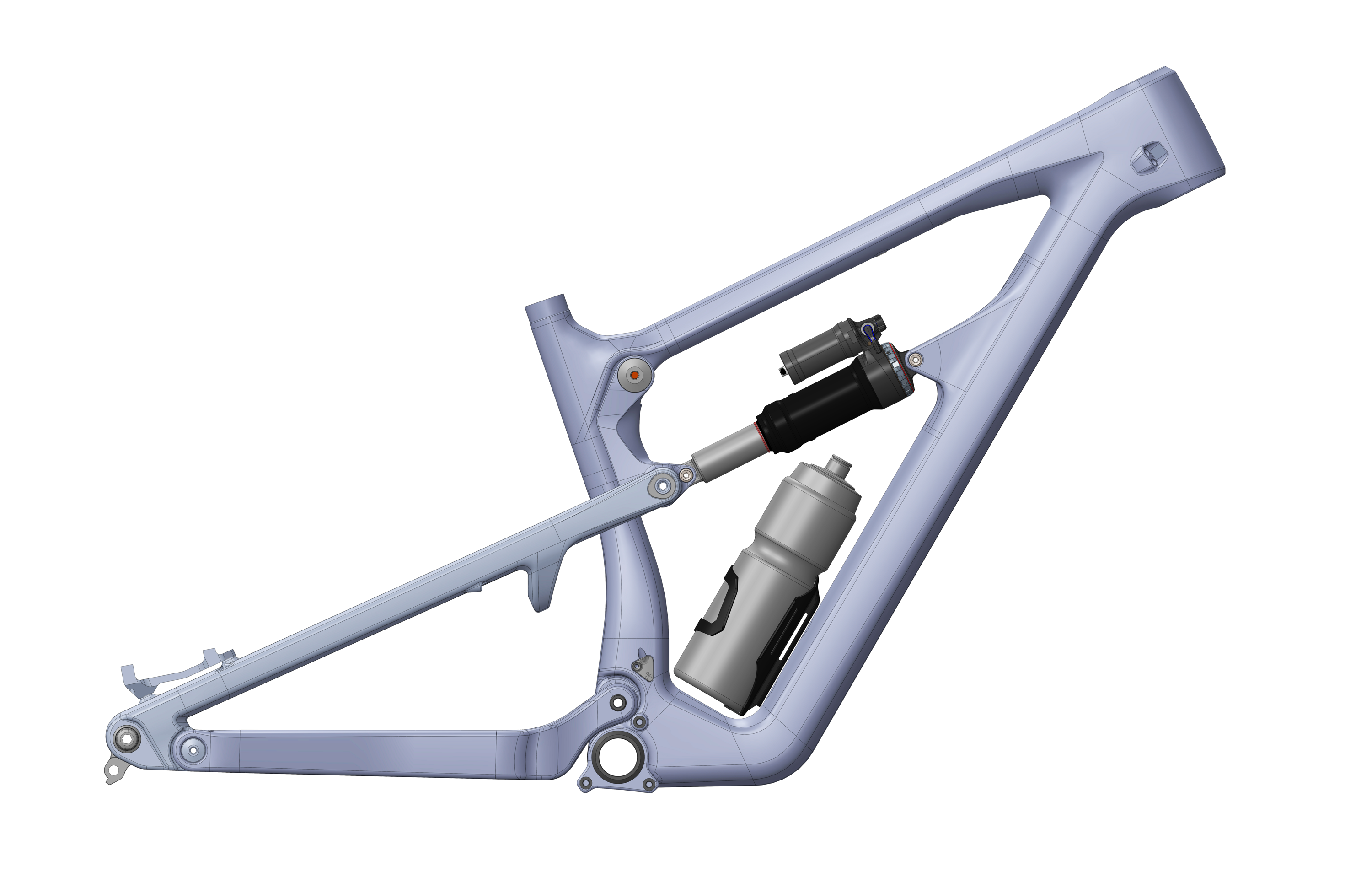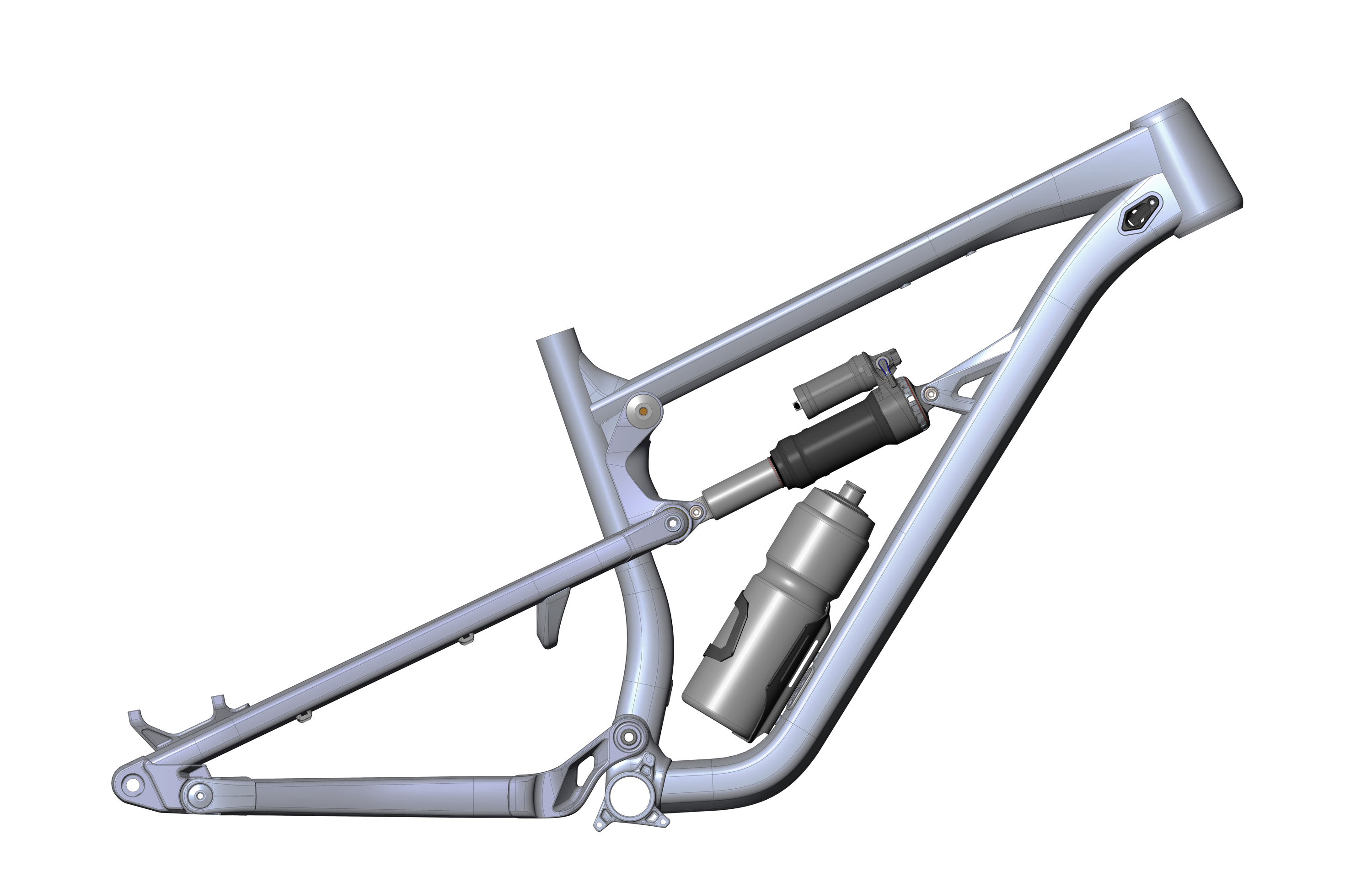 Nukeproof frames always started from the basis of the kinematic design. The R&D team work with key athletes and their own experience to decide on the key ride characteristics. From there pivot points are plotted onto a framework and handed to the product designer to apply the aesthetics. Enrique Repolles has been with Nukeproof since the reincarnation of the brand. He has penned almost all the bikes and components you have seen from us and the V4 was no exception. When the V4 project started there were a number of design ideas that went into the melting pot. However, there were only two things that the whole team could agree on;
It had to look like a Mega
It had to fit a water bottle, with no compromise to performance
In order to do this, the Nukeproof team went back to look at each iteration over the ten-year history of the Mega, taking inspiration from the best features whilst adding a modern twist.
"We took our favourite features from the past 10 years of Mega's"
- Steve Jamison
Nukeproof Bike Product Manager
It's all about performance
Looks are one thing, but the Mega is designed to help riders win races. Coining a fashionable marketing term, it's now longer, lower, slacker and steeper!
Size maters; (see size overlay diagram below right). The Mk. 3 Mega had its qwerk's and sizing was one of them. The Mk 4 addresses this with uniformed growth across 5 frame sizes; Small to XXL in both 290 & 275 frames to ensure optimised fit (Our new XXL is actually no bigger than the Mk. 3 XL).
The sizing is also based on a "sense check" principle of the Nukeproof engineer team to ensure the saddle is located in the optimal climbing position no matter the size. Essentially it is a new reach measurement for your Bum. Nukeproof were going to call it "Bum Reach" but thought against it. "Saddle Offset" as it's now been coined, basically provides co-ordinates for the optimum saddle position in each size. (I.E. The distance behind your bottom bracket at a given saddle height.) In other words, it is used to ensure that your saddle is in a similar position at sag as it would be on a Hardtail- see below diagram overlaying a Mega and our Scout). The result is slightly steeper seat angles across the board, but especially on the bigger sizes to optimise weight distribution for larger riders. This in turn results in longer reach figures to ensure a sensible cockpit fit on each size.
Structurally the frame is all new, with no components shared from the Mk.3. The Mega is offered in a full UD T700/800 carbon fibre build or full 6061-T6 aluminium build (including forged parts) in both 275 & 290 wheel sizes. These are four totally different, compromise free frames that were designed and developed at the same time. All frames are designed with shorter seat tubes and maximised dropper insert depths to allow the use of longer dropper posts in each. All Mega's now feature SRAM's new UDH (Universal Derailleur Hanger) for ease of ownership and Premium branded Enduro Race bearings (with a collated main pivot). The carbon frame also now includes "Tube in Tube" cable routing for ease of service and ready wrapped in a clear frame protection kit.
Not only is their room for a 750ml water bottle, there is also an accessories mount on the underside of the top tube. As with all Nukeproof's the frames feature threaded (73mm English thread) bottom brackets.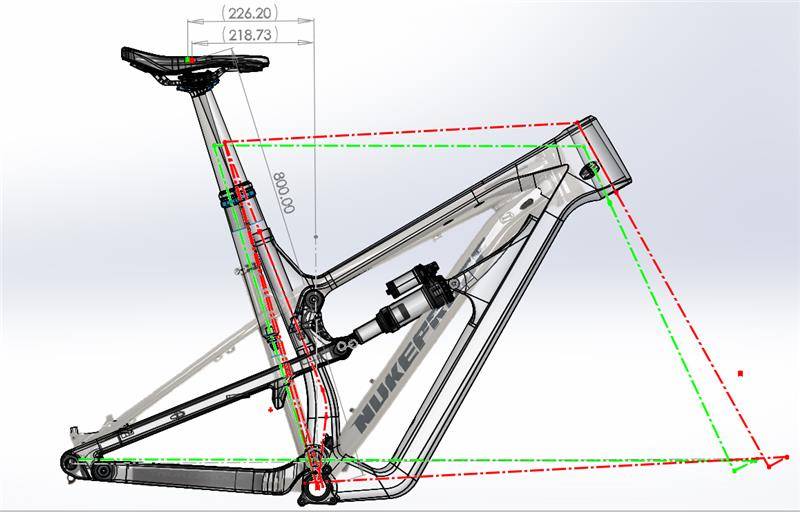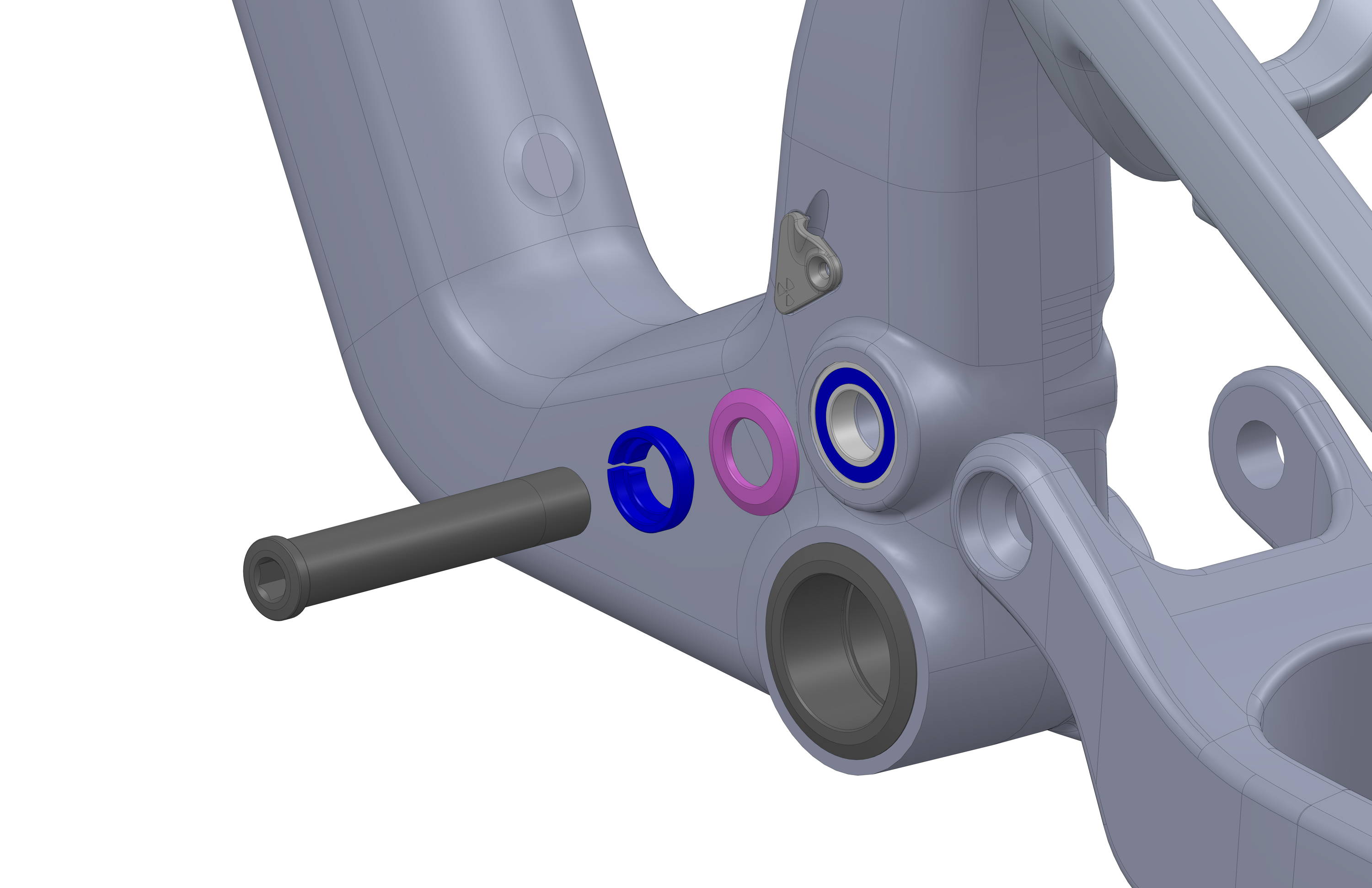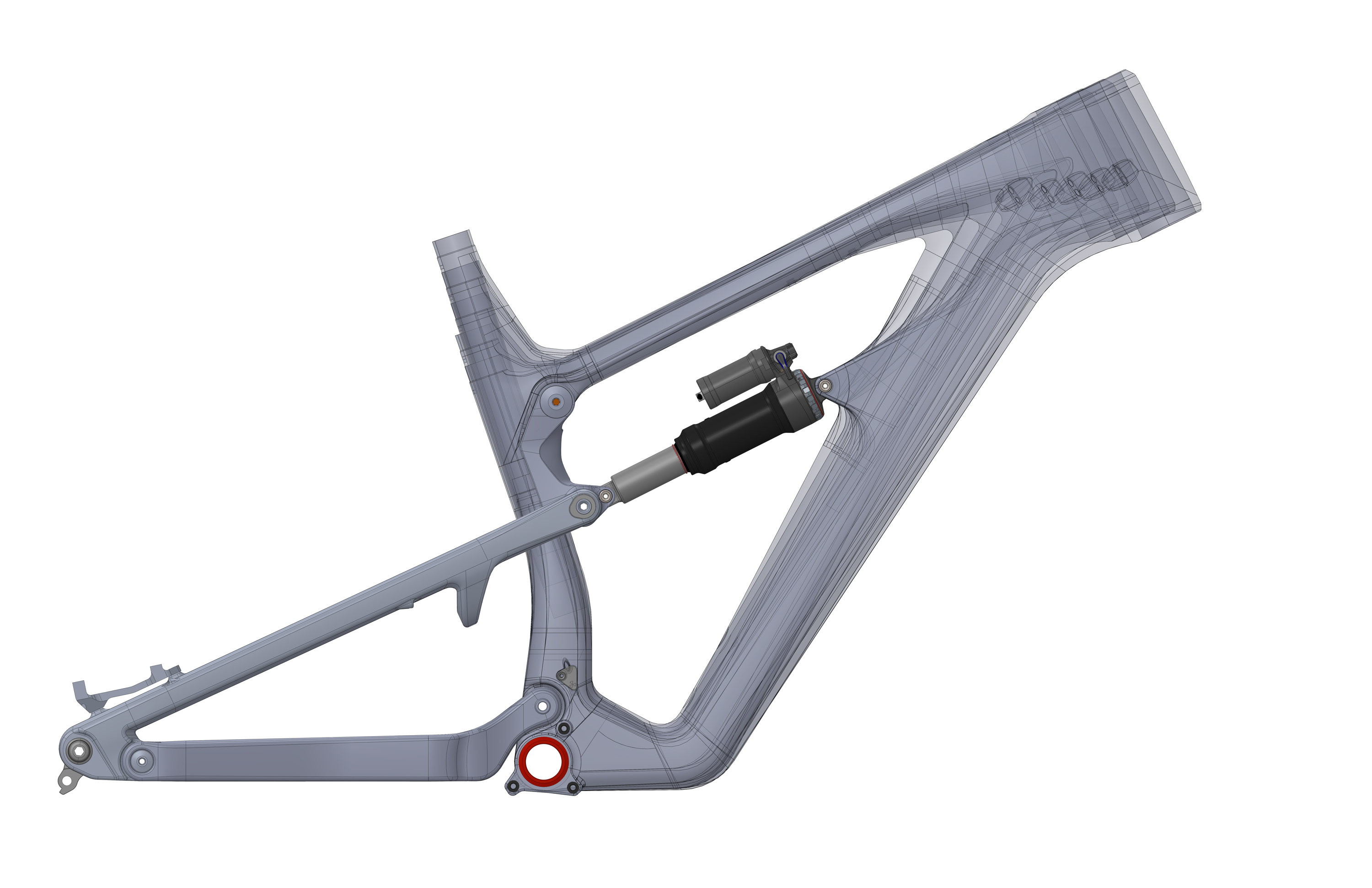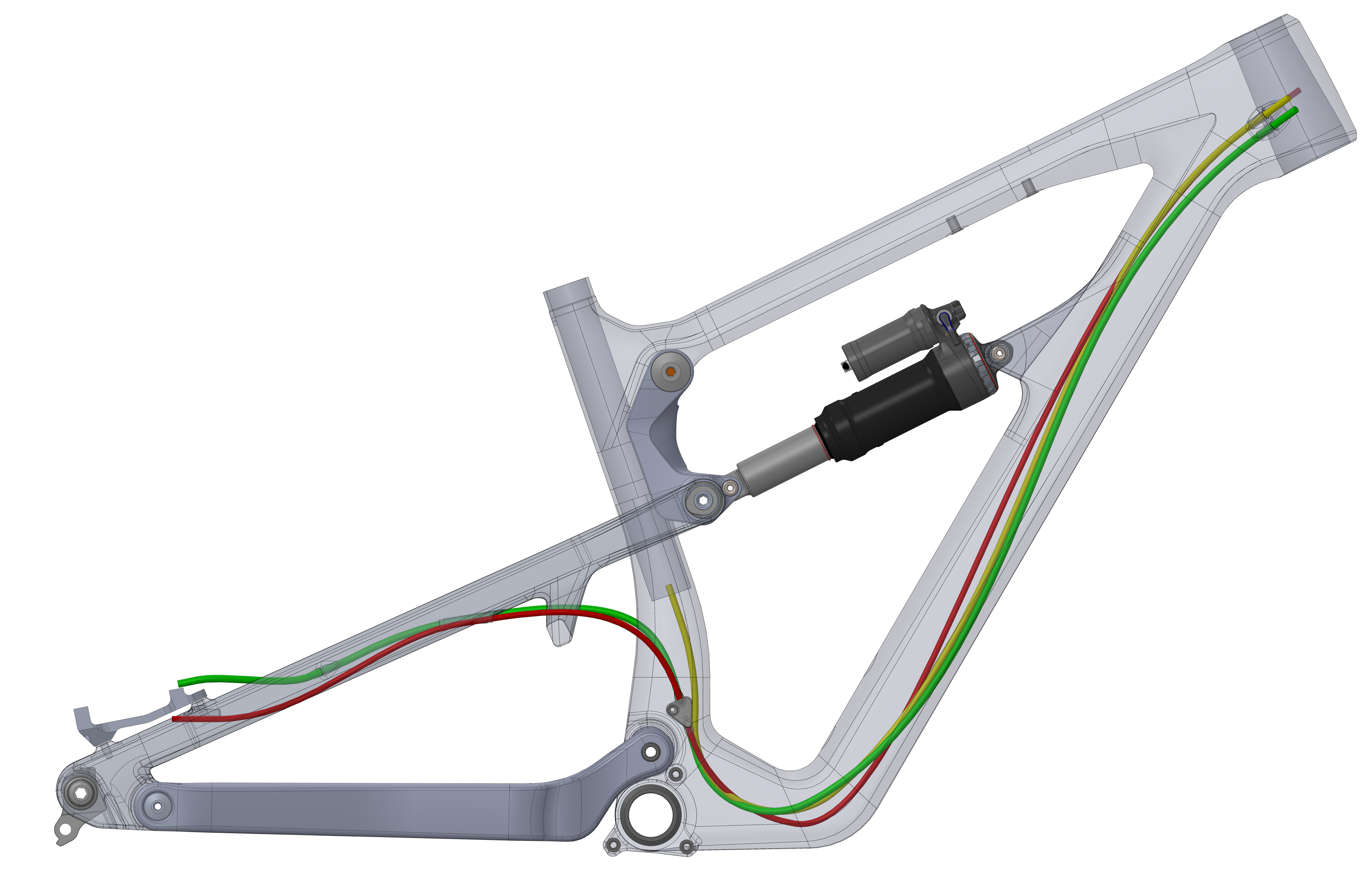 RIDES LIKE A MEGA SHOULD:
When you compare the Mk.3 and the Mk.4 Mega side by side, you will start to really see both the similarities and the differences. One of the most obvious changes is the swing link on the Mk. 4 is longer and also how the suspension layout is now a little higher in the frame (thus making room for the hollowed water bottle underneath). Whilst the intention was to always fit a water bottle, it was never be at the detriment to suspension performance.
The Mk.3 Mega is not a bad starting point for any design. The Mk.4 features the same 4 bar horst link layout but an all new kinematic. Designed to be more subtle off the top, whist remaining supportive and progressive though the rest of the range. It has a higher average ratio to improve sensitivity and reduce the forces required for breakaway movement.
The Mk. 4 has stronger mid stroke support for better cornering, pumping and pedalling performance. Another key feature is a reduced overall progression from sag allowing the new Mk.4 to be much more tuneable for the rider with the use of Volume spacers etc.
The forces chart shows that the Mega Mk. 4 has lower forces before sag and higher forces afterwards. (Compared to the Mega Mk. 3) This increases the sensitivity at the start and provides more mid stroke support to better suit hard and aggressive riding.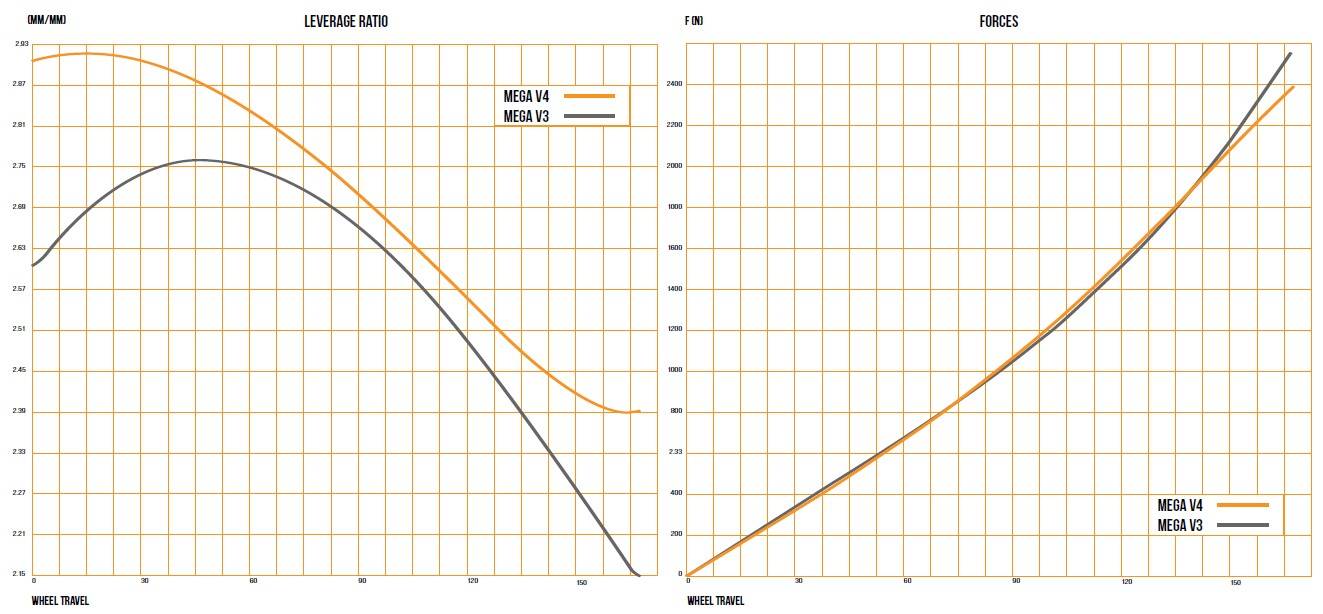 A low anti-squat, but good mid-stroke support is the winning combination for climbing traction
- Dale McMullan
Nukeproof King of Engineering
Applying the same principles as the Nukeproof Reactor (trail bike), where low anti-squat, but good mid-stroke support is the winning combo for climbing traction. However, anti-squat should never prevent suspension from working well over rough terrain. This is why it is designed with higher levels of anti-squat in climbing gears (However still relatively low) that drops off in descending gears to give you a bike that behaves itself on the climbs yet provides ultimate suspension performance on the way back down.
The Mk.4 is also slightly more active under braking with lower anti-rise figures compared to the Mk. 3.
Other notable geometry changes include slacker head angles and the use of shorter offset forks. The Mega 290 also has 10mm shorter chainstays than the Mk3. This is something that Sam Hill had wanted since switching to the 290 bike. The overall result is a bike that improves on what was already a triple championship winning design.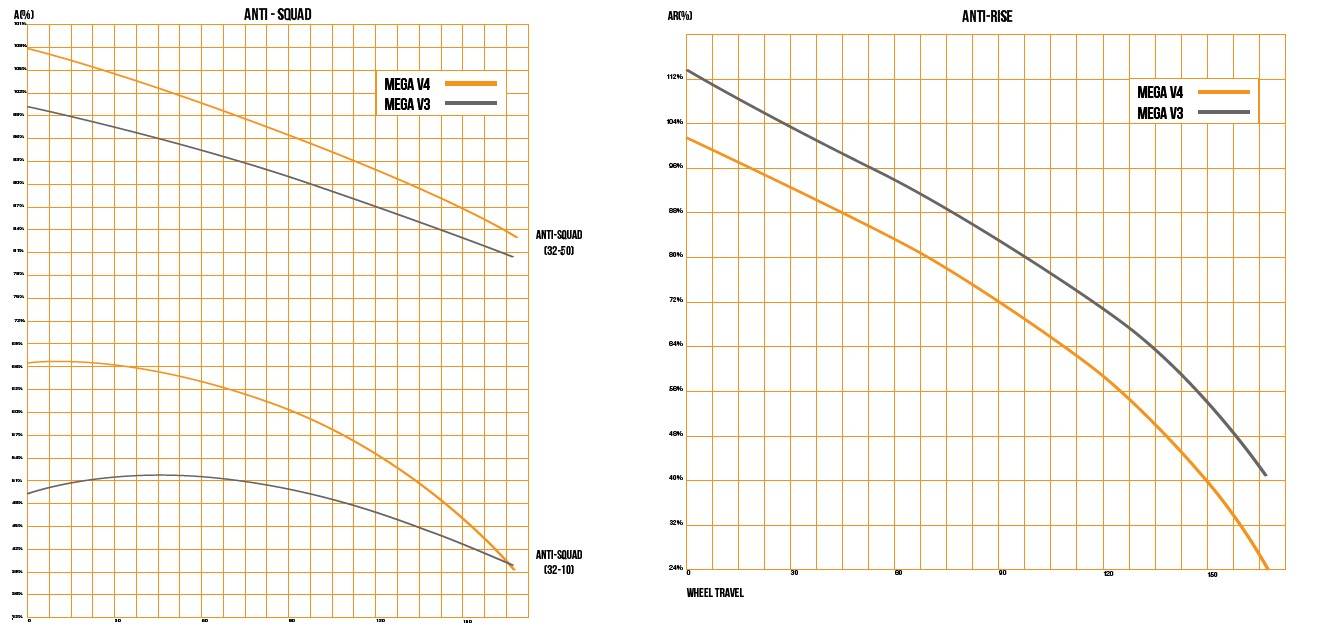 The All New Mega – The world's fastest Enduro bike – Just add water!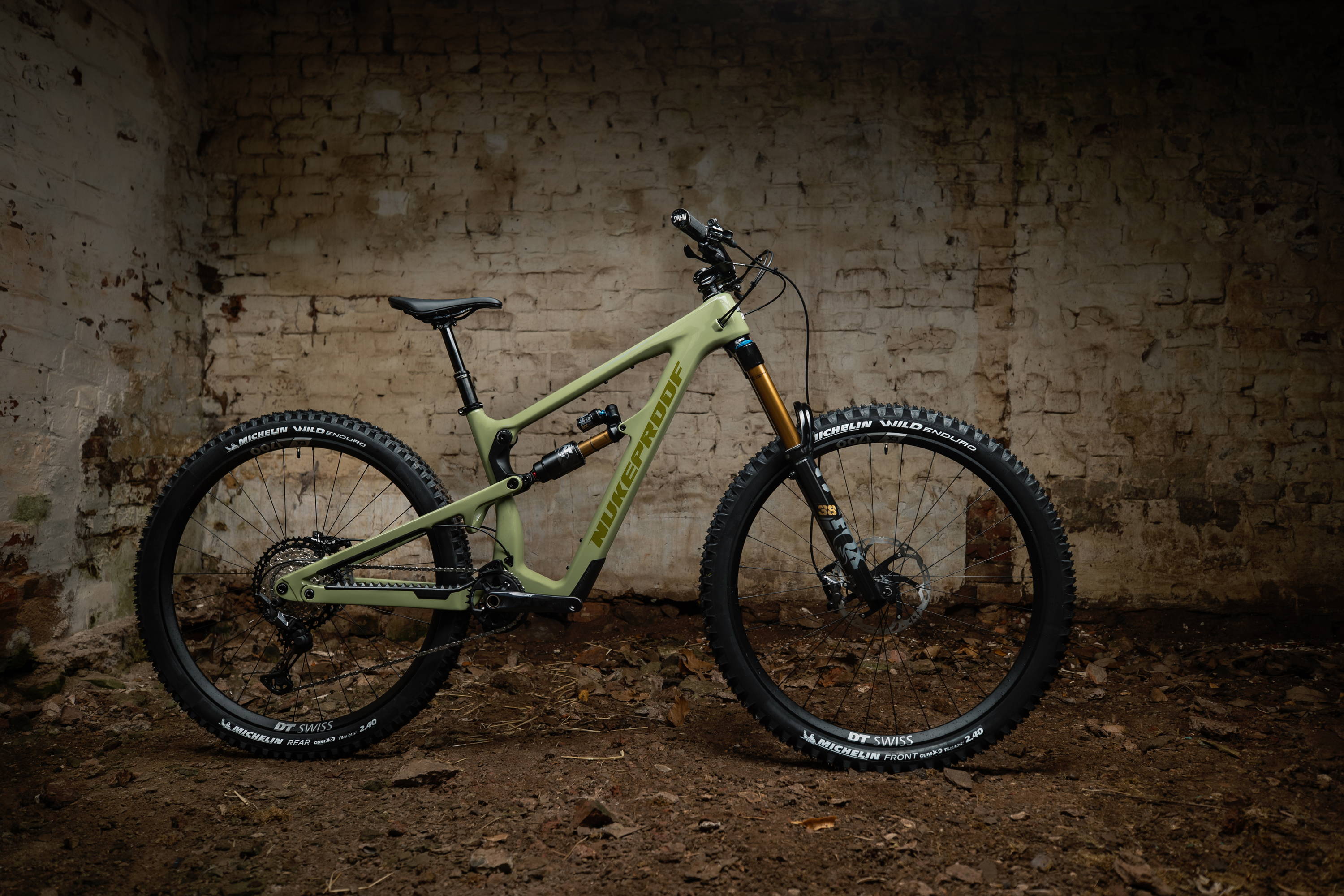 MEGA 275 & 290 CARBON FACTORY
MEGA 275 & 290 CARBON ELITE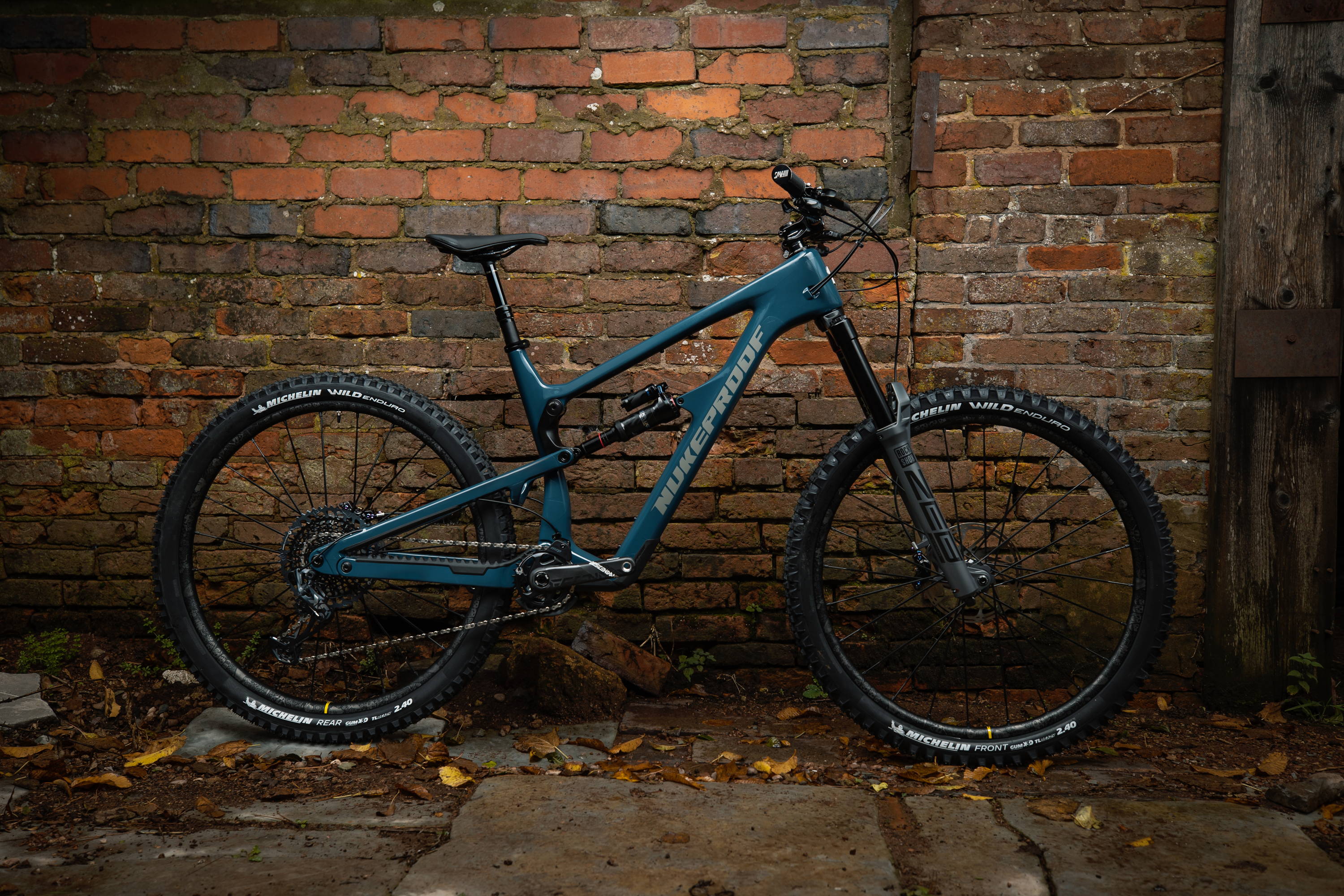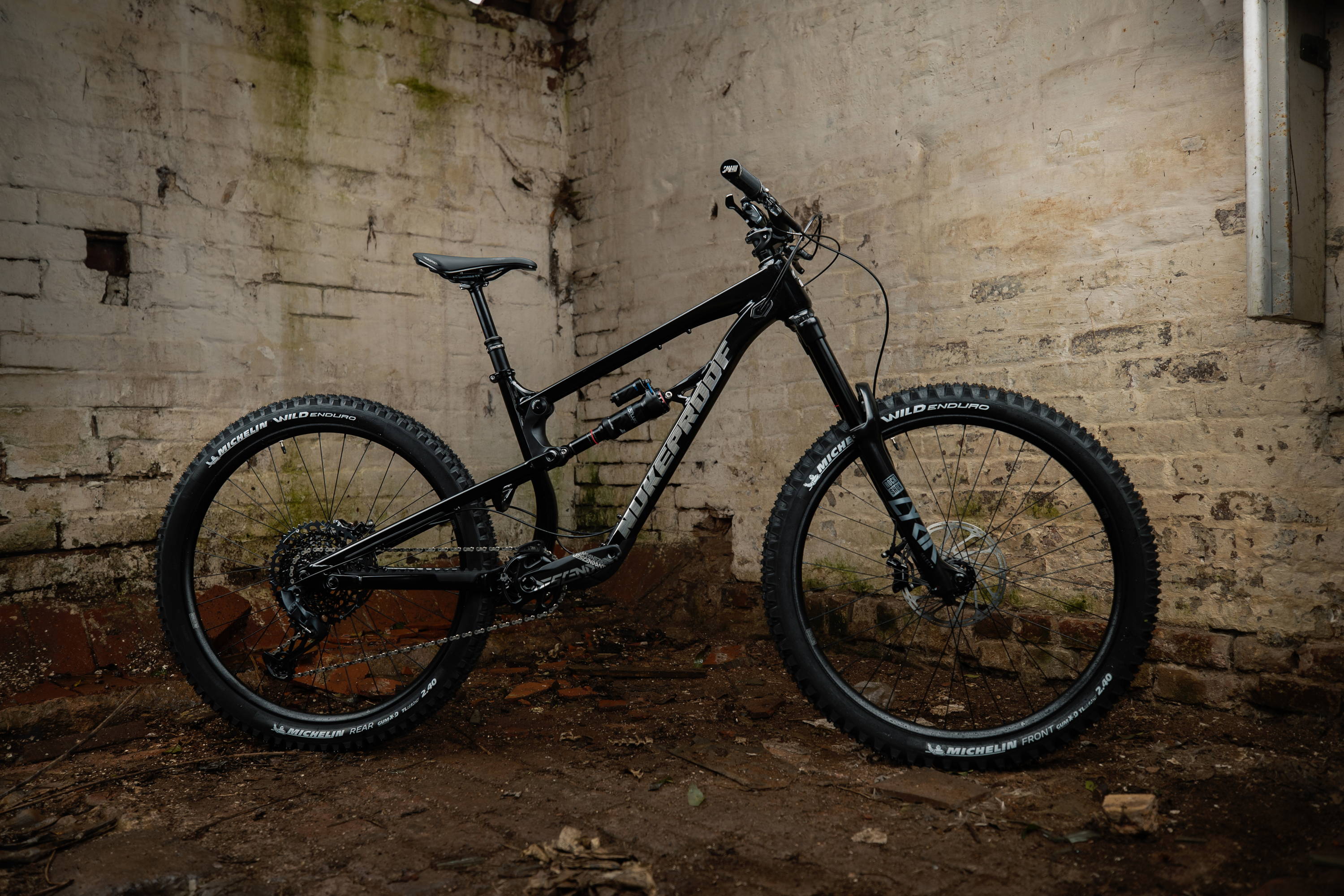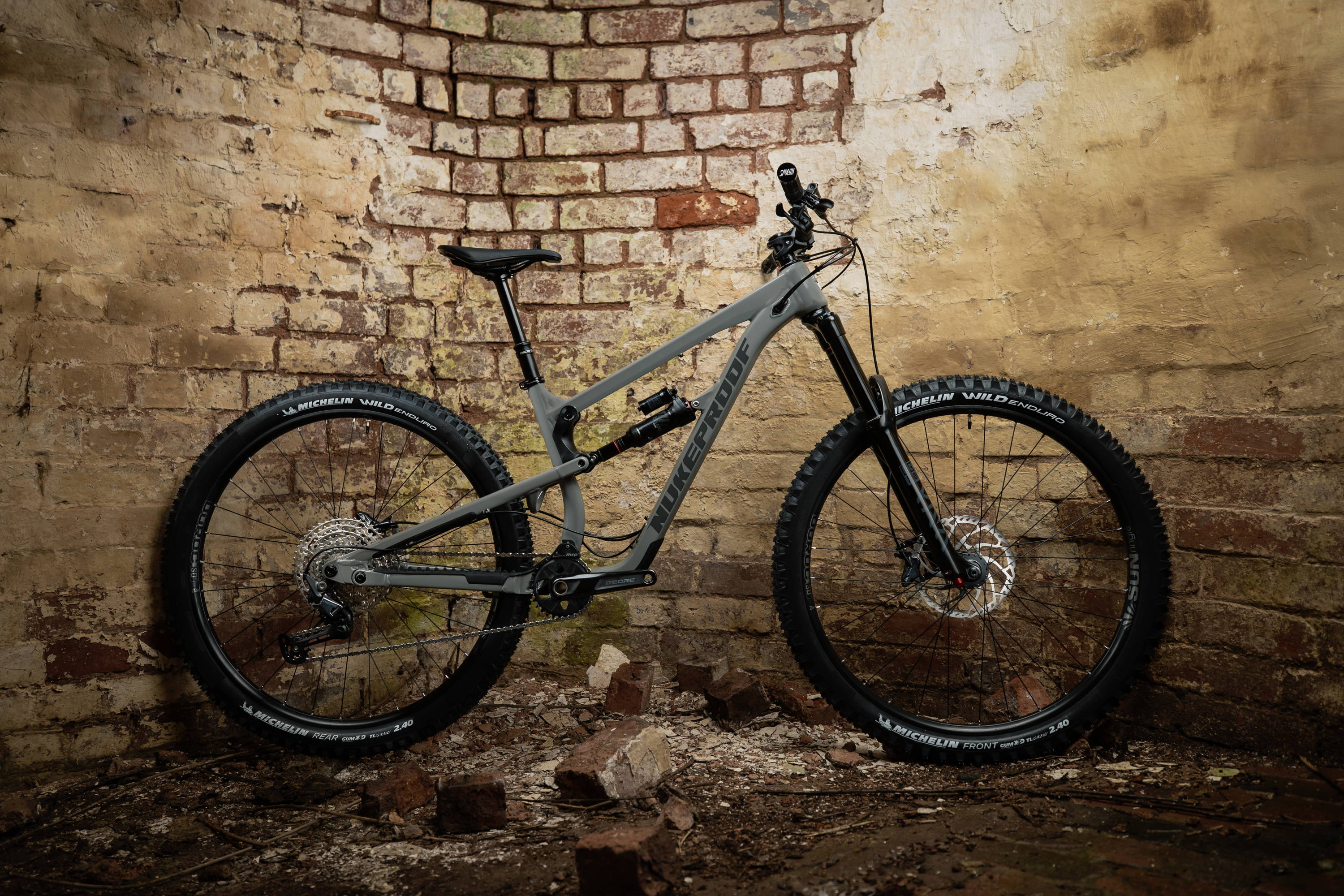 MEGA 275 & 290 ALLOY COMP
275 and 290 frames are available in Carbon and alloy (All parts from the previous generation Mega's will fit the new Mk.4). Frames come with a Nukeproof headsets. And YES in the carbon Mega frame will now be available in the Team yellow!
Alloy bikes will be in our dealers available from 15th October, with Carbon models available early November.
Lastly a huge thank you to all our team, product manager, designers, R&D, athletes, photographers, warehouse, mechanics and our riders for all their talent, time and effort in creating this MEGA. Its been a strange year and we can't do what we do without their passion and dedication.
Ps. Did we mention it now has a water bottle?
CLICK ON THE BELOW FOR MORE INFO
---