Nukeproof Horizon PRO Wheels
HORIZON PRO, THE ULTIMATE ALLOY WHEEL SET:
After what seems like an eternity of design, development, and testing, Nukeproof launches their all-new Horizon PRO wheel range.
Nukeproof have a proud history in creating high performance hubs and wheels, from the legendary carbon-shelled Atom Bomb hubs in the 1990's to the more recent Generator, Neutron, and Horizon wheelsets.
Launched in 2020, the current Horizon V2 wheelsets have elevated Nukeproof wheels to the next level of performance. The V2 has been tested at the highest level, between the tape at both the Enduro and Downhill World Cup with the Nukeproof-SRAM Factory team. It has gone on to become a huge favourite with ranks of privateers and riders. Key reasons include the strength, reliability, and serviceability of the V2. But here at Nukeproof, we are always looking for the next step in performance.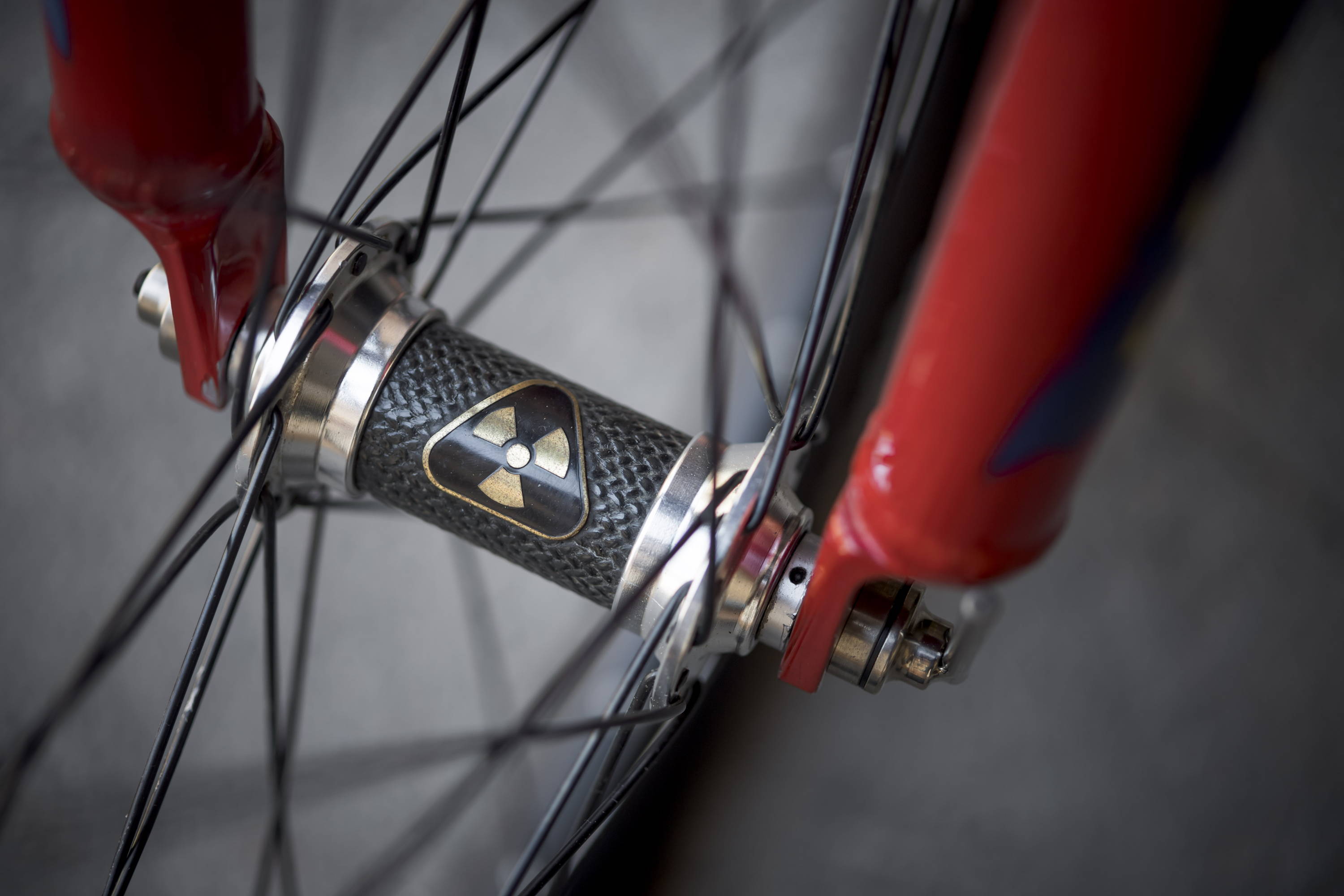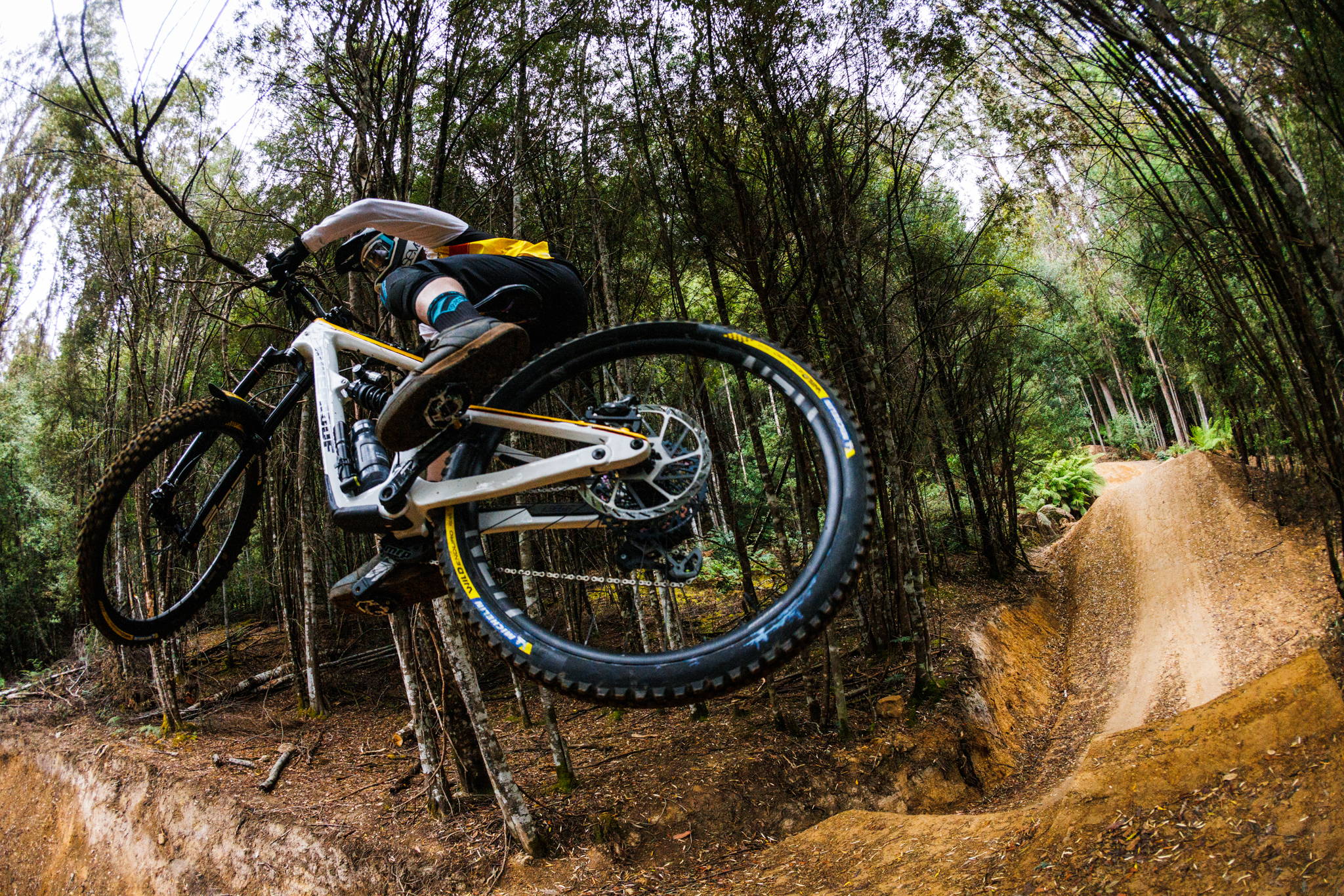 WELCOME TO THE HORIZON PRO
Designed as an all-new wheelset created for riders who are looking for the ultimate alloy trail wheel. Using the Horizon V2 as a base, our designers took a fine-tooth comb to the Horizon V2 to make several incremental improvements. The main aim of the PRO was to reduce rotational mass and make a lighter wheelset for trail and enduro riders and racers.  
---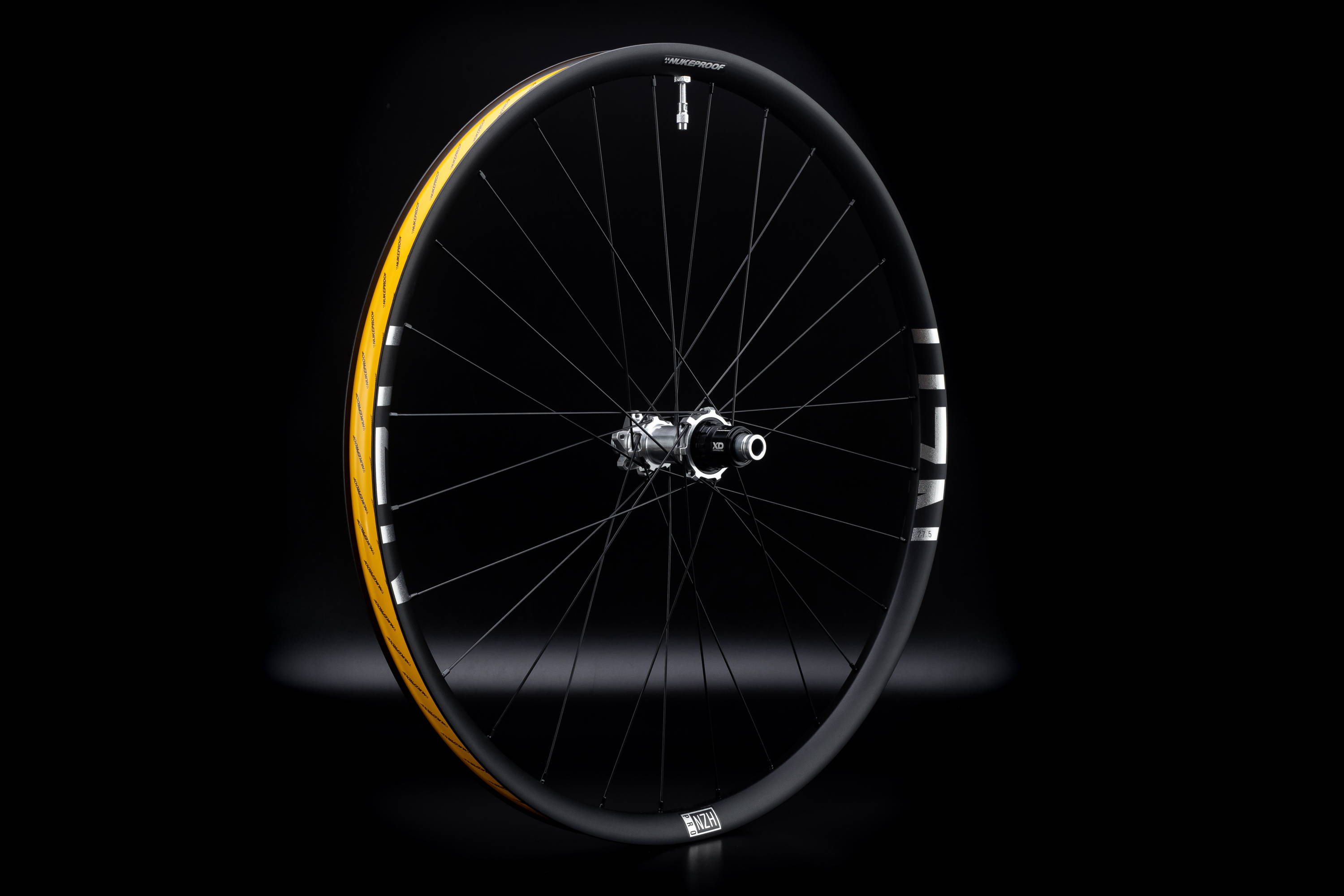 ---
The result is a ground up design and all-new front and rear wheel. The PRO wheels are lighter, more compliant and using an all-new high performance rapid-engagement ratchet hub for the rear wheel. In raw terms, the Horizon PRO offers riders a 9-10% (depending on wheel size combination) weight reduction over our Horizon V2 wheelsets.
All the improvements make the Horizon PRO perfect for trail and enduro riders searching for the ultimate alloy wheelset.
---
At the heart of the Horizon PRO is an all-new hub housing the new 54T engagement ratchet mechanism. Why move to a ratchet system? For both size and weight. The compact dimensions of the ratchet system allow for reduction in the overall size of the hub. Less material means a reduction in mass. There are also performance benefits from a ratchet system. A fast and smooth engagement provides a more responsive ride and with also reduces lost energy in the hub.
---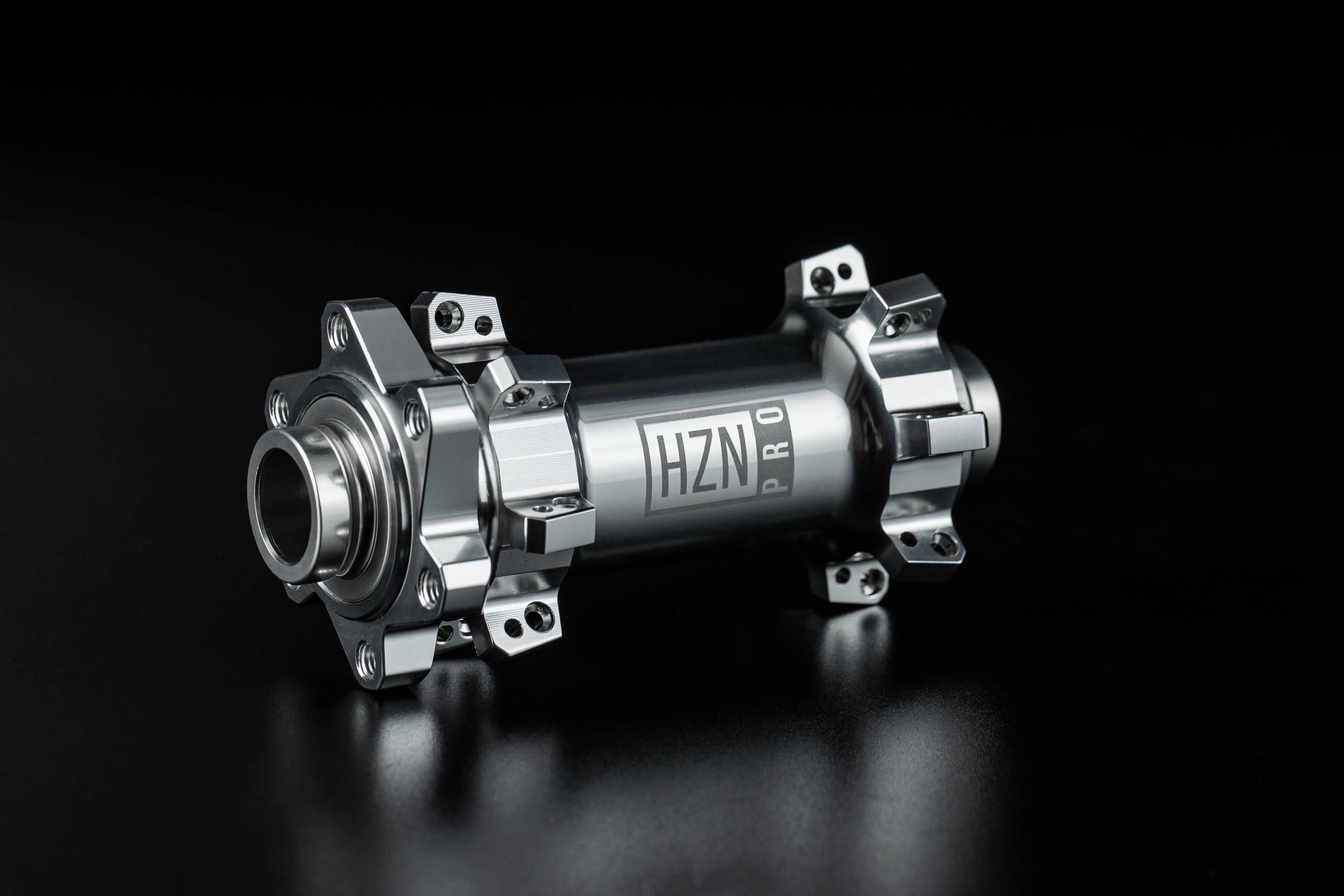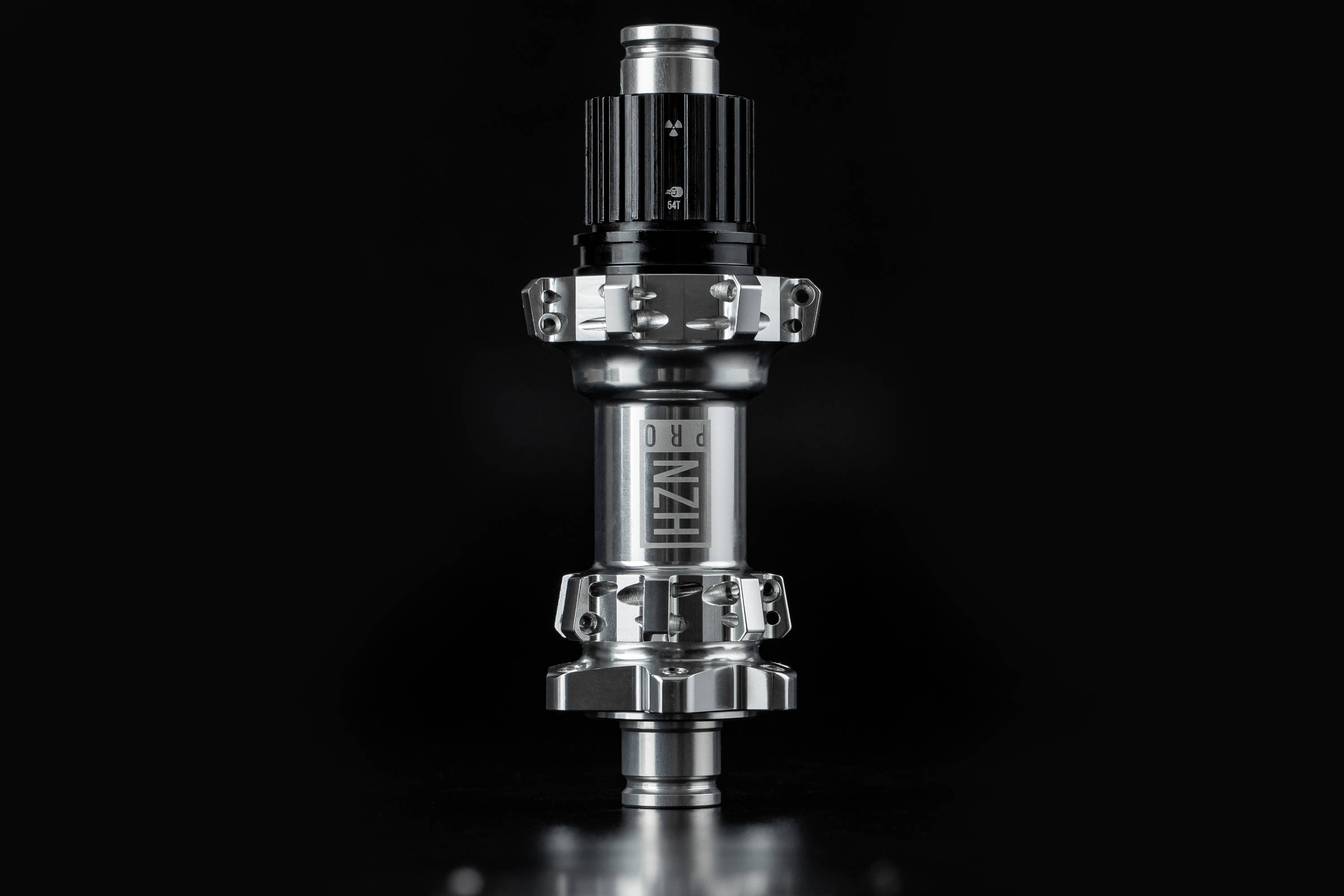 ---
To further reduce the overall dimensions of the hub, we chose to use double butted straight-pull spokes (2.0mm-1.8mm-2.0mm). These spokes allow for the optimizing of the hub shell dimensions by machining away any unrequired material.
With the new ratchet system, engagement of each tooth is simultaneous. This evenly distributes the force across a larger surface area and reduces wear, ensuring reliability.
The result is a sleek shell that looks stunning, hugs the axle, and is strong and reliable.
---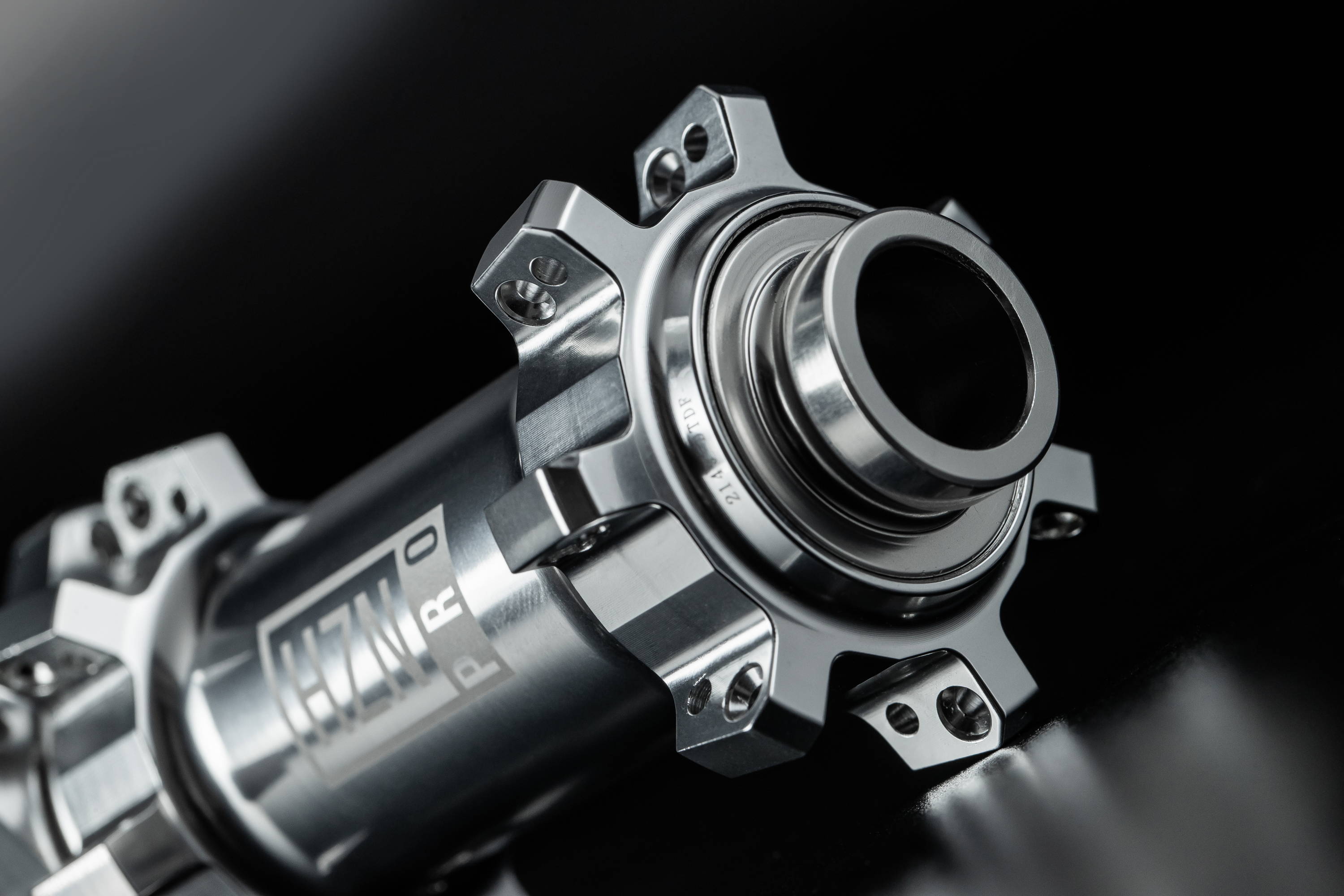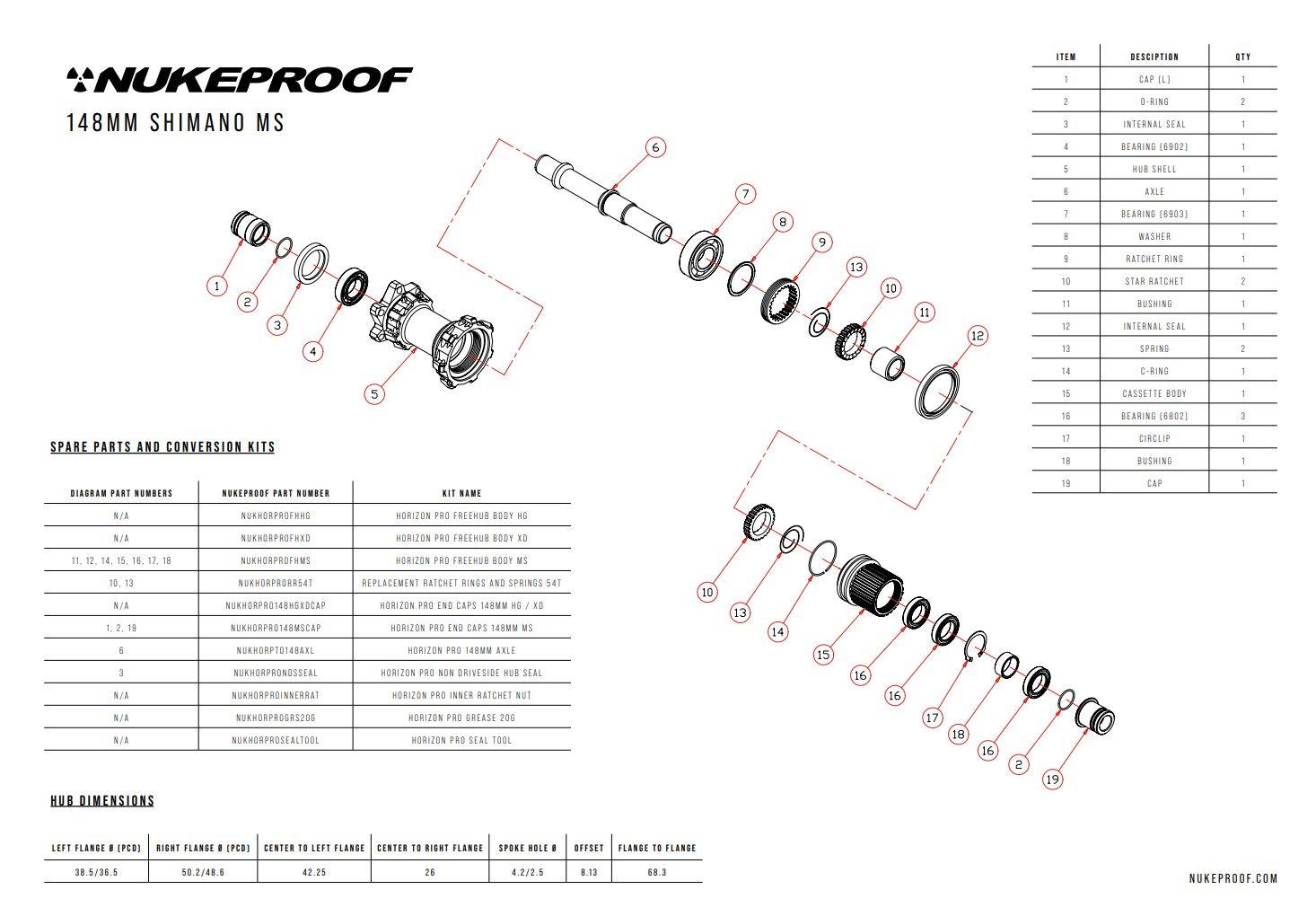 ---
 Horizon PRO Freehub driver options:
SRAM XD

Shimano HG

Shimano Microspline  
---
HAND BUILT TO PERFECTION:
To further reduce weight, we have reduced the spoke count of the wheels to 28. This is thanks to the increased tension and strength by using straight pull spokes (vs a J-Bend).
Each Horizon PRO wheel is laced by hand in a 3x spoke pattern. The Horizon PRO rim is made from dynamically aged magnesium-silicon enriched alloy blend. This alloy produces the stiffness and hardness like 7-series alloy, but with the ductility and yield properties of a 6-series alloy. Each rim is sleeved to join to ensure a strong and consistent level of strength around the rim. Overall, this offers an incredible blend of stiffness, compliance, strength, and weight.
Both 29" and 27.5" wheels are available.
---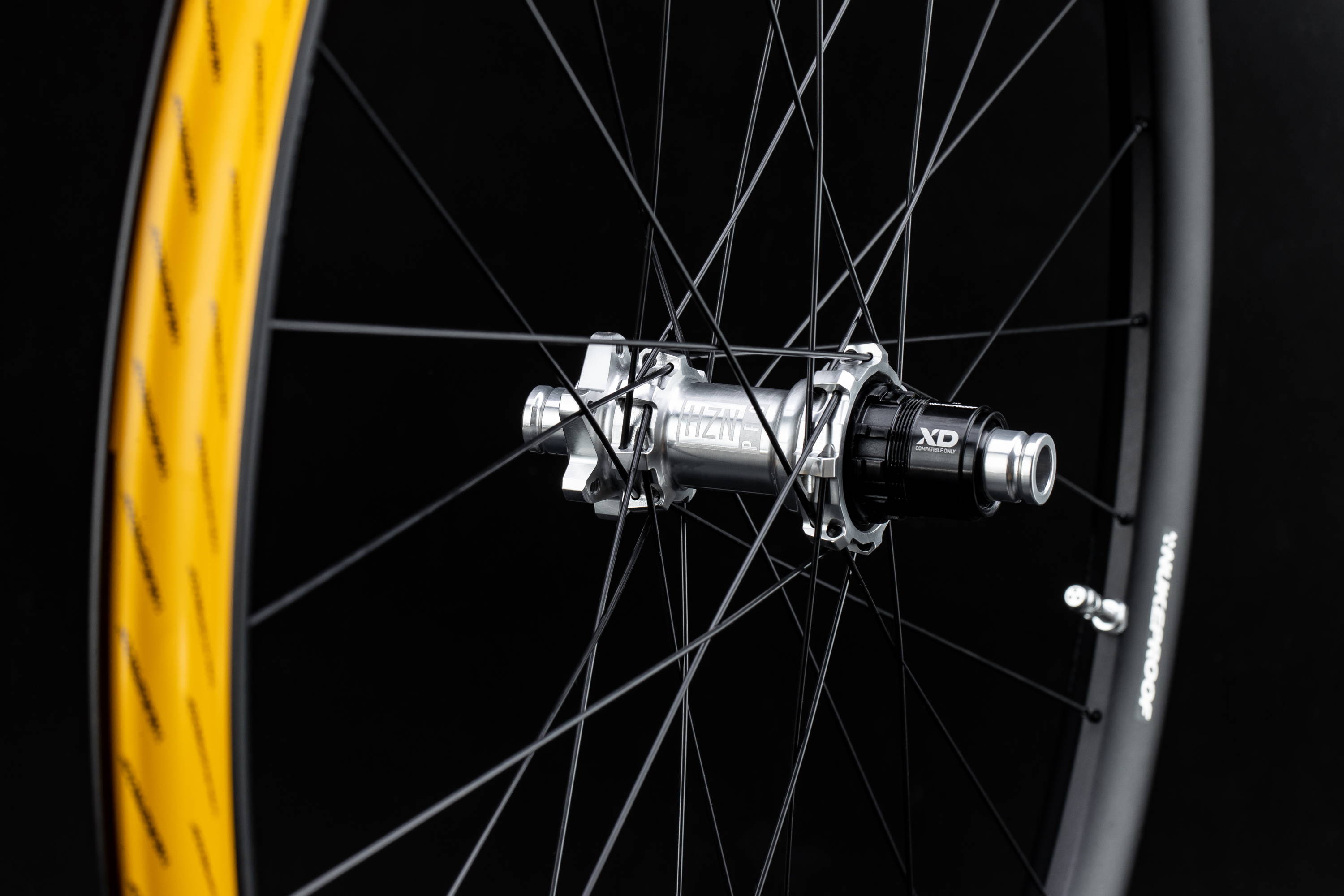 ---
The Horizon PRO rim is designed to offer maximum strength, comfort and grip from 2.3" to 2.5" tires. Numerous lab and trail tests led to the use of a 30mm internal width rim to optimize the tire profile of most modern tires.
Available in 12x148mm Boost only. To support spare parts for riders, the front and rear wheels share the same rim and straight-pull spoke design. Each rim has a tough anodized black sandblasted finish with silver decals to match the hub.
---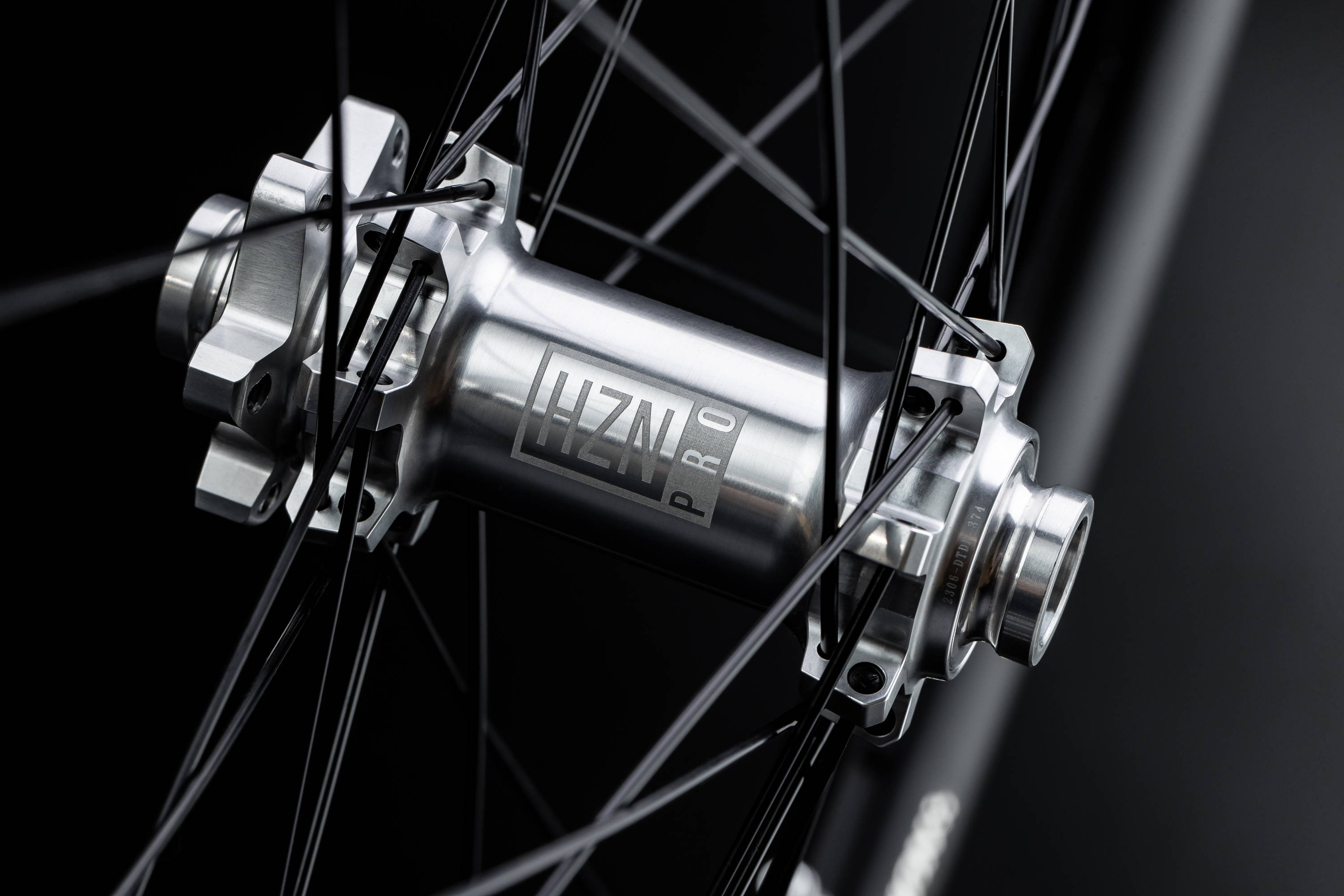 ---
ROLLING FREE, ENDURO ABEC 5 BEARINGS:
After testing various brands of bearings, Nukeproof chose to use Enduro ABEC 5 bearings in the rear wheel. These bearings have the "LLU/LLB" seal type, which uses two lips that make light contact in a groove to create a labyrinth where the water or dirt has a more difficult time to penetrate.
LLU seals are similar, only the contact pressure or interference fit is greater to seal better. Enduro bearings have 80% grease fill on both sides, whereas most other bearings have 35% grease fill on one side. This delivers full coverage, so there are no dry areas as well as avoiding metal on metal contact or wear. Note: the axle may feel tight when new but will free up when ridden.
---
All wheels are sold individually, allowing riders to pick wheels to suit their frame. The tubeless valve supplied is compatible with Nukeproof ARD and other tire inserts, and the presta valve cap has a core remover built in.
 All riders need to do is fit a tire of choice, add sealant, and go ride.
To back rider up a full range of spare parts, hub, freehub conversions kits, spokes, rims, and maintenance tools are available.
---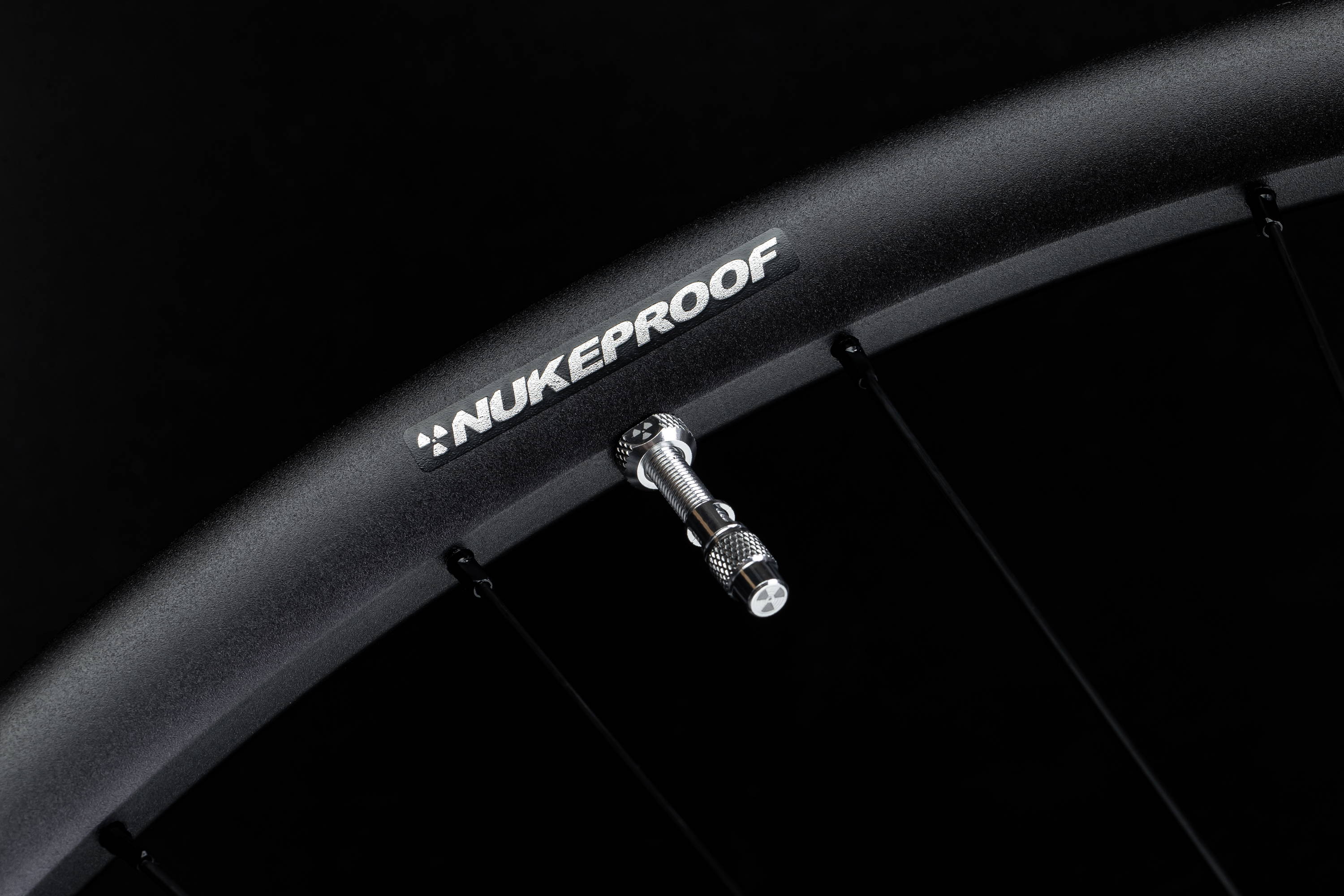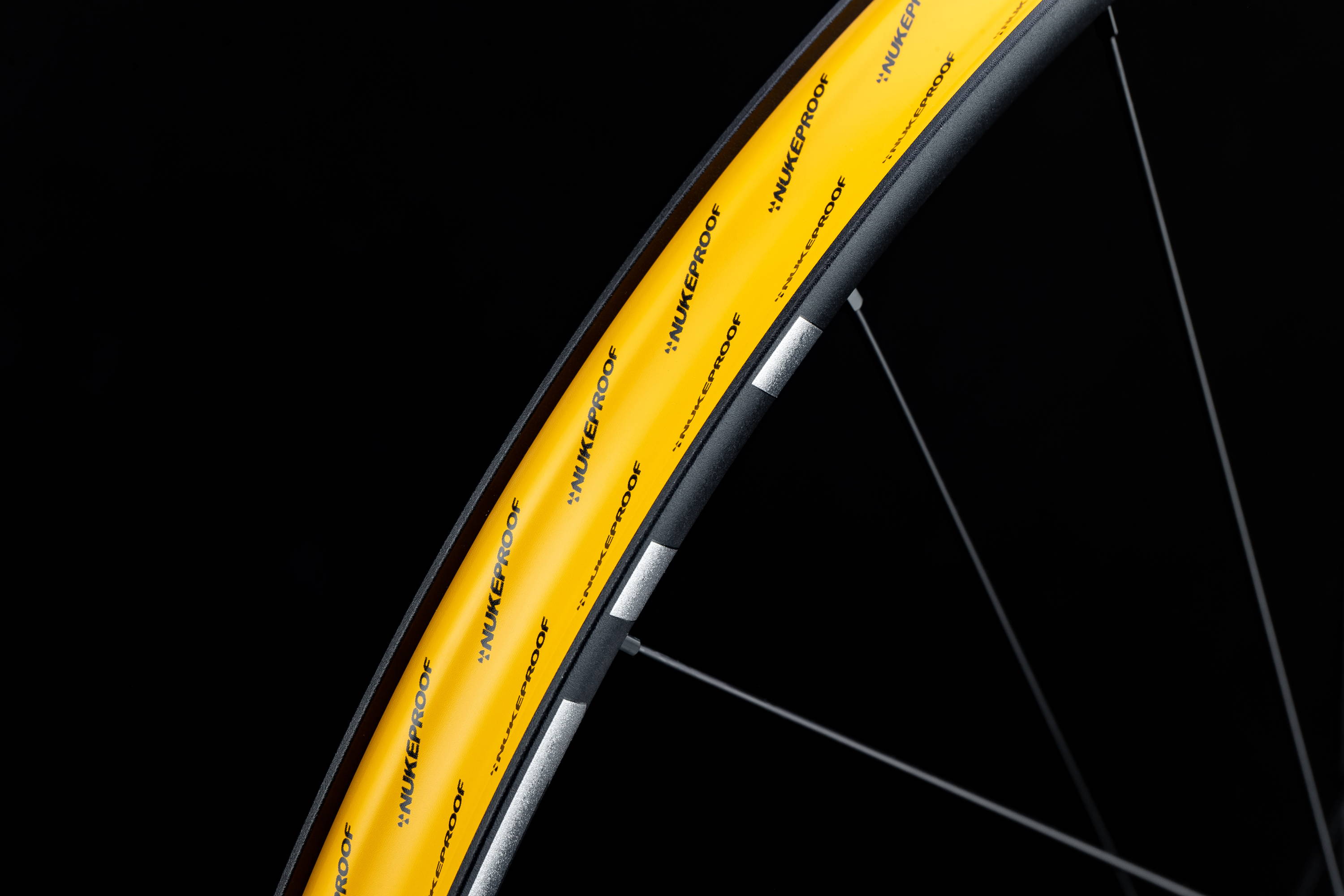 ---
---
Horizon PRO wheels are available now. They will be heading out to Nukeproof retailers over the coming weeks. Please check out your local or online Nukeproof retailer of choice.  
Click HERE to find out your local retailer.
---