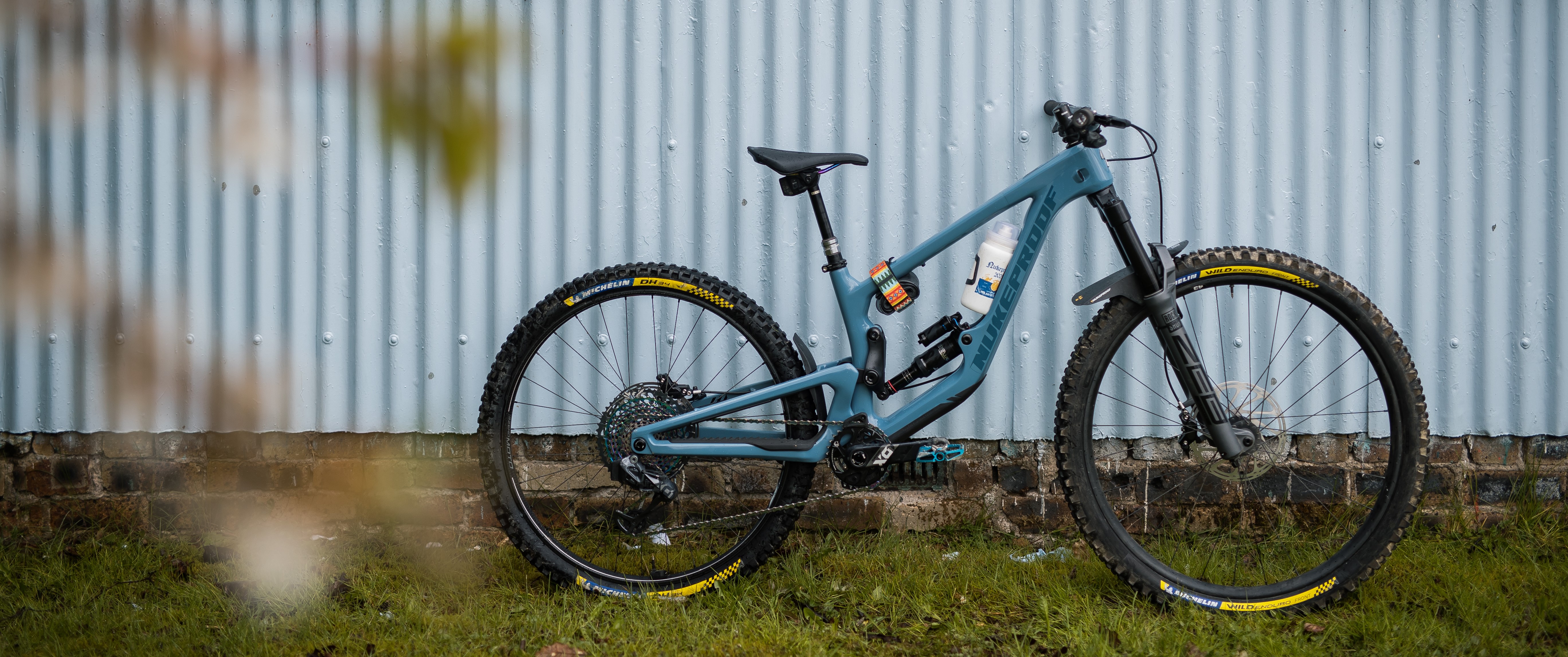 Gluttony – Habitual greed or excess.
As riders, we are all guilty of the gluttonous sin; we never stop striving, never stop pushing, enough is never enough in the hunt for the ultimate. It's a constant push for bigger, longer, rougher and faster with ever increasing demands on the performance and capabilities of our bike.  
It's a motto that athletes like Sam Hill live by. The new Nukeproof Giga is the embodiment of this idea; Designed to be the ultimate hard-hitting Super-Enduro weapon for when you just need more.    
The pursuit for performance is endless. Developed with our elite athletes we are now offering the Giga in an all-new mixed (MX) wheel size platform. The Giga 297 is a seriously capable machine, paring a 29" wheel up front with a 27.5" wheel out back. Why two sized wheels? The 29" wheel up front to maximize grip and rolling efficiency whilst the 27.5" wheel out back, ensures nimble handling for maneuverability and extra clearance for riders when leaning off the back of the bike.  
With 180mm rear travel; the Giga is a monster truck of a bike that has travel in reserve for when you need it. But to pigeonhole it as a point and shoot machine would be a disservice as it is so much more capable than this might suggest! Due to the way that it uses its travel; the Giga gives you the feel of a big bike, yet the versatility of a modern super-enduro bike. The Giga has a dynamic and confidence inspiring ride to help you push your limits in all kinds of terrain. It's equally at home at big mountain technical enduro stages of venues like La Thuile, as it is lapping the biggest lines in the Whistler bike park.   
The suspension is designed to be super supple off the top, whilst being supportive in the mid stroke and progressive throughout the rest of the travel. The anti-squat is optimized to ensure the Giga descends like a hooligan yet behaves itself on the climb back to the top for the next run. 
The suspension platform is based on the same horseshoe driven linkage as our award-winning Dissent downhill frame, albeit now with a 2-stage main pivot flip chip. Using an eccentric axle system, riders can alter the Kinematic progressivity; so the bike can be tailored to suit the conditions on the trail with only an 8mm allen key. 
Setting 1 = 25.5% progression 

 

Setting 2 = 29% progression. 

 
Both settings have a super supple beginning for small bump compliance. They also both have good mid-stroke support for better cornering and pumping. Like the Dissent, the progression drops off in the end stroke to prevent mid-stroke harshness or spiking and allows more tuning options with volume spacers.  
The + Progressive setting can be used to add shock progression on a coil set up just like adding a volume spacer to an air shock. The added suppleness is also good in wet and slippery conditions.  
The Giga Frame is constructed completely from UD 700/800 Carbon fiber. This allowed us to optimize the stiffness and compliance of the frame parts individually. The front triangle has been tailored for stability and precision, whilst the rear triangle was designed for compliance to help tracking and provide grip. Another bonus of the carbon rear triangle is that it has a lower un-sprung mass for ultimate suspension performance. 
Available in 5 sizes (Small to XXL) in 27.5", 29" or new Mixed (Front 29"/Rear 27.5" wheel sizes) wheel sizes, there is the perfect option for everyone. The frame geometry is Long, Low, Slack and Steep as it is based around our saddle offset principle, which ensures the seated riding position is tailored across all sizes, with steeper seat angles on bigger frames. The Seat tube is also designed for maximum seat post insertion to allow maximum drop. 
The Giga is also sculptured to fit a 750ml water bottle (carbon bottle cage included) as well as an accessory mount under the top tube for emergency trail tools. All models also feature an integrated rear mud guard and plenty of clearance for up to 2.5" tyres. The frames feature a clear paint protection kit as standard with 3D contoured rubber downtube, seat and chain stay protection. 
The Nukeproof GIGA: Gluttony is not a sin. 
Features:
Super Enduro Bike
Nukeproof T700/800 UD woven Carbon Fiber frame
180mm Rear travel
Comes with 3D Contoured rubber protection and clear paint protection kits
Sizes Available: Small, Medium, Large
Images
Regular price
£2,599.99
GBP (SRP)
Save Liquid error (bike-product-template line 125): Computation results to '-Infinity'%
Find a Dealer
Find a Dealer
Full Specs
Geometry & Sizing
| | Small | Medium | Large |
| --- | --- | --- | --- |
| (A) Reach | 430 | 455 | 475 |
| (B) Stack | 622.26 | 622.26 | 631.25 |
| (C) Effective Top Tube Length | 565.11 | 590.11 | 609.18 |
| (D) Seattube Length | 380 | 410 | 440 |
| (E) Effective Seattube Angle | 77.75° | 77.75° | 78° |
| (F) Seattube Angle (Actual) | 72° | 72° | 72.5° |
| (G) Saddle Height at Saddle Offset | 650 | 700 | 750 |
| (H) Saddle Offset at Saddle Height | 139.22 | 154.74 | 165.77 |
| (I) Headtube Length | 100 | 100 | 110 |
| (J) Headtube Angle | 63.5° | 63.5° | 63.5° |
| (K) Chainstay Length | 435 | 435 | 435 |
| (L) Front Centre | 768.03 | 793.03 | 817.42 |
| (M) Wheelbase | 1206.28 | 1231.28 | 1255.66 |
| (N) Bottom Bracket Drop | 25/10 | 25/10 | 25/10 |
| (O) Bottom Bracket Height | 350 | 350 | 350 |
| (P) Stand Over Height | 702.58 | 710.09 | 729.88 |
| (Q) Fork Travel | 180 | 180 | 180 |
| (R) Trail | 136.17 | 136.17 | 136.17 |
| (S) Fork Offset | 42 | 42 | 42 |
| (T) Axle to Crown | 591 | 591 | 591 |
| (U) Maximum Seatpost Insert | 200 | 225 | 258 |
*All dimensions in mm unless otherwise stated
Recommended Sizing
Help
FAQs
Frame Spec
Industry Reviews
Tech Docs
Where can I buy Nukeproof Bikes?

Nukeproof bikes, components and apparel is sold through an authorised dealer network. Check out our dealer locator for your local local stockist or preferred online store www.nukeproof.com/dealers 
Do your bikes come with Warranty?
All GIGA frames come with a 5 year frame warranty (Please visit www.nukeproof.com/warranty for full info). On top of that we also offer an extended 2-year warranty on all components excluding wear and tear items such as bearings, brake pads, chains & cassettes etc. Our Warranty policy applies to the original owner and processed by our authorised retail partners. To see their warranty process check: www.nukeproof.com/warranty
Where can I demo a Nukeproof bike? 
We run numerous demo's through the year at major events and with our dealer network. Check out www.nukeproof.com/demo for when we may be near you. If this is unavailable to you, you can always request a demo through your local authorised stockist.  
What size bike do I need? 
All our products come with a size guide. This is designed as an indication of the size that may suit you. If you are still unsure speak with one of our dealers who will be happy to help you pick the right size and model for you.
How does you bike range work? 
Our range is named based on specification level. Not every Bike Frame will have each specification level, but in order of price they run: Sport - Race - Comp - Pro - Elite- Factory/ST (Reactor Only) - RS   
| | |
| --- | --- |
| Material: | Ultra Strong T700/800 Monocoque Carbon Fibre |
| Fork Travel: | 180mm |
| Axle to Crown: | 591mm |
| Fork Offset: | 42mm |
| Rear Travel: | 180mm |
| Wheels Size: | 29" Front / 27.5" Rear |
| Max Tyre Size: | 2.6" |
| Recommended Shock Sag (Measured seated): | 28% (18.2mm) |
| Shock Size: | 205x65mm |
| Shock Hardware F: | TRUNNION |
| Shock Hardware R: | 30x8mm  |
| Sizing: | S/M/L |
| Headtube: | 44-56mm Tapered Semi-Integrated |
| Headset: | ZS44-28.6 - T2 / ZS56/40 - B8 |
| Bearings Required: | 2x 6901-2RS MAX, 4x 6902-2RS MAX, 2x6804-2RS MAX, 2x 6900-2RS MAX |
| Seatpost: | 31.6mm (Internal Routing for Dropper Seatpost) |
| Seat Clamp: | 36.4mm |
| BB: | Threaded 73mm BSA |
| Rear Hub: | Boost 148x12mm |
| Rear Axle: | SRAM UDH Maxle Stealth M12x1.0 180mm (Thread Length 13mm) |
| Chain Guide: | ISCG05 |
| Brake Mount: | 200mm Direct Post |
| Protection: | 3D Contoured Rubber Frame Protection for DT/SS/CS |