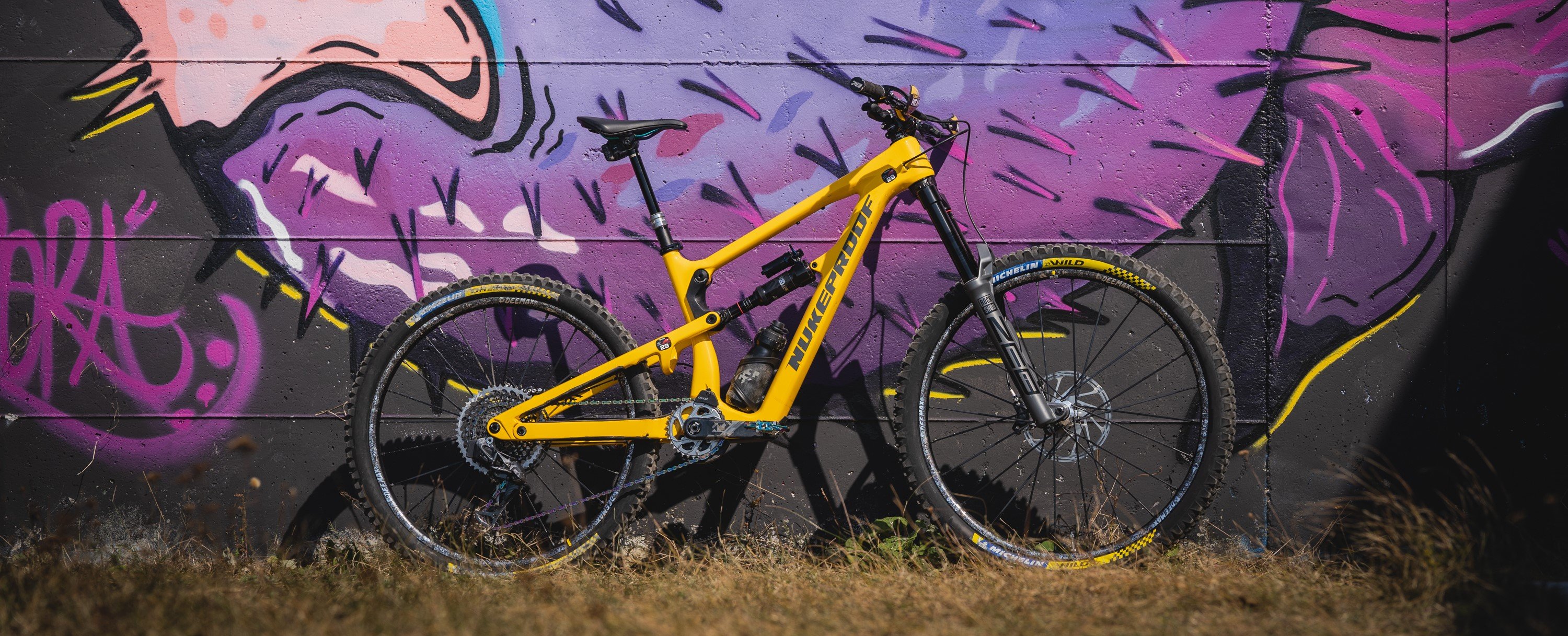 For over 10 years, our best-selling model; the Mega has been racking up awards on Enduro stages and in the press around the world. With 4 Enduro World Series titles to its name, the Mega has become an icon that is synonymous with racing. However, we never rest on our laurels and 2021 sees the introduction of the 4th generation Mega, now in a 297 offering.  
Since 2009 the Nukeproof Mega has been on a constant development to meet the demands of our riders and customers alike. This has resulted in the launch of the Mega 297.   
The pursuit for performance is endless. Developed in conjunction with our elite athletes, the Mega is now available in a mixed (MX) wheel size platform. The Mega 297 is a seriously capable machine, paring a 29" wheel up front with a 27.5" wheel out back. Why two sized wheels? The 29" wheel up front to maximise grip and rolling efficiency whilst the 27.5" wheel out back, ensures nimble handling for manoeuvrability and extra clearance for riders when leaning off the back of the bike.  
To optimise the weight, strength and stiffness, the Mega Carbon frame features a T700/800 UD woven carbon fibre frameset (Front and rear Triangle). The new carbon swingarms helps reduce the unsprung weight on the rear of the bike. All forged part are made from 6061-T6 Aluminium. 
After winning 4 Enduro World Series Titles in 3 years the all new design is an evolution of our ultimate Enduro bike. At the heart of the frame is all new suspension Kinematics, designed to be more subtle off the top, whilst remaining progressive and predictable. Anti-Squat is used to create an effective pedalling bike that can be thrashed through technical terrain. The useable SAG range is also widened to allow riders to tune the suspension to the trails. Other key features include: 
Front 29"/Rear 27.5" MX wheel size platform

 

Improved suspension kinematics

 

Tube-In-Tube design for easy cable installation

 

All new Geometry

 

 

SRAM UDH

 

Room for a 750ml water bottle inside the main front triangle

 
 The new Mega frame geometry features dynamic saddle offset which is designed to optimise seated rider weight distribution on each frame size. This is achieved through seat angle which are bespoke to each frame size. In addition, the actual seat tube is designed to be shorter overall with a bigger maximum insert depth so as to allow a longer dropper post if required. 
Features
Enduro Bike
Nukeproof T700/800 UD woven Carbon Fibre frame
165mm Rear travel
Comes with 3D Contored rubber protection and clear paint protection kits
Boost 148 Hub Spacing
Sizes Available: Small, Medium, Large
Images
Regular price
£2,499.99
GBP (SRP)
Save Liquid error (bike-product-template line 125): Computation results to '-Infinity'%
Find a Dealer
Find a Dealer
Geometry & Sizing
| | Small | Medium | Large |
| --- | --- | --- | --- |
| (A) Reach | 430 | 455 | 475 |
| (B) Stack | 621.16 | 621.16 | 639.22 |
| (C) Effective Top Tube Length | 567.71 | 592.71 | 610.87 |
| (D) Seattube Length | 380 | 410 | 440 |
| (E) Effective Seattube Angle | 77.5° | 77.5° | 78° |
| (F) Seattube Angle (Actual) | 71° | 71° | 71.5° |
| (G) Saddle Height at Saddle Offset | 650 | 700 | 750 |
| (H) Saddle Offset at Saddle Height | 142.22 | 158.59 | 166.66 |
| (I) Headtube Length | 100 | 100 | 120 |
| (J) Headtube Angle | 64° | 64° | 64° |
| (K) Chainstay Length | 435 | 435 | 435 |
| (L) Front Centre | 758.5 | 783.5 | 812.11 |
| (M) Wheelbase | 1192.48 | 1217.48 | 1246.09 |
| (N) Bottom Bracket Drop | 30/10 | 30/10 | 30/10 |
| (O) Bottom Bracket Height | 345 | 345 | 345 |
| (P) Stand Over Height | 721.75/725.16 | 720.28/724.41 | 721.3/722.92 |
| (Q) Fork Travel | 170 | 170 | 170 |
| (R) Trail | 132.33 | 132.33 | 132.33 |
| (S) Fork Offset | 42 | 42 | 42 |
| (T) Axle to Crown | 582 | 582 | 582 |
| (U) Maximum Seatpost Insert | 216/250mm | 245/250mm | 270/255mm |
*All dimensions in mm unless otherwise stated
Recommended Sizing
Help
Where can I buy Nukeproof Bikes?

Nukeproof bikes, components and apparel is sold through an authorised dealer network. Check out our dealer locator for your local local stockist or preferred online store www.nukeproof.com/dealers 
Do your bikes come with Warranty?
All Mega frames come with a 5 year frame warranty (Please visit www.nukeproof.com/warranty for full info). On top of that we also offer an extended 2-year warranty on all components excluding wear and tear items such as bearings, brake pads, chains & cassettes etc. Our Warranty policy applies to the original owner and processed by our authorised retail partners. To see their warranty process check: www.nukeproof.com/warranty
Where can I demo a Nukeproof bike? 
We run numerous demo's through the year at major events and with our dealer network. Check out www.nukeproof.com/demo for when we may be near you. If this is unavailable to you, you can always request a demo through your local authorised stockist.  
What size bike do I need? 
All our products come with a size guide. This is designed as an indication of the size that may suit you. If you are still unsure speak with one of our dealers who will be happy to help you pick the right size and model for you. 
How does you bike range work? 
Our range is named based on specification level. Not every Bike Frame will have each specification level, but in order of price they run: Sport - Race - Comp - Pro - Elite- Factory/ST (Reactor Only) - RS   
Can I fit a coil shock to my Mega? 
Simple answer is yes, the Mega suspension curve will suit a coil shock if you want to run one. In recent years air shocks have come along way and we prefer the feel and performance of them (as do all our pro team) which is why we choose to fit air shocks to all our frames and bikes. Should you wish to buy a coil shock you will need a shock size: 230x62.5mm using 25x8mm (front) and 30x8mm (rear) hardware. 
| | |
| --- | --- |
| Material: | Ultra Strong T700/800 Monocoque Carbon Fibre |
| Fork Travel: | 170mm |
| Axle to Crown: | 582mm  |
| Fork Offset: | 42mm |
| Rear Travel: | 165mm |
| Wheels Size: | 29" Front / 27.5" Rear |
| Max Tyre Size: | 2.6" |
| Recommended Shock Sag (Measured seated): | 30-35% |
| Shock Size: | 230x62.5mm |
| Shock Hardware F: | 25x8mm |
| Shock Hardware R: | 30x8mm  |
| Sizing: | S/M/L |
| Headtube: | 44-56mm Tapered Semi-Integrated |
| Headset: | ZS44-28.6 - T2 / ZS56/40 - B8 |
| Bearings Required: | 4x F6802 LLU MAX, 4x 6902 LLU MAX, 2x F6902 LLU MAX-EA |
| Seatpost: | 31.6mm (Internal Routing for Dropper Seatpost) |
| Seat Clamp: | 36.4mm |
| BB: | Threaded 73mm BSA |
| Rear Hub: | Boost 148x12mm |
| Rear Axle: | SRAM UDH Maxle Stealth M12x1.0 180mm (Thread Length 13mm) |
| Chain Guide: | ISCG05 |
| Brake Mount: | 180mm Direct Post |
| Protection: | 3D Contoured Rubber Frame Protection for DT/SS/CS |